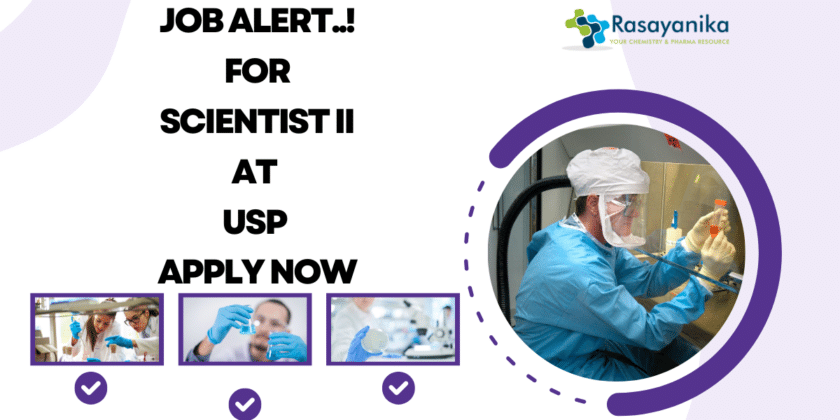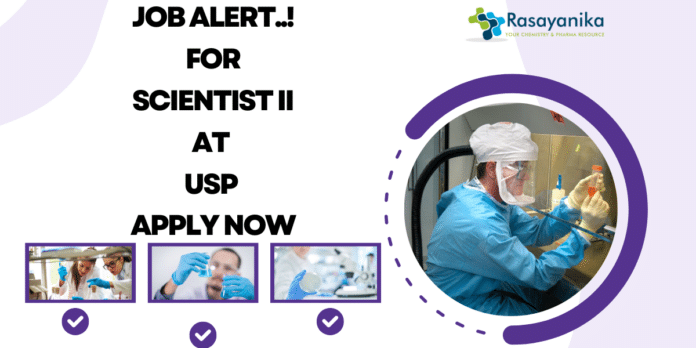 Looking for a opportunities….! in the Scientist II RSL in USP, check out all the details given the same below
Job Title : Scientist II
Job Location :Hyderabad, India
Job Description:
 Brief Job Overview
This is a key hands-on, non-supervisory position. In this role, the Scientist initiates and executes stability studies for reference standards using appropriate compendial methods. The Scientist will contribute to the scientific expertise and work ethic of the laboratory through a broad range of technical support and knowledge. The scientist has mastered many common techniques in the laboratory and can contribute their own observations and input to difficult projects. The incumbent will provide technical assistance to the Stability Program by performing analytical tests, reviewing analytical data, and preparing summary reports. The incumbent may execute 90% – 100% of their work at the bench level.
How will YOU create impact here at USP?
The position's purpose should provide a high-level overview of why the position exists and briefly identify the most critical priorities of the position. This is an opportunity to highlight any features or duties of the role related explicitly to the Diversity, Equity, Inclusion & Belonging work of the Department.
Roles and Responsibilities:
Demonstrates a solid scientific approach to analysis in the laboratory.
Routinely applies personal experience, academic training, and technical insights – including emerging sciences – to solve complex technical problems within the laboratory.
Drafts test protocols.
Conducts stability testing for reference standard candidates using appropriate methods.
Records experimental data, ensuring clear and accurate transcription of results and calculations.
Prepares stability reports, evaluates chemical stability trends, and develops predictive stability models based on stability data.
Completes the projects as per the project timelines and priorities.
Compiles project reports and responds to QA observations.
Executes all testing and analysis of data with excellence and essentially no errors.
Demonstrates a strong desire to continue learning and grow personal capability.
Pursues, recommends and implements new approaches or processes to improve laboratory operations.
Positively influences project direction by ensuring own work is congruent with the overall direction of laboratory projects.
Assists with other testing programs and housekeeping duties in the laboratory as needed.
Prepares and reviews SOPs.
Ensures the implementation of GLP, safety systems in labs.
Ensures the calibration of the equipment as per the schedule.
Indents chemicals, columns, Glassware, etc. and procures them by coordinating with lab operations and purchase department in advance keeping in mind the project deadlines.
Ensures and follows USP mission, policies, and procedures.
Maintains good relationships with HR, Purchase, accounting, IT, and other departments.
Preparation and planning for ISO-9001 & ISO-17025 certification/recertification by participating actively and taking an active role in the internal as well as external QA audits and addressing the audit issues promptly.
Supporting Collaborative testing, Verification, and other departmental teams in terms of project review, execution and approval whenever needed.
Who USP is Looking For? The successful candidate will have a demonstrated understanding of our mission, commitment to excellence through inclusive and equitable behaviors and practices, and ability to quickly build credibility with stakeholders, along with the following competencies and experience:
Qualifications we seek in you for Scientist II RSL in USP !
MSc. in Chemistry / M. Pharmacy
Between 5 to 7 years of relevant laboratory experience.
Prior experience in a high-volume pharmaceutical manufacturing QC laboratory or contract pharmaceutical analytical testing laboratory. Preferred requirements:
Proven track record of consistently delivering projects on time and with high quality. Proficient with pharmaceutical testing requirements and test protocols involving compendial and non-compendial methods for APIs.
Expert in Chromatographic analysis, especially in HPLC, GC and troubleshooting, proficient in other analytical techniques like Titrations, IR, KF, UV, Thermal, Elemental analysis etc.
Knowing Empower software, Lab Management Systems and Electronic Laboratory Notebook, ERP, and QR coding systems are added advantages.
Takes personal responsibility for the delivery of projects to customers. Ability to embrace and lead change. Extremely adaptable. Excellent communication skills, both written and verbal.
Supervisory Responsibilities: No
Benefits for Scientist II RSL in USP
USP provides you with the benefits you need to protect yourself and your family today and tomorrow. From company-paid time off and comprehensive healthcare options to retirement savings, you can have peace of mind that your personal and financial well-being is protected.
COVID-19 Vaccination Policy (will apply to the selected candidate(s) hired):
As a condition of employment with the United States Pharmacopeial Convention's (USP) duty to provide and maintain a workplace free of known hazards, all employees and contingent staff hired after July 1st, 2021, must be fully vaccinated unless a reasonable accommodation is approved. Your recruiter will advise accordingly.
USP is proud to be an equal employment opportunity employer (EEOE) and affirmative action, employer. We are committed to creating an inclusive environment in all aspects of our work—from the standards we make to the partnerships and conversations we cultivate. An environment where every employee feels fully empowered and valued irrespective of, but not limited to, personality, race, ethnicity, physical and mental abilities, education, religion, gender identity and expression, life experience, sexual orientation, country of origin, regional differences, work experience, and family status. We are committed to working with and providing reasonable accommodation to individuals with disabilities.
Possible interview questions may be asked for Scientist II RSL in USP
1. Can you describe your experience in conducting stability studies for reference standards using compendial methods?
Answer: Certainly! Throughout my career, I have gained extensive experience in initiating and executing stability studies for reference standards. I am proficient in performing analytical tests, analyzing stability data, and preparing comprehensive stability reports. I have a solid scientific approach to analysis and can effectively apply my technical insights to solve complex technical problems within the laboratory. Additionally, I have worked with emerging sciences to enhance the accuracy and reliability of stability testing.
2. How do you ensure accuracy and reliability in recording and transcribing experimental data in the laboratory?
Answer: Accuracy and reliability in recording experimental data are of utmost importance in the laboratory. To ensure this, I maintain a rigorous approach to data recording, making sure that all results and calculations are clearly and accurately transcribed. I follow standardized protocols for data documentation, including the use of electronic laboratory notebooks when appropriate. Regular cross-checking and verification of data help me identify and rectify any discrepancies promptly. By adhering to these practices, I can maintain the integrity of the data and support the validity of the results.
3. In your previous projects, how have you contributed to the improvement of laboratory operations and processes?
Answer: In my previous projects, I actively pursued and recommended new approaches or processes to improve laboratory operations. For instance, I introduced streamlined protocols for certain testing procedures, which improved efficiency and reduced turnaround times. Additionally, I collaborated with teams to identify and implement novel laboratory management systems and technologies, such as QR coding systems and Electronic Laboratory Notebooks. My goal is always to optimize laboratory workflows and enhance overall productivity.
4. How do you ensure compliance with GLP (Good Laboratory Practices) and safety systems in the laboratory?
Answer: Ensuring compliance with GLP and safety systems in the laboratory is paramount to maintaining a safe and reliable working environment. I strictly adhere to established GLP guidelines, ensuring that all experimental procedures and documentation meet the required standards. Safety protocols and guidelines are rigorously followed, and I actively participate in safety training programs to stay updated on best practices. By promoting a culture of safety and adherence to regulatory guidelines, I contribute to a compliant and secure laboratory setting.
5. How do you handle project timelines and priorities to ensure timely completion of projects?
Answer: Meeting project timelines and priorities is a crucial aspect of my work. I prioritize tasks based on their urgency and importance, creating a well-defined project plan with achievable milestones. Regular monitoring and tracking of progress help me stay on schedule and address any potential delays proactively. I am proactive in communicating with team members and stakeholders to align expectations and update them on project status. My commitment to delivering projects on time with high quality has been consistently demonstrated throughout my career.