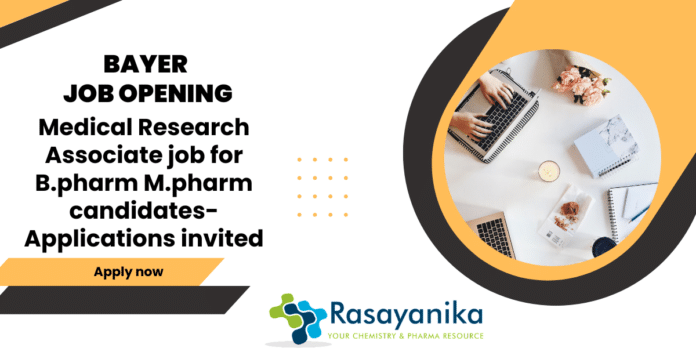 Bayer is hiring Medical Research Associate for Thane, India location. The latest Bpharm Mpharm job as research associate details are given below. Please go through the details and apply now.
Role : Medical Research Associate
Location: Thane, India
Reference Code: 798441
Task and responsibilities for Latest Bpharm Mpharm job :
To be a key resource personnel in Medical Affairs concerning Phase IV and Non-interventional study (NIS) activities across all business areas.
To coordinate all study activities like CRO selection, preparation of study documents for review, site selection and site feasibility, update relevant tracking systems on an ongoing basis, implement quality checks especially for outsourced studies and manage clinical trial oversight, manage study budget and required resources, site monitoring and quality review and archival. The major responsibility includes on-time and on-budget study completions in India.
To manage all operational and quality aspects of allocated studies in compliance with ICH GCP.
Responsible for the implementation and training of standardized processes within the study and according to organizational SOPs.
Development of essential studies as per the local requirements and creating the essential documents like protocol, ICF etc with coordination of global/local team.
Ensures that essential documents quality meets the expectations of Regulatory requirements in India and Bayer guidelines and SOPs.
To attend regular meetings and conference calls with project management, operation team and other team members, regional and global teams as required.
To communicate regularly with all other related departments to ensure timelines, resources, interactions and quality are maintained.
To prepare and monitor clinical activity timelines and metrics.
To ensure regular project review, using tracking and management tools, implementing appropriate recovery actions to ensure project timelines are met.
Responsible for the resolving the quality issues of outsourced studies.
To provide regular status updates to the project team and related business cross-functional teams.
Qualification and experience:
Qualification: Bsc/Msc/B.pharm/M.pharm/Lifescience graduate
Relevant clinical research experience in a pharmaceutical company/CRO with a good understanding and experience in handling clinical studies in line with ICH-GCP guidelines.
Ability to work independently as well as in a team environment and to build productive work relationships both internally and externally
Fluent in English with good presentation and written and verbal communication skills
You can go through the following expected questions and answers attached. Please use the following for the interview for the Latest Bpharm Mpharm job. Good luck for your interview.
Question: Can you tell us about your experience in coordinating Phase IV and Non-interventional study (NIS) activities? What were your specific responsibilities in managing these studies?
Answer: In my previous role as a Medical Research Associate, I had the opportunity to coordinate Phase IV and Non-interventional studies. My responsibilities included selecting the Contract Research Organization (CRO), preparing study documents for review, conducting site selection and feasibility assessments, updating tracking systems, overseeing clinical trial activities, managing study budgets and resources, monitoring sites for quality, and ensuring on-time and on-budget study completions in India.
Question: How do you ensure compliance with ICH GCP guidelines while managing clinical research studies?
Answer: Ensuring compliance with ICH GCP guidelines is crucial in clinical research. I achieve this by implementing standardized processes and training within the study according to organizational SOPs. Additionally, I closely monitor study activities, document quality checks, and oversee all operational aspects of the studies to maintain compliance. Regular meetings and communication with project management, operation teams, and other stakeholders help in addressing any potential compliance issues promptly.
Question: Could you provide an example of a challenging situation you encountered during a clinical study and how you resolved it?
Answer: Certainly. In one of the studies I managed, we faced a delay in obtaining essential regulatory approvals from the local authorities, which threatened the overall timeline of the project. To address this, I collaborated closely with the regulatory team, providing them with all the required documentation and responding promptly to their queries. Additionally, I liaised with the regional and global teams to seek their support in expediting the process. By demonstrating clear communication and effective coordination, we successfully obtained the necessary approvals and mitigated the impact on the study timeline.
Question: How do you ensure effective communication and collaboration among various departments involved in a clinical research project?
Answer: Effective communication and collaboration are vital for the success of any clinical research project. I ensure regular communication with all related departments to maintain timelines, allocate necessary resources, and address any concerns promptly. This involves attending regular meetings and conference calls with project management, operation teams, and cross-functional teams both regionally and globally. By fostering open and transparent communication, I create a conducive environment for collaboration and problem-solving.
Question: In your experience, how do you handle quality issues that may arise during outsourced studies?
Answer: Quality issues in outsourced studies require careful attention and resolution. To handle such situations, I work closely with the CRO and conduct thorough quality reviews of their activities. In case of any deviations or concerns, I initiate timely discussions with the CRO to address the issues and implement appropriate recovery actions. Regular project reviews and tracking tools aid in identifying potential problems early on, allowing us to take corrective measures to ensure the study's overall quality and success.