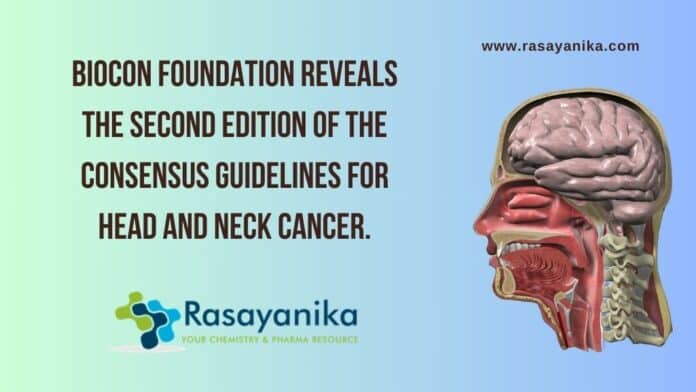 Biocon Foundation, the Corporate Social Responsibility (CSR) arm of the Biocon Group, held its annual Oral Cancer Task Force Conference in Bengaluru. At this event, the second edition of the India-specific Consensus Guidelines for the Management of Head and Neck Cancer (HNC), developed by the Oral Cancer Task Force (OCTF), was released to mark World Head and Neck Cancer Day. These updated guidelines, published in the Journal of Cancer Research Statistics and Treatment, are evidence-based and aimed at improving treatment outcomes for patients with Head and Neck Cancer.
Biocon Foundation has been actively conducting oral cancer screenings for underserved communities since 2011. In 2018, they took the initiative to form the OCTF with the mission of ideating, educating, and engaging stakeholders to combat oral cancer in India effectively. This independent multi-disciplinary task force consists of leading specialists in the field. Under the guidance of OCTF, the first-ever Indian clinical practice guidelines for the management of Head & Neck Cancer (HNC) were established and published in the Indian Journal of Cancer in February 2020.
India witnesses approximately 225,419 new HNC cases and 125,244 deaths from the disease each year, as reported in the GLOBOCAN 2020 report.
The launch of the second
edition of the India-specific Consensus Guidelines and the Oral Cancer Task Force Conference took place at Taj Bangalore, with esteemed dignitaries in attendance, including Prof. Govindan Rangarajan, Director IISc, Bengaluru; Kiran Mazumdar-Shaw, Founder & Managing Trustee, Biocon Foundation; Anupama Shetty, Mission Director, Biocon Foundation; Dr. Govind Babu, Senior Oncologist, HCG; Dr. Vijay Chandru, Chairman, Strand Life Sciences, Bengaluru; Dr. Kumar Prabhash, Head of Medical Oncology at Tata Memorial Hospital; Dr. Moni Abraham Kuriakose, Co-Founder, MD & CEO, Karkinos Healthcare & Consultant, Mazumdar-Shaw Cancer Center; Dr. G K Rath, Former Chief, DBRA Institute Rotary Cancer Hospital & Former Head – NCI & Professor, AIIMS Delhi; Dr. Pankaj Chaturvedi, Head & Neck Cancer Surgeon, Tata Memorial Hospital, among others.
One of the significant highlights of the conference was the unveiling of the OPMD ATLAS PROJECT. Dr. Praveen Birur, principal investigator for the study, presented this unique Oral Potentially Malignant Lesion Atlas Project. The project's primary objective is to establish a multidimensional data-centric platform for the prevention, early detection, and treatment of oral cancer. It aims to evaluate and deploy point-of-care (PoC) diagnosis systems in the national healthcare system for accurate screening, detection, and prognosis of Oral Potentially Malignant Disorders (OPMD) patients. This critical step can prevent over 80% of oral cancers, as OPMDs are their precursors.
The research project is funded by a Central government grant and is a result of collaboration between four renowned institutes: Mazumdar-Shaw Medical Foundation, the Indian Institute of Science (Bengaluru), KLE Society's Institute of Dental Sciences (Bengaluru), the Department of Preventive Oncology, NCI-AIIMS – Jhajjar, and the Homi Bhabha Cancer Hospital (Varanasi), facilitated by Biocon Foundation.
By leveraging data science and Artificial Intelligence, the project combines datasets, including clinical information, lesion images, cytology, pathology, genomics, and proteomics, leading to a comprehensive platform that enables better oral cancer diagnosis and management. This initiative will further lead to pragmatic and reliable approaches for the diagnosis and surveillance of patients with OPMD.
Kiran Mazumdar-Shaw, Founder & Managing Trustee, Biocon Foundation, expressed her belief that the OPMD Atlas Project will play a pivotal role in developing a cost-effective and sustainable national oral cancer control program in India.
Dr. G K Rath emphasized the importance of early diagnosis and intervention for oral cancer, which is the 13th most common cancer worldwide, with India bearing a significant burden. He also highlighted the efficiency of technology-aided oral cancer screening in large-scale community-based screening.
Dr. Moni Abraham Kuriakose added that the OPMD Atlas Project would offer newer insights into oral cancer development and prevention, given the significant disease burden in India.
Dr. Anupama Shetty, Mission Director of Biocon Foundation, emphasized their commitment to downstaging the burden of oral cancer through early detection and prevention. Their goal is to empower Frontline Health Care providers with simple, automated, point-of-care (PoC) devices for enabling early diagnosis. The updated consensus guidelines specific to India's demographic and economic conditions will contribute significantly to the fight against oral cancer.
The conference provided a dynamic platform for leading experts, researchers, and organizations to share insights, advancements, and best practices in the field of oral cancer prevention, diagnosis, and treatment.
Looking for latest chemistry and Pharma job openings, follow Rasayanika Facebook and Telegram and subscribe to our youtube channel for the latest updates on chemistry and Pharma job