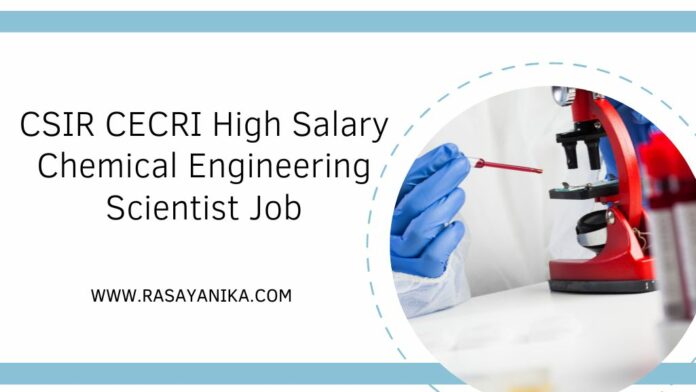 CSIR CECRI High Salary job, chemical engineering job opening 2023, Scientist post vacancy at CSIR CECRI. CSIR CECRI hiring chemical engineering candidates, Scientist post vacancy 2023, Chemical engineering job, Intrested and eligible candidates may check out all the details on the same below:
Post Code: S2309
No.of posts: 2 Posts (UR)
Job Title: Scientist
Salary: Rs 1,07,339/-
Age Limit: 32 years
Eligbility Criteria: M.E. / M.Tech. in Chemical Engineering
R & D experience in the area of electrochemical technology evidenced by SCI Journals/publications / patents / technology in;
(i) corrosion analysis and mitigation techniques; AND/OR
(ii) Design and modeling of electrochemical energy conversion and storage systems;
AND/OR
(iii) Development of high throughput catalyst materials for electrochemical applications;
AND/OR
(iv) Electrochemical reactor design, scaleup, process optimization for
chemical synthesis, drinking water and waste water treatment.
Job Requirement: 
Selected candidates are expected to involve in the various divisional
activities and contribute individually to CSIR's large multidisciplinary / multiinstitutional research program initiatives. They are also expected to prepare project
proposals in recent R&D concepts to fetch attractive funding schemes from the
appropriate funding agency.
General information and conditions:-
1. Benefits under Council service:-
a. These posts carry usual allowances i.e. Dearness Allowance (DA
), House Rent Allowance (HRA), Transport Allowance (TA) etc. as admissible to the central government employees and as made applicable to CSIR council employees. Council employees are also eligible for accommodation of their entitled type as per CSIR allotment
rules depending on availability in which case HRA will not be admissible.
b. In addition to the emoluments indicated against each category of posts, benefits such as applicability of New Pension System, reimbursement of Medical Expenses as per CSIR Rules, Leave Travel Concession (LTC), Conveyance Advance and House Building Advance as made applicable to CSIR employees.
c. Scientists in CSIR may be permitted to undertake consultancy and sponsored R&D project activity. Opportunities may be available for foreign deputations for training/presentation of papers/specific assignments etc.
d. CSIR provides excellent opportunities to deserving candidates for career advancement under Assessment Promotion as per CSRAP Rules for Scientists.
e. Preference will be given to the candidates involved in Product Development / Technology Innovation / Applied
Technology / Translational Research etc.
f. The appointment to the post shall be governed by the provisions of the Central Civil Services [Conduct] Rules, 1964, Central Civil Services [Classification, Control and Appeal] Rules, 1965 as amended from time to time
Application fee:-
a. The candidate has to remit an application fee of Rs.500/- through Net Banking only (Payment of fee through Mobile Banking should be avoided as it does not match with the banker's transaction reference number)to the following account and fill up the transaction details in the prescribed columns of online application:
Name of Account Holder: Director, CSIR–CECRI, Karaikudi
Account Number: 737253625
Bank Name: Indian Bank, A.C. Campus Branch, Karaikudi
IFS Code: IDIB000A008
MICR No.: 630019203
SWIFT Code: IDIBINBBMDN
b. The candidates belonging to SC/ST/PwBD/Women/CSIR Employees are exempted from payment of application fee. The candidates staying abroad are required to remit the bank commission charges along with the application fee.
How to Apply:-
a. Eligible candidates are required to apply through ONLINE mode only in the link available on CSIR-CECRI's website https://www.cecri.res.in. Instructions to fill Online Application is also given in the CSIR-CECRI website.
b. If the candidate does not have a valid email id, he/she should create a new email id before apply online.
c. The candidate has to register with his / her name, email-id and password.
d. Candidates who wish to apply for more than one Post Code, must submit separate Online Application form for each Post Code alongwith separate Application Fee thereof (if applicable).
e. After successful registration, the candidate has to login using the credentials and fill up the Online application form.
f. The candidate is required to upload a recent (i.e. not more than three month old) scanned colour passport size photograph in JPEG format (max 100 KB) with image dimension of about 300px (width) x 400px (height). The photograph should be without cap and both ears should be visible. The date on which the photograph has
been taken should be printed on the photograph. The application without photograph is liable to be rejected as invalid.
g. The candidate is required to upload his/her signature in JPEG format (max 100 KB) with image dimension of about 130px (width) x 150px (height). The application without signature is liable to be rejected as invalid.
h. After filling-up the Online Application form, the candidate can verify / edit the application to ensure that the application is complete and correct in all aspects. After finalizing, candidate can finally submit the application online and take a print out of the application and keep it with himself/herself.
i. After submission of ONLINE APPLICATION(s), the applicants SHOULD NOT SEND ANY HARD COPY OF APPLICATION at this stage. They should keep / retain a soft copy of their Online Application / keep a printout of online computer generated Application form.
j. As and when a candidate is shortlisted for Interview, he / she would be asked to submit a signed Hard Copy of his/her application alongwith self-attested copies of all the certificates / documents uploaded by them in the Online Application form.
The eligibility of candidate will be checked on the basis of information / documents submitted by them in the Online Application form. Therefore, candidates are advised that they should fill the Application form with utmost care and not leave any column unfilled. They should upload all certificates (including mark sheets) of 10th, 12th, Undergraduate, Postgraduate, Ph.D., Diploma/Certificate Courses, experience (if applicable) along
with payment receipt (if applicable).
k. Any discrepancy found between the information given in application and as evident from the supporting documents submitted will render candidate ineligible.
l. Candidates called for Interview will be allowed to appear for Interview only if their duly signed Hard Copy is received.
m. In case of universities/institute awarding CGPA/SGPA/OGPA grades etc., candidates are requested to convert the same into percentage based on the formula as per their university/institute.
n. After filling-up the electronic application form, the candidate can verify/edit the application to ensure that the application is complete and correct in all aspects. After finalizing, the candidate can print the application.
o. Application once made will not be allowed to be withdrawn and fees once paid will not be refunded on any account nor can it be held in reserve for any other recruitment or selection process.
p. Applications from employees of Government Departments will be considered only if forwarded through proper channel, certified by the employer that the applicant, if selected will be relieved within one month of the receipt of the appointment order. Also, vigilance clearance should be recorded. However, advance copy of the application may be submitted before the closing date.
q. Incomplete applications i.e. application without photograph, unsigned, without application fee (if applicable), without requisite testimonials / documents / all certificates in support of claims made by the candidates in the Online Application form will be rejected as invalid
Last date for submission of ONLINE applications : 31.07.2023 (23:30 hrs IST)
View Main Notification
CSIR CECRI High Salary job, CSIR CECRI High Salary, CSIR CECRI High Salary , CSIR CECRI High Salary, Subscribe to Rasayanika for the latest chemistry and Pharma job openings, follow us on Facebook and Telegram and subscribe to our youtube channel for the latest updates on chemistry and Pharma jobs and much more.