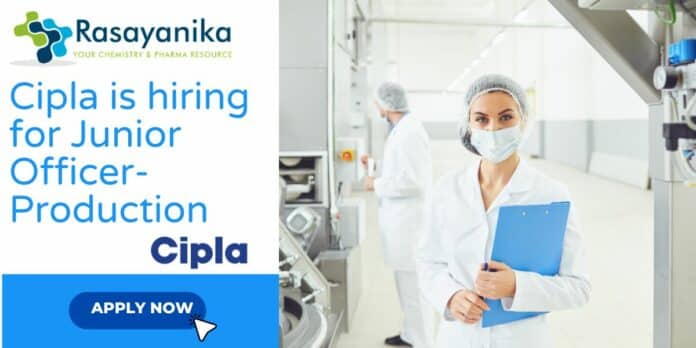 Junior Officer Role At Cipla. Interested candidates can apply online.
Position: Junior Officer – Production
Requisition ID: 77217
Location: Goa
Job type: Permanent
Timings: Shift hours
Division: Manufacturing
Department: Manufacturing
About the company:
At Cipla, we constantly work towards ensuring access to high quality and affordable medicines to support patients in need. Which is why, we have been trusted by health care professionals and patients across geographies for the last 8 decades.
Job description:
Job Purpose
Monitor and execute the production activities in an area during the shift by maintaining cGMP and safety norms to achieve production targets
Accountabilities
Execute production activities in a shift by managing available resources to achieve production target
Maintain standard process parameters as per BMRs and other supporting documents for achieving production target and maintaining quality
Prepare manufacturing records and update online documentation to meet production and cGMP requirements
Follow safe work processes and ensure safety appliances are utilized during production activities in shifts to create a safe working environment
Execute production activities in a shift by managing available resources to achieve production target
Competencies/Skills for Junior Officer Role At Cipla
Communication Skills (clarity of thought, comprehension)
Likely potential for growth
Job / Product / Technical Knowledge / Pharma domain knowledge
Presentation & Interpersonal skills (If applicable)
Managerial or People Management skills
Safety awareness (If applicable)
Relevance of Previous Experience
Comprehension, Analytical & Problem solving abilities
Productivity & Result Orientation (If applicable)
Attitude
Qualification fitment
Sales drive (If applicable)
Personality traits (Individualistic / Team player, Outspoken, Maturity level etc.)
Education Qualification: Bachelor in Pharmacy
Relevant Work Experience: 2 years of experience in pharmaceutical manufacturing
Here are few interview questions with answers to help you succeed in the interview for the Junior Officer Role At Cipla.
1. How do you ensure compliance with cGMP and safety norms in a production environment?
Answer: In my previous role, I was responsible for maintaining cGMP and safety standards by strictly following standard operating procedures (SOPs), conducting regular audits, and providing comprehensive training to production staff. I also actively participated in safety committee meetings and implemented safety improvement initiatives, such as conducting risk assessments and ensuring proper utilization of safety equipment.
2.Describe a situation where you encountered a challenge in achieving production targets. How did you address it?
Answer: In one instance, we faced an unexpected machine breakdown that caused a delay in production. To address this challenge, I quickly coordinated with the maintenance team to prioritize the repair process. Simultaneously, I redistributed the workload among available resources and adjusted the production schedule to minimize the impact on overall targets. This proactive approach allowed us to get back on track and successfully meet the production targets within the desired timeframe.
3.How do you ensure the quality of production processes and finished products?
Answer: Ensuring quality is a top priority. To maintain the quality of production processes, I strictly adhere to the Batch Manufacturing Records (BMRs) and other supporting documents. I regularly monitor process parameters, conduct in-process checks, and use appropriate testing equipment. Additionally, I actively collaborate with the quality control team to address any deviations and implement corrective actions promptly. By following these practices, I ensure that the finished products meet the required quality standards.
4.How do you effectively manage resources to achieve production targets within a shift?
Answer: Resource management is crucial for meeting production targets. I start by analyzing the available resources, including manpower, equipment, and materials. Based on the production requirements, I create a detailed shift plan that optimizes resource allocation. I communicate the plan clearly to the team, ensuring everyone understands their roles and responsibilities. Throughout the shift, I monitor progress closely, address any bottlenecks promptly, and make necessary adjustments to ensure efficient resource utilization and timely completion of production targets.
5. Can you provide an example of a time when you demonstrated strong problem-solving abilities in a production environment?
Answer: In a previous role, we encountered a recurring issue of low yield during a specific stage of the production process. To resolve this, I initiated a root cause analysis by gathering data, conducting investigations, and involving relevant stakeholders. Through careful analysis, I identified a critical parameter deviation that was causing the yield loss. I then proposed and implemented process modifications, closely monitored the results, and conducted subsequent validation studies. These efforts resulted in a significant improvement in yield, reducing production costs and ensuring efficient resource utilization.
Junior Officer Role At Cipla
Stay connected with Rasayanika for more updates