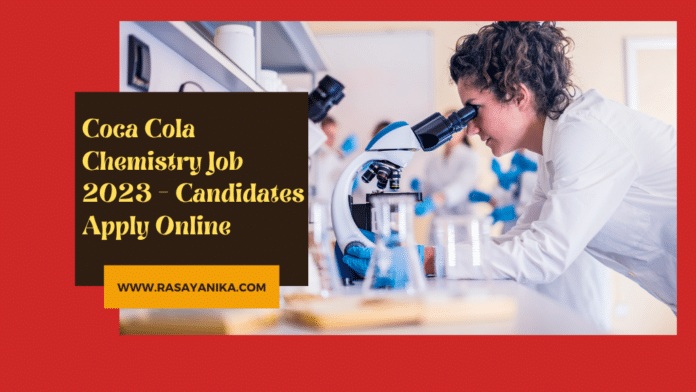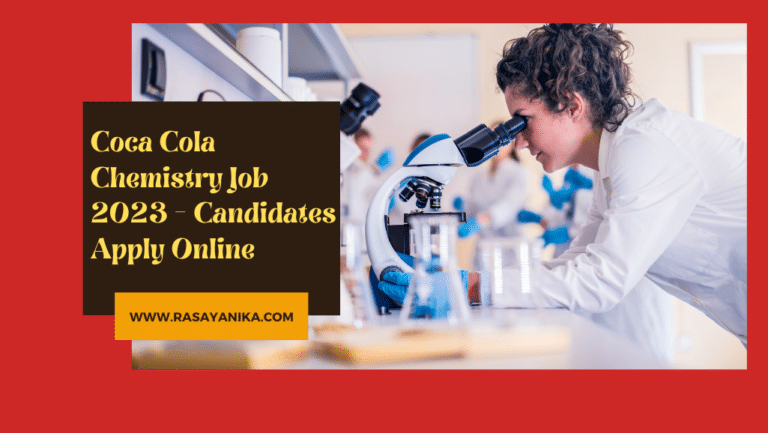 Coca Cola Chemistry Job 2023 – Candidates Apply Online
Coca Cola hiring chemistry candidates. BSc Chemistry job opening 2023, Coca-cola announces job opening for chemistry job opening 2023. Coca Cola manager job opening 2023. Chemistry job opening 2023. BSc chemistry job, interested and eligible candidates may check out all the details on the same below:
Job Title: Manager QSE Governance
Location: Gurugram, Haryana IN
Job ID: R-87773
Qualification & Requirements
Bachelor's degree in Chemistry, or related field is required, Master's degree is preferred
At least 5 years of experience in Quality Assurance or similar technical field including at least 3 years working with manufacturing operations is a must with knowledge and application of concentrate and beverage base manufacturing processes
Qualified candidate must possess knowledge with the following systems: SAP, PICASSO, Clarity
Must possess the ability to apply technical knowledge and establish credibility with highly technical audiences with the ability to break down or modify complex technical information as needed to communicate it orally or in writing to non-technical company staff.
Must be able to collaborate cross-functionally and coordinate efforts around process improvement, as well as analyze business processes and develop systems-based solutions that will improve current state.
Knowledge of data in the Formula Management System, including reasonable value ranges and calculations origin, and the ability to recognize inconsistencies is needed
Knowledge of process operating conditions and requirements leading to the safe manufacture of products (OSHA) as needed, this includes the implementation of and assessment of performance to these requirements in areas such as loss time injury rates, lock out, tag out, hearing conservation, fall protection, work at heights, safe operation of forklifts and trucks, and confined space entry management
Knowledge of project management principles and the ability to apply these principles, tools, and techniques to develop/plan, manage or execute projects or work plans to ensure successful completion is needed
Experience with implementation and oversight of environmental and safety management systems such as ISO14000/18000 is needed
A proven track record of driving improvement in Environmental and Occupational Safety and Health (EOSH) performance indicators is highly preferred
National Examination Board in Occupational Safety and Health (NEBOSH) Certification and Green Belt Six Sigma are preferred
What We Can Do For You
Purpose Driven: Purpose driven approach that empowers our people to protect the environment and communities we serve while delivering safe & quality products.
Global Connections: Allows you to develop, enhance and maintain global connections that allow us to move faster and learn from others.
Community of Belonging: We're an organization that believes our ability to continually grow and build the right atmosphere where people feel safe and empowered, lets you bring your best self to work.
Skills:
Microsoft Office; Troubleshooting; PMI Project Management; organization; Compliance; Six Sigma (Green Belt); ISO 18000; ISO 14000
What You'll Do for Us
Prepares and conducts independent, compliance and systems-based audits of our bottling operations to verify conformance to the health and safety, and environmental sustainability requirements. Conducting rigorous reviews of key environmental, occupational health and safety performance indicators for information that enhances business risk assessment to improve the overall audit process. Leverages investigative skills and techniques to quickly identify risk situations and areas of non-conformance.
Facilitates the development and reporting of organizational metrics that lead to enhanced audit organization/system performance. Ensures all relevant information is captured accurately and entered in a timely manner into the company's on-line reporting and data warehouse system. Interacts and communicates regularly with bottler and company senior management in the reporting of business risks
Assesses and provides feedback on the quality of corrective action plans to ensure the effective completion and mitigation of all risks and identifies manufacturing, procurement, and regulatory concerns.
Continuously seeks insights and knowledge on industry trends and technology that will further improve the organizations value proposition and performance. Utilizes subject matter expertise to participate in the review, development and enhancement of company standards, policies, and procedures
Leverages business relationships and influence leadership and operations to support, communicate and drive the execution of current and future program for regulatory compliance as well as provide technical expertise
Works in collaboration with R&D in order to reduce time to market, improve productivity and flexibility, reduce complexity, logistics cost reduction, re-apply ideas & leverage intellectual property across the System, minimize write-offs, optimize product and packaging and increase equipment utilization.
Works closely with R&D ensuring supply and manufacturing effectiveness is considered from prototype selection phase.
Proactively works with R&D to rationalize formulas and conducts routine meetings with R&D on prototypes to ensure knowledge sharing with regards to processes and capabilities and to identify and resolve potential issues with formulas.
Coca Cola Chemistry Job Looking for latest chemistry and Pharma job openings, follow Rasayanika Facebook and Telegram and subscribe to our youtube channel for the latest updates on chemistry and Pharma jobs and much more