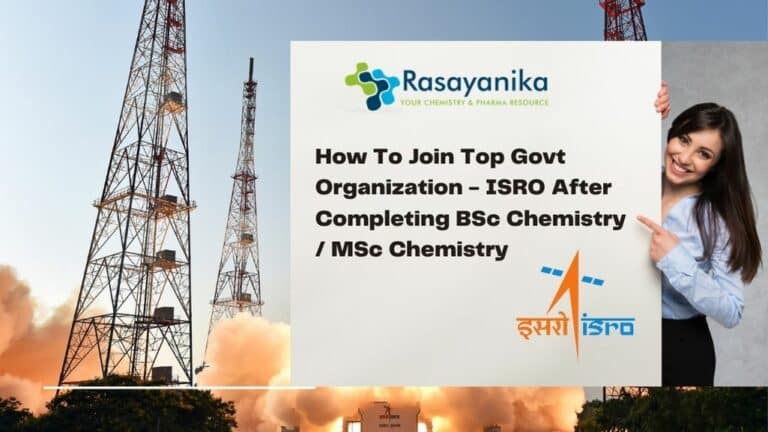 ISRO Job For Chemistry Candidates
The Indian Space Research Organization (ISRO) is one of India's most reputed and prestigious government organizations. It is responsible for India's space program and has achieved numerous milestones in space research and exploration. Many students dream of working at ISRO after completing their education. In this article, we will discuss how to join ISRO after completing BSc/MSc Chemistry.Some job roles at ISRO
Scientist/Engineer – ISRO often recruits scientists and engineers for various research and development positions. Chemistry-related fields such as materials science, electrochemistry, and polymer science are just a few examples of the areas in which these positions may be available.
Technical Assistant – ISRO is actively seeking technical assistants for a variety of positions, such as chemical laboratory technicians and quality control inspectors. These may include a minimum educational qualification, an age limit, and other requirements.
ISRO Job For Chemistry
In addition to meeting the eligibility criteria, having relevant work experience or skills in the field of Chemistry can also increase your chances of being selected for a position at ISRO. This could include internships, research projects, or other training programs that showcase your abilities and potential. By doing this, you will stand out
during the selection process and potentially increase your chances of securing a position at ISRO.
ISRO Official Website for career opportunities
Other Relevant Procedures:
How to get ISRO Job For Chemistry candidates
Step 1: Prepare for the ISRO entrance exam
ISRO conducts an entrance exam known as the ISRO Centralized Recruitment Board (ICRB) exam for recruitment to various positions. You must start preparing for the exam as soon as possible. You can find the syllabus and exam pattern on the ISRO website. You can also refer to previous years' question papers and study materials to prepare for the exam.
Step 2: Apply for the ISRO entrance exam
Once you have prepared for the exam, you can apply for the ISRO entrance exam. The application process is online, and you can apply through the ISRO website. You will have to upload your photograph and signature and pay the application fee. Make sure you fill in all the details correctly and submit the application before the deadline.
Step 3: Clear the ISRO entrance exam
After you have applied for the ISRO entrance exam, you will have to appear for the exam. The exam consists of multiple-choice questions and is conducted online. You must clear the cutoff to be eligible for the next round.
Step 4: Attend the interview
You will be called for an interview if you clear the ISRO entrance exam. The interview is conducted to assess your knowledge, skills, and suitability for the position. You must answer questions related to your subject knowledge, communication skills, problem-solving ability, and team management.
Step 5: Final selection
After the interview, the final selection is made based on the candidate's performance in the entrance exam and the interview. The selected candidates will receive an offer letter from ISRO, and they will have to undergo a medical examination and a background check before joining the organization.
Apart from the above steps, there are a few things that you can do to increase your chances of getting selected for ISRO. These include:
Gain work experience: Try to gain work experience in the relevant field through internships or research labs. This will give you an edge over other candidates.
Stay updated: Keep yourself updated with the latest developments in your field and ISRO's space program. Read scientific journals, attend seminars, and participate in workshops to enhance your knowledge.
Improve your communication skills: Good communication skills are essential for any job. Work on your written and verbal communication skills to present your ideas effectively.
To summarise, if you are interested in joining ISRO after completing your MSc in Chemistry, it is recommended that you apply for scientific and technical positions advertised by ISRO, meet their eligibility criteria, gain relevant work experience and skills, and prepare well for the selection process. With hard work and dedication, you may be on your way to a fulfilling and exciting career at ISRO.
Editors Note: ISRO Job For Chemistry. How to Become Scientist Subscribe to Rasayanika for the latest chemistry and Pharma job openings, follow us on Facebook and Telegram and subscribe to our youtube channel for the latest updates on chemistry and Pharma jobs and much more.