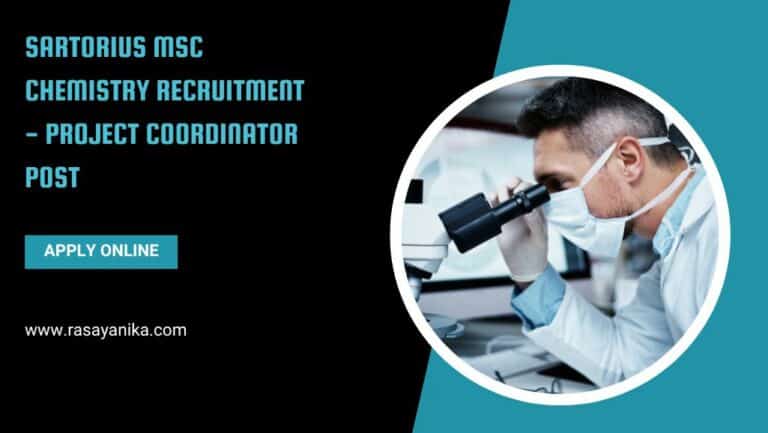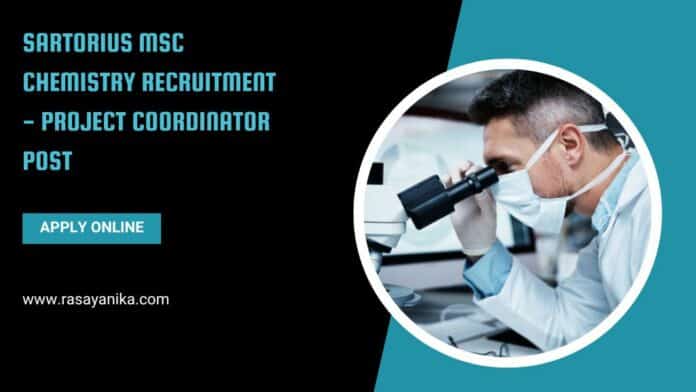 Sartorius MSc Chemistry Recruitment – Candidates Apply Online
Dont forget to check out possible interview questions for this job below
Sartorius hiring chemistry candidates. MSc Chemistry vacancy. Chemistry Project Coordinator vacancy, Candidates with a technical degree in Project Coordinator Validation Services may apply for this job opening, Chemistry job opening 2023, Intrested and eligible candidates may check out all the details
Job Title: Project Coordinator Validation Services
Location: Bangalore
What will convince us:
Masters degree or above in chemistry or equivalent
Minimum 2-5 years experience in Validation Services, Filtration or life science industry.
Knowledge on microbiological aspects
Familiar with concept of GMP and GDP (Good Documentation Practices)
Knowledge on the concept of Extractables / Leachables and related analytical methods, e.g. HPLC-UV, GC-MS, LC-MS is a plus.
Understanding of drug manufacturing processes and pharmaceutical industry regulatory requirements ( FDA, EMA, WHO etc.) is a plus.
Excellent interpersonal skills and ability to work in Global environment.
What you will accomplish together with us:
Understand customer requirements and concerns.
Coordination of validation projects on behalf of customers in a timely manner according to the agreed test scenario as well as in compliance with regulatory requirements (e.g. FDA, EMA, WHO).
Preparation of quotes for different test scenarios / scopes.
Customer visits and travel as and when necessary (e.g. acquiring new projects, presentation of Validation Services, generating validation leads) (less than 10%)
Ensure efficient and effective completion of validation projects under consideration of complexity and time in coordination with the sales team, the customer and the validation lab(s).
Preparation, review and approval (based on necessity) of scientific and technical validation documents (statements, protocols, reports and other documents) in English.
Track all validation leads and projects via applicable tools and provide monthly summary report.
Important Interview Questions and Answers for the above job role:
Can you tell us about your experience in Validation Services and how it applies to this position?
Answer: "I have been working in the Validation Services field for the past 4 years, where I have gained experience in coordinating validation projects and preparing scientific and technical validation documents. I have also developed knowledge on microbiological aspects and the concepts of GMP and GDP. I believe that my experience and skills will enable me to excel in this role as a Project Coordinator for Validation Services."
How familiar are you with regulatory requirements in the pharmaceutical industry, such as FDA, EMA, and WHO?
Answer: "I have a strong understanding of the regulatory requirements in the pharmaceutical industry, specifically in relation to validation projects. I have experience working with FDA, EMA, and WHO regulations and guidelines, and I understand the importance of compliance in this field."
What are your strengths in project coordination, and how have you applied them in the past?
Answer: "My strengths in project coordination include effective communication, attention to detail, and the ability to manage multiple tasks simultaneously. In my previous role, I coordinated validation projects for multiple clients, ensuring that timelines were met, and all necessary documentation was completed accurately and efficiently."
How do you stay organized when managing multiple validation projects simultaneously?
Answer: "I utilize project management tools such as Asana or Trello to help me stay organized and prioritize tasks. I also prioritize clear and consistent communication with clients and other stakeholders to ensure that everyone is on the same page regarding project timelines and deliverables."
Can you give an example of a challenging situation you faced in a previous validation project and how you resolved it?
Answer: "In a previous project, we faced unexpected delays due to equipment malfunction, which threatened to derail our project timeline. To address this issue, I communicated frequently with the client to keep them informed of the situation, and I worked with our validation lab to create a contingency plan to ensure that we could still meet the project deadline. Ultimately, we were able to complete the project on time and with high-quality results."
Editors Note: Sartorius MSc Chemistry Recruitment Subscribe to Rasayanika for the latest chemistry and Pharma job openings, follow us on Facebook and Telegram and subscribe to our youtube channel for the latest updates on chemistry and Pharma jobs and much more.