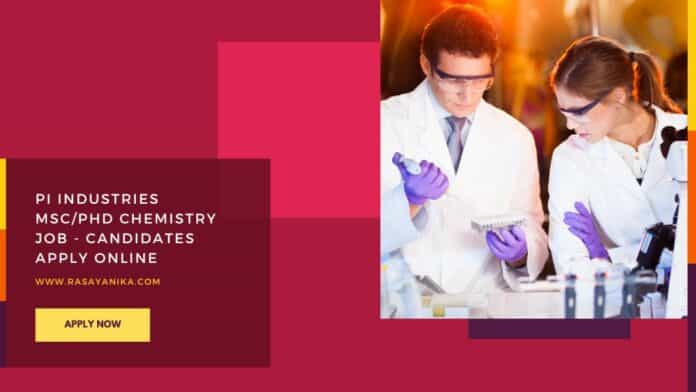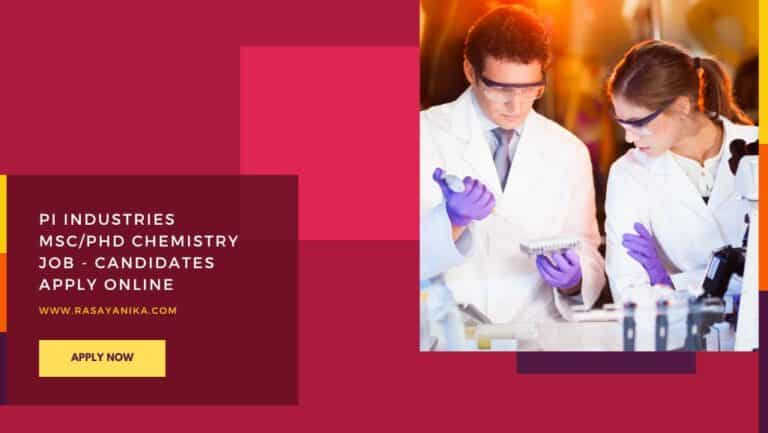 PI Industries MSc/PhD Chemistry Job – Candidates Apply Online
Dont forget to check out possible interview questions for this job below
PI Industries is looking for Research Scientist for Chemistry department, Udaipur. Chemistry job opening 2023, Chemistry job opening 2023, MSc Chemistry job opening 2023, Chemistry job opening 2023, Intrested and eligible candidates may check out all the details
Job Title: Research Scientist – Knowledge Management (5430)
Location: India – Udaipur
Requisition ID 5430
Education Qualification
MSc/PhD in chemistry (organic) from a reputed university/ institute/group
Work Experience
Post-doctoral research experience in a reputed university is desirable
Post academic industrial research experience of > 2 years in new a.i. discovery in pharma and/or crop protection OR
Post academic experience of > 2 years in the area of IP in pharma and/or crop protection
Substantial number of high quality research publications and/or patents
Experimental skills and expert knowledge concerning synthesis, analysis and characterisation of organic molecules related areas appreciated
Knowledge and practical experience concerning patent analysis (FTO, novelty)
Industry to be Hired from
Agro/pharma /chemical industries
Functional Competencies
Technical Knowledge
Data Analysis
Position Purpose
The role holder is responsible for contributing to the discovery and pre-development of innovative solutions in agrochemistry, namely
new a.i.s for crop protection adding significant value to the business of PI. The role will to carry out literature/patent search, FTO analysis and other KM services in accordance with the project timelines and objectives. The role holder will plan and propose to Group Leader – KM all input, equipment and other requirements for approval and procurement to ensure efficient conduct of project activities and contribute to generating IP and ensuring it's protection
Strategic Responsibilities
Efficient contribution to the overall success of CreAgro by driving innovation and team performance according to objectives and targets being set by the Director of Knowledge Management
Generating and ensuring the security of intellectual property for CreAgro (filing of patent applications, building and defending the PI patent portfolio, ensuring novelty and freedom-to-operate)
Promoting knowledge sharing through the organization, strengthening links between KM and CreAgro chemistry/biology teams
Foster collaboration with customers and external partners
Continuously build knowledge on the area of agro-chemistry and KM specific expertise, through active learning, education, advanced trainings and seminars
Support GL – KM with special focus on target setting, development of strengths, building of knowhow, feedback and coaching
Operational Responsibilities
Keep self and team updated on the state of the art in IP management and KM specific tools
Carrying KM services like FTO analysis and opinion, novelty search, literature supply and others with appropriate documentation and distribution of results
Support competitor intelligence activities
Develop and foster positive relationships with other teams and support groups such as chemistry/biology to maximize knowledge sharing and cooperation
Comply with all the safety requirements as per the requirement of the role
Leading knowledge transfer through presentations, training materials, tips and best practices for collaboration, so as to continually improve the performance of the group
Financial Responsibilities
Contribute to budget proposals
Contributes to budgetary controls within the area of responsibility
People Responsibilities
Act as a committed ambassador of PI Brand
Actively imbibing the values and philosophy of PI Industries Ltd.
Ensure smooth working by maintaining high level of morale and working ethics
Important Interview Questions and Answers for the above job role:
Can you tell us about your educational background and relevant research experience?
Answer: Sure. I hold a PhD in organic chemistry from [name of university/institute/group], and I have [number of years] of post-doctoral research experience in [name of university]. During this time, I have published [number of high-quality research publications and/or patents], and I have gained expertise in [synthesis, analysis, and characterization of organic molecules].
2. What is your experience with knowledge management and intellectual property (IP) management in the agro/pharma/chemical industries?
Answer: I have [number of years] of experience in the area of IP in pharma and/or crop protection, and I have worked on FTO analysis and novelty searches. In my previous roles, I have contributed to the generation and protection of IP through filing patent applications and building and defending the PI patent portfolio. I have also fostered knowledge sharing through the organization, strengthening links between KM and chemistry/biology teams.
3. How would you contribute to discovering and pre-developing innovative agrochemistry solutions, specifically new a.i.s for crop protection?
Answer: I would begin by carrying out literature/patent searches and FTO analysis to identify potential research areas and opportunities. Based on this analysis, I would plan and propose to the Group Leader – KM all input, equipment, and other requirements for approval and procurement to ensure efficient conduct of project activities. I would also work closely with chemistry/biology teams to identify new targets and develop novel solutions that add significant value to the business of PI.
4. Can you discuss your experience with data analysis and technical knowledge in agrochemistry?
Answer: Yes, I have experience in data analysis and interpretation, including the use of statistical methods and software. I also have technical knowledge in areas related to agrochemistry, such as the synthesis, analysis, and characterization of organic molecules. I have applied this knowledge in my research work and have also shared it with my colleagues in chemistry/biology teams.
5. How do you stay updated on the state of the art in IP management and KM specific tools?
Answer: I stay updated on the latest developments in IP management and KM specific tools by actively learning, attending advanced trainings and seminars, and reading relevant publications. I also keep in touch with colleagues in the field and participate in professional networks and associations. This helps me to continuously build knowledge on the area of agro-chemistry and KM specific expertise, and to apply this knowledge to my work.
Editors Note: PI Industries MSc/PhD PI Industries MSc/PhD Subscribe to Rasayanika for the latest chemistry and Pharma job openings, follow us on Facebook and Telegram and subscribe to our youtube channel for the latest updates on chemistry and Pharma jobs and much more.