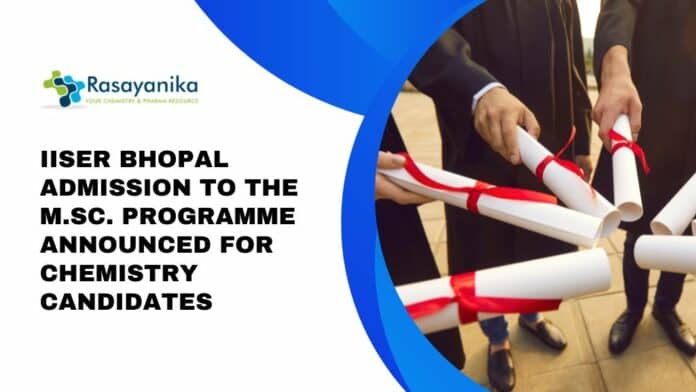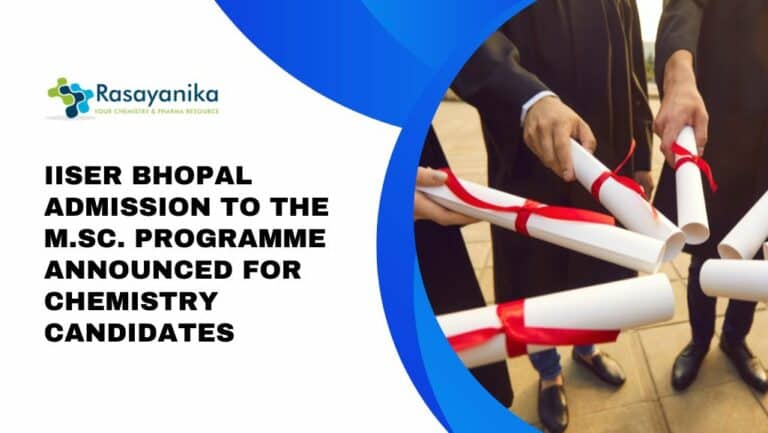 IISER Bhopal Admission to the M.Sc. Programme Announced 
Admission to the M.Sc. programme will be made once a year during July/August. Advertisement would be floated between March/April.
More information regarding these departments are available at Department of Biological Sciences, Department of Chemistry, and Department of Mathematics.
Applications are invited for admission to M.Sc programme in Biological Sciences, Chemistry, and Mathematics for the semester commencing from August 2023.
Subject Area: Chemistry
The Department of Chemistry at IISER Bhopal is glad to introduce a Masters program (M.Sc. in Chemistry) starting 2023-24 academic year. This opens up the opportunity for Bachelor of Science degree students to experience the integrated learning of Chemistry and its application in research and development. The program is focused towards preparing the next generation of scientists spanning the wide spectrum of Chemistry skilled with fundamental understanding and hands-on experience. The two-years program includes the first three semesters of course work covering fundamentals and advanced Chemistry topics. The final semester is dedicated towards a research project that provides the necessary outlook to solve critical problems. With well equipped research facilities and internationally trained faculties, IISER Bhopal Chemistry provides an unparalleled academic ambience and lively research environment for students.
See here
for more information on the MSc in Chemistry program You should apply through the Online Admission Application Portal Instructions for the portal are provided here.
Course structure:
Out of four semesters, the first three semesters will cover mandatory foundation, subject-specific and elective courses. Students are also expected to complete rigorous laboratory practical courses and interdisciplinary courses from other disciplines (for instance, Humanities department to improve scientific communication). The final semester will primarily focus on research projects aiding the student in hands-on training towards cutting edge research problems.
Eligibility
Minimum Qualification
Bachelor's Degree in the relevant discipline with a minimum of 60% marks or CGPA/CPI of 7.0 on a 10 point scale, obtained not earlier than 2022. Candidates appearing in the final year examination of their Bachelor's Degree in 2023 are also eligible to apply.
Additionally, the applicants should qualify for the nationwide aptitude test, Joint
Admission Test in Chemistry for M.Sc. (JAM), and the JAM rank MUST be valid at the time of admission. Mathematics 10+2 Level is mandatory.
If the transcript/grade sheet issued by the Institute/University reports:
Only marks, percentage will be considered.
Only grades, CGPA/CPI will be considered. If CGPA/CPI is reported on any scale other than 10 (eg. 4 point/ 8 point scale), an equivalent CGPA/CPI will be calculated as per the following formula:
CGPA/CPI in a 10 point scale = (CGPA/CPI Obtained×10)/PS
PS = Point scale used by the Institute/University.
Both marks and CGPA/CPI
Percentage equivalent of CGPA/CPI, as indicated on the transcript/grade sheet, will be considered, if absolute grading was followed.
CGPA/CPI ONLY will be considered, if relative grading was followed.
Please Note:
All communication with candidates will be by e-mail only.
Kindly check this website for periodic updates.
In case of any application-related queries, your application number must be mentioned in the subject line.
Candidates who are appearing or are about to appear for final examinations of the qualifying degree program are eligible to apply for the M.Sc. program. However, if selected, admission to the M.Sc. program would be conditional upon their completing the qualifying degree with the defined marks criteria, before joining the Institute.
Selection will be based on JAM Score and Academic records.
Relaxation of eligibility criteria for SC/ST and PD applicants will be as per Government of India norms.
Candidates belonging to the reserved category will have to submit relevant certificates if selected.
Applying does not automatically guarantee that a candidate will be selected.
Important Dates
April 5, 2023: Last date for receiving online application.
TBA : Interview of shortlisted candidates.
Other relevant dates will be announced in due course of time.
Contact Information
Head, Department of Chemistry
DPGC, Department of Chemistry
Email: [email protected]
Queries will be entertained on the above mentioned e-mail only.
To submit the Online Application for M.Sc. Programme in:
Department of Chemistry, please Click Here
Please retain a print out of the PDF of the online application form submitted by you.
The following documents must be brought on the day of interview, if shortlisted and called for interview.
Signed hard-copy of PDF of the online application form with recent color photograph affixed on it.
Self-attested relevant certificates (listed in the PDF copy of online application form).
After the last date, all applications will be screened and candidates selected for interviews will be intimated by email only.
Editors Note: IISER Bhopal Admission to IISER Bhopal Admission to Subscribe to Rasayanika for the latest chemistry and Pharma job openings, follow us on Facebook and Telegram and subscribe to our youtube channel for the latest updates on chemistry and Pharma jobs and much more.