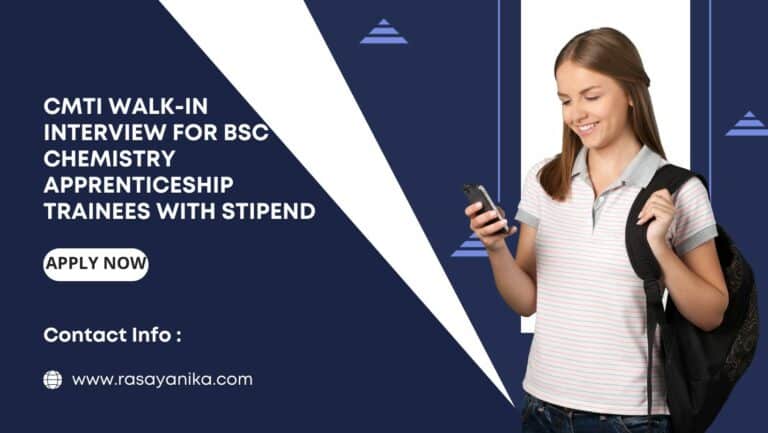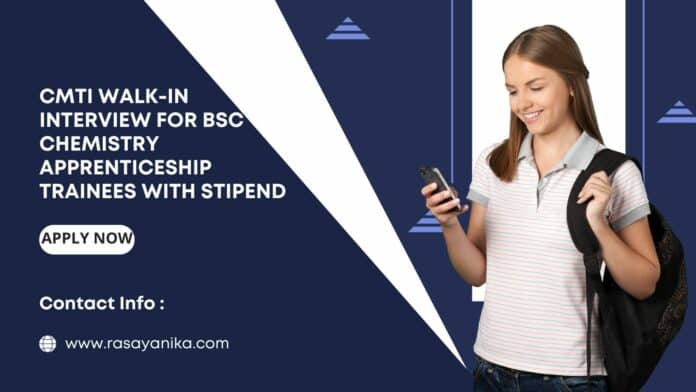 BSc Chemistry Apprenticeship Trainees With Stipend @ CMTI
CMTI invites applications from eligible candidates for Non Engineering Graduate  Apprenticeship training, through web portal www.mhrdnats.gov.in for the following disciplines, under the Apprenticeship act 1961 and Apprenticeship (Amendment) rules 2019 (as amended from time to time), for the year 2022 – 23, for a period of 01 year.
Discipline/Branch: Chemistry
Eligbility Criteria: BSc Chemistry
Type of Apprentices Graduate
Stipend/month (1 – 6 Months): Rs.9,000/- (Rupees Nine Thousand Only)
Stipend/month (7 – 12 Months)*: Rs 10,000
*After completion of 6 months of Apprenticeship training, their performance will be reviewed, and based on the satisfactory performance, apprentices will be paid enhanced stipend
Eligibility:
Candidates who have successfully passed the qualifying Degree during/ after 2020 having secured minimum of 55% marks in qualifying exams and Not taken any training as part of apprenticeship programme Students Pursuing / completed post graduation are not eligible
Not have any work experience of one year or more Shall have standard of fitness as prescribed in the clause 4/ Schedule II of Apprenticeship Rules 1992, and amendments thereof, if any.
Note: * – 55% marks aggregates of all semesters in the qualifying examination. In case of Universities / Institutes awarding
CGPA / SGPA grading etc., the candidates are requested to convert the same into percentage based on the formula as per their respective Universities / Institutes rules. The percentage will be considered after conversion only.
General Instructions for Candidates:
1. For enrolment by establishment in NATS portal, students should have Aadhaar card, Valid Personal Email ID, Mobile number (will be required to send/verify OTP), Passport size photograph (Format: JPEG & Size: Less than 200KB), Aadhaar seeded/mapped Bank account details (Preferably SBI), Qualifying Degree / Provisional Certificate
(Format: PDF & Size: Less than 1MB), First page of Bank passbook / Bank account statement (Format: PDF & Size: Less than 1MB).
3. Indian Nationals only need to apply.
4. The Institute reserves the right to adopt its own method of short-listing criteria to call for Interview and is not obliged to shortlist all the candidates who fulfil the minimum requirement.
5. Any amendments/updates and list of the selected candidates will be hosted online in our website www.cmti.res.in only. Candidates are requested to visit the website for the same regularly.
6. No correspondence or enquiries from the candidates about the Apprenticeship will be entertained.
7. Canvassing in any form will be treated as disqualification.
8. No TA/DA will be paid to applicants for attending document verification/ selection/ joining process. Candidates will have to make their own arrangement for stay, if required, during this process.
9. The selected candidates should be in a position to join the establishment on the prescribed date of joining. 'If the candidate does not report latest by scheduled date, it is assumed that he/she is not interested in the apprenticeship and his/her candidature will be forfeited.
10. The selected candidates must execute a contract for the period of training of 1 year as per the Apprenticeship Act. Engaging suitable candidates as Apprentices or the completion of training at CMTI, shall not entitle such candidates/trainees, any right to claim any type of employment in CMTI.
11. Mere fulfilment of requirements as laid down in the advertisement does not qualify a candidate to be selected Graduate Apprentice.
12. CMTI shall not be responsible for any application being rejected or candidate not shortlisted due to incorrect data.
13. CMTI reserves the right to cancel the advertisement and or the selection process there under. Decision of CMTI Management regarding the selection will be final. Further CMTI Management reserves the full right to fill up or otherwise any or all the notified posts depending on the availability of the candidates in any discipline and also to fill up the vacancies if any.
14. If at any stage of training, it is found that the candidate has furnished false/incorrect information or concealed any information, his/her Training shall be cancelled and suitable action will be taken as per extant rules. CMTI reserves the right to Revise/ Reschedule/ Cancel/ Suspend the engagement process, if the need so arises, without assigning
any further notice or reason therefore. The decision of the management shall be final and no appeal shall be entertained.
15. Interested & eligible students should bring all their original certificates / mark sheets, Aadhaar Card, Bank passbook (Aadhaar seeded/mapped account (Preferably SBI)) with a self-attested photo copy of each of it and a recent passport size photograph along with the duly filled Application Form.
16. For any clarification, please write to us on [email protected] or contact us on Mob: 944 984 2686/96.
17. Interview Venue: AEAMT/Training Division, CMTI, Tumkur Road, Near to Peenya Metro Station, Bangalore –
560022.
Note: Students are requested to register their names at security desk between 9:00 to 10:00 hrs on the following days as listed above, failing which they would not be allowed to appear for the selection process/ interview.
Interview Date: Tuesday, 31st January 2023
View Main Notification & Download Application Form
Editors Note: BSc Chemistry Apprenticeship Trainees 2023, BSc Chemistry Apprenticeship Trainees Subscribe to Rasayanika for the latest chemistry and Pharma job openings, follow us on Facebook and Telegram and subscribe to our youtube channel for the latest updates on chemistry and Pharma jobs and much more.