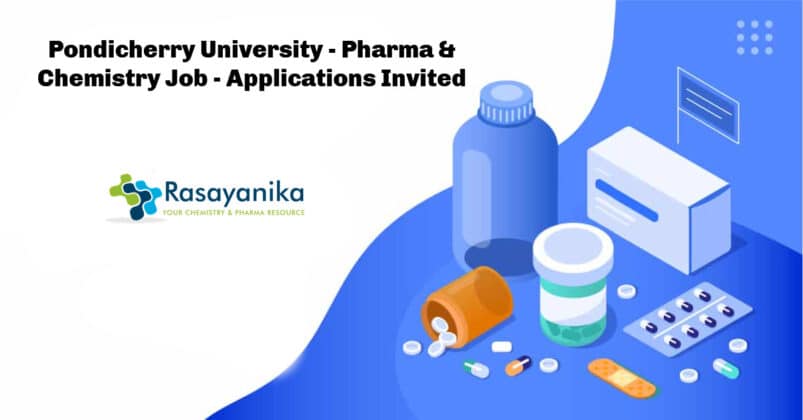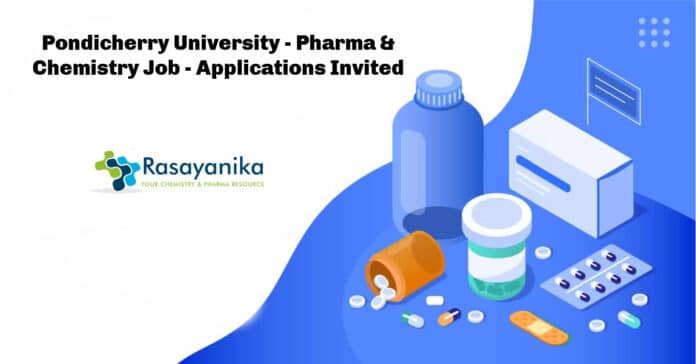 Pondicherry University – Pharma & Chemistry Job – Applications Invited
Online Applications are invited from Indian citizens for Direct Recruitment. Pondicherry University job opening 2022. Chemistry job opening 2022, Chemistry vacancy 2022. pharma job opening 2022, Pharmacist job opening 2022. Interested and eligible candidates may check out all the details on the same below:
Job Title: Pharmacist
No.of posts: 01
Pay Level Matrix: 5
Age limit: 30 years
Essential Qualification:
i. A Bachelor's degree in Pharmacy from a recognized University/Institution approved by the Pharmacy Council of India.
ii. Registered as Pharmacist under the Pharmacy Act, 1948.
Experience: At least 3 years' relevant working experience.
Deputation/Absorption:
From persons in equivalent grade/cadre in Central/State Govt. Public Sector Undertaking/University/ Local bodies, employed on regular basis and possessing the qualifications prescribed for direct recruitment.
In case of selection on deputation basis he/she will be governed by GoI instructions on deputation/foreign service and norms of Pondicherry University.
________________________________________________________________________
Job Title: Senior Technical Asst.(Science)
No.of posts: 01
Pay Level Matrix: 6
Age limit: 30 years
Essential Qualification:
M.Sc. in the relevant Science subjects (Chemistry/Ecology) with 55% of marks with 3 years experience in relevant Science Laboratory.
Desirable:
i) Experience in handling laboratory equipment and computers.
ii
) Good communication skills in English and Hindi
GENERAL AND IMPORTANT INSTRUCTIONS TO APPLICANTS
1. Candidate must satisfy himself/herself that he/she fulfills the eligibility criteria and
conditions for the post applied for. Candidate must apply only through online portal
duly following the instructions.
2. Candidates with requisite educational qualifications from recognized University/Institutions who have pursued through the regular pattern (10+2+3+2)
and experience acquired from recognized University/Institutions only need to apply.
3. Minimum eligibility for each Non-Teaching positions is governed by the Ministry of Education/UGC/Cadre Recruitment Rules of Pondicherry University in force and amended from time to time. Notification and eligibility conditions specific to individual positions are given at the portal recruitment.pondiuni.edu.in.
4. Age limit will be taken into account as on the closing date mentioned for receipt of
applications. Age relaxation for SC/ST, OBC, PwBD candidates will be considered for
the respective category of posts as per GOI norms.
5. Age and qualification relaxations are applicable only to the candidates working
within the Pondicherry University.
6. Relaxations and concessions shall be applicable to the candidates belonging to the
SC/ST/OBC (non-creamy layer)/PwBD categories as per the notification of Govt of India/ UGC guidelines. A certificate towards proof of respective categories issued recently by the competent authority as per the proforma of Govt. of India should be uploaded with the application form. If the relevant certificates in case of respective reserved categories are not attached with the application, the application shall be rejected and no appeal will be entertained.
7. Candidates belonging to OBC creamy layer category will not be entitled to the
benefits of reservation.
The University follows the Central Government list in the case of OBCs. Candidates claiming OBC reservation should submit appropriate certificate in the prescribed format issued recently by the competent authority specifically with reference to Non-Creamy Layer. Those who fail to submit the OBC Non-Creamy Layer certificate will be treated as General Category, subject to fulfillment of other conditions and availability of vacancies in the respective position/post.
8. Candidates belonging to EWS shall submit the certificate as per the format
prescribed by the Government of India.
9. The PwBD candidates with less than 40% of relevant disability shall not be
considered in that category.
10. Any changes/corrigendum/amendments/updation/cancellation notice related to the recruitment process shall be published in the official website of Pondicherry University (recruitment.pondiuni.edu.in.) only and not in the newspapers. Therefore, candidates are advised to check the Website regularly.
11. Candidates are advised to fill up the online application carefully and provide the
information as required.
12. The cut-off date for determining the eligibility of all candidates shall be the closing
date for submission of the applications as prescribed in the notification.
13. The candidates must upload copies of all mark statements (UG & PG). Wherever CGPA is awarded in UG/PG degree, percentage equivalent of CGPA should be provided and the conversion formula approved by the University/Institution should
be uploaded as a supporting document.
14. Certificate in support of experience should be in proper format i.e. it should be on the organization's letter head bearing the name and designation of the issuing authority along with signature and date of issue and seal clearly specifying the duration of work, whether on pay scale or consolidated pay, and last pay received if
applicable.
15. Candidates must upload soft copies of all certificates and relevant documents in
support of their claim in the online application form. Candidates must produce original certificates for verification when called for test/interview or when required by
the University. Therefore, candidates are advised to prepare PDF files of each of the
required documents before starting the online application process.
16. Only Matriculation/Secondary School/Higher Secondary School passing certificate
issued by the concerned educational board will be considered as proof of date of
birth. No other document will be accepted in support of date of birth.
17. Candidate who is already in service shall submit his application through proper
channel along with vigilance clearance certificate from the competent authority.
However, he may send an advance copy of his application and in case his
application is not forwarded due to whatever reasons till the time of written test or
interview as the case may be, he/she, should produce a "No Objection Certificate
along with the Vigilance Clearance Certificate in a sealed cover" from the
employer. Provided that if no objection certificate from the employer is not received
till the date of interview, his candidature may be considered for direct recruitment
as a fresh candidate, if otherwise eligible. Such candidates are required to submit
an undertaking at the time of interview that:
(i) No penalty has ever been imposed on him and he has never been convicted by any
Court of Law.
(ii) No disciplinary action/vigilance case is pending or contemplated against him.
However, his joining on selection shall be accepted only on production of relieving
order preceded by acceptance of resignation, failing which he shall not be allowed
to join.
18. The employer shall forward the application for appointment on deputation
along with the Annual Performance Appraisal Reports (APARs)/ACR for the
preceding five years and Vigilance Clearance Certificate, duly certified by the
Competent Authority. If a candidate is appointed on deputation basis, his/her services will be governed by the GoI instructions on deputation/foreign Service and
norms of Pondicherry University.
19. All certificates, which are not in English or Hindi, need to be translated preferably
to English and the same shall be self-attested.
20. Candidates are required to pay the prescribed application fee through online by
using debit/credit card or net banking. Application fee is non-refundable under any
circumstances.
21. Candidates who are desirous of applying for more than one post will have to
submit separate application form for each post along with prescribed application
fee.
22. The University shall process the applications entirely on the basis of
information/documents submitted by the candidates. In case the information/documents are found to be false/incorrect by way of omission or inclusion, the responsibility and liability shall lie solely with the candidate and the candidate alone would be responsible for consequences if any.
23. Application submitted for a particular post is not transferable to any other post.
24. Applications will be scrutinized by a Scrutiny Committee and a list of eligible/
ineligible candidates will be prepared on the basis of stipulated guidelines/criteria
as decided by the University.
25. Mere possession of eligibility conditions shall not entitle a candidate to be called
for test/interview. The University may restrict the number of candidates to be called for interview on the basis of higher norms than the minimum prescribed qualification and experience or adopt measures to short list applications such as holding written test.
26. The dates and mode of test/interviews will be communicated through email only to
the shortlisted candidates. The mode of interview may be either personal interview
in a venue fixed by the University or through online mode which will be at the
discretion of the University.
MODE OF SELECTION: For the regular post mentioned in Sl.No.8 to 24 and Sl. No.3 in
Contractual/Tenure basis, the University shall conduct written test at one or two
stages,
(i) A qualifying test (Paper I) consisting of the objective-type questions carrying
100 marks, and /or
(ii) the Descriptive-type test (Paper II) carrying 100 marks.
The minimum qualifying marks to be secured in Paper I shall be 40%, in case
tests are conducted in two stages. The answer scripts of the candidates for the
descriptive test shall be evaluated only in respect of those candidates who secure
the minimum qualifying marks in Paper I. The candidates who secure 50% marks
in Paper II shall be called for the skill test, wherever applicable. The marks
allocated for the skill test shall be 50 and the minimum qualifying marks in the
skill test shall be 25. The merit of the candidates shall be drawn based on the
performance in Paper II (Descriptive test) only, subject to qualifying the skill test.
For the regular post at Sl.no. 1 to 7 and Sl. No.1 &2 in Contractual/Tenure basis,
the University may hold written test if necessary, before interview. In case of two candidates scoring identical marks, the candidate older in age will be considered as higher in merit.
28. No TA/DA will be paid for attending test/interview.
29. The University shall verify the antecedents and documents submitted by
candidates at the time of appointment or during the tenure of the service.
30. Suppression of factual information, production of fake documents, providing false
or misleading information or any other undesirable action by the candidate shall lead to cancellation of his/her candidature. In case, any defect/discrepancy is detected at any point of time in future even after appointment that the candidate is not eligible as per the prescribed qualification, experience, etc. which could not be detected at the time of test/interview due to various circumstances, his/her appointment shall be liable for termination forthwith without any notice.
31. The appointment of selected candidate will be governed by the provisions under
Pondicherry University Act and Statutes and Ordinances / UGC regulations and
GoI Rules and he/she should adhere to the said relevant provisions at all times and
also the rules, regulations, working hours and practices followed by the Pondicherry University.
32. The service of selected candidate is liable to be terminated without any notice for any act of indiscipline, inefficiency, misconduct, disloyalty and/or commission of an
act involving moral turpitude.
33. Pondicherry University will not be responsible for any loss of e-mail, loss of any
communication due to wrong address provided by the candidate, unsuccessful
transaction by Payment Gateway etc.
34. In case of any dispute, any suit or legal proceeding against the University, the
territorial jurisdiction shall be Madras High Court, Chennai.
35. The University reserves the right to Revise/Reschedule/Cancel/Suspend/withdraw
the recruitment process without assigning any reason. The decision of the
University shall be final and no appeal in this regard shall be entertained.
36. Canvassing in any form is prohibited and will be treated as a disqualification for
the post.
37. In case of any dispute/ambiguity that may occur in the process of selection, the
decision of the University shall be final.
38. Candidates may send query if any,through email to [email protected] in
case of any difficulty in filling and submission of application online. No phone call
will be entertained in this regard.
39. Candidates should print and keep a copy of application along with fee submission receipt. Applicants are required to send a hard copy of the application with self attestation, without any enclosure/attachment(s) except the documents generated along with application on or before 26.10.2022.
40. The candidates are advised to apply online as per the scheduled notified in the
advertisement. Application received through any other mode would not be accepted
and summarily rejected.
41. Incomplete application in any respect will not be considered and is summarily
rejected.
Address for Communication:
The Deputy Registrar (i/c)
Recruitment Cell
Pondicherry University
Dr. B.R. Ambedkar Administrative Building
R.V. Nagar, Kalapet
Puducherry – 605 014.
Phone No.0413 – 2654934/567
E-mail: [email protected]
Last Date To Apply: 26.10.2022
Editors Note: Pondicherry University Subscribe to Rasayanika for the latest chemistry and Pharma job openings, follow us on Facebook and Telegram and subscribe to our youtube channel for the latest updates on chemistry and Pharma jobs and much more