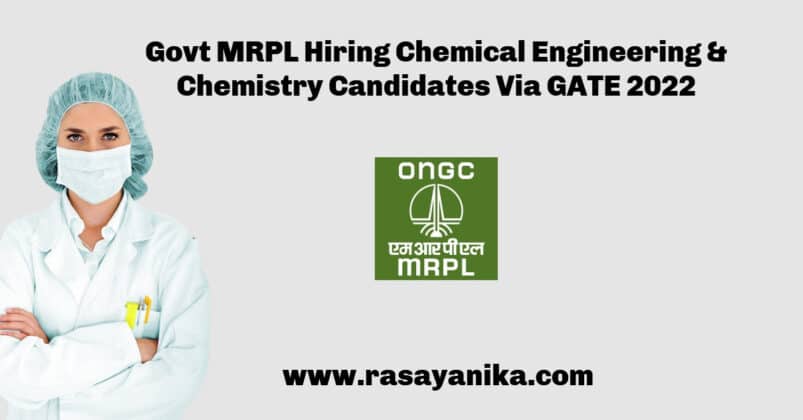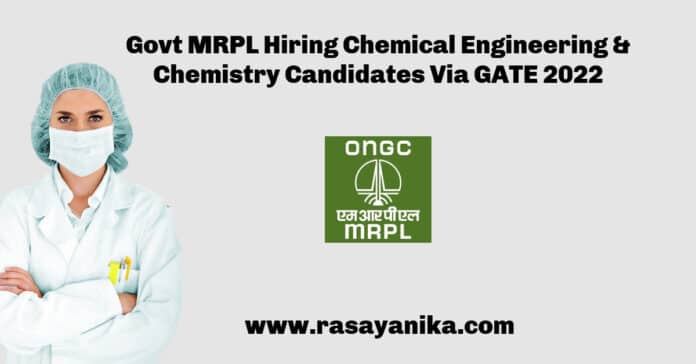 Govt MRPL Hiring Chemical Engineering & Chemistry Candidates – Apply
If you have the desire to excel and the zeal to contribute towards the development of the nation, then they welcome you to join the team. They are looking for bright, energetic, aspirant, and dedicated youths (Indian Nationals only) for recruitment in 'E2' grade of Management cadre through Graduate Aptitude Test in Engineering (GATE) – 2022 marks.
Discipline: Chemical
No.of posts: 20
GATE-2022 papers & code: Chemical Engineering (CH)
Minimum Essential Qualification* (BE/B.Tech./B.Sc. Engineering):
Chemical Engineering/ Chemical Technology/ Petrochemical Engineering/ Petrochemical Technology
Discipline: Chemistry
No.of posts: 02
GATE-2022 papers & code: Chemistry (CY)
Elibgility Criteria: Master of Science (M.Sc.) in Chemistry or equivalent degree with a specialization in any of Analytical Chemistry, Physical Chemistry, Organic Chemistry, Inorganic Chemistry, Applied Chemistry, Industrial Chemistry, Polymer Chemistry, Petroleum Chemistry, Environmental Science, Environmental Chemistry, Applied Environmental Chemistry and (General) Chemistry
SCALE OF PAY, PROBATION, AND EMOLUMENTS
Candidates selected as Assistant Engineers/Assistant Executives will receive a starting Basic pay of Rs. 50,000/- per month and shall be placed on training cum probation in the pay scale of Rs. 50,000- 1, 60,000 as per Company Rules. In addition DA (on IDA pattern), HRA/Township Accommodation, Perks & Allowances under cafeteria approach, and other allowances/benefits as per Company Rules will be admissible.
The selection process consists of Group discussions and Personal Interviews. The initial shortlisting of candidates for the aforesaid selection process will be based on valid GATE-2022 marks. Results from any previous GATE examinations will not be considered.
The details of eligibility criteria, prescribed educational qualification, age, and other criteria and application procedure are mentioned below:
Selection Process:
a) Selection methodology will comprise of initial shortlisting based on valid GATE 2022 marks followed by Group Discussion (GD) and Personal Interview (PI). The management reserves the right to add, modify or delete any test, as the case may be, to the selection process.
b) Only those candidates who meet all eligibility criteria, applicable to them, as mentioned in this advertisement shall be considered for shortlisting for GD and PI.
c) The short-listing of candidates for appearing in GD and PI will be done based on the marks obtained by them (Out of 100) in the GATE 2022 examination. Marks of any previous GATE examination will not be considered.
d) The candidates will be called for GD and PI in the ratio of 1:5 (i.e. 1 Post: 5 candidates, as per the reservation of posts). In case multiple candidates are having same GATE marks, then the candidate who has got higher marks in the essential qualification mentioned at
Table-1 above will be considered.
e) The Final merit list of candidates shall be prepared based on total sum of weightage of GATE marks, Group Discussion and Personal Interview marks as per the prevailing rules of MRPL.
GENERAL INFORMATION / INSTRUCTIONS:
a) Selected candidates will be posted at various locations/departments of the Company based on the requirement. Employees are liable to be transferred to any place in India or abroad, within the same organization, or one of the group companies of ONGC or any other organization as per the requirement of MRPL.
b) If required, the candidates need to work in shifts including night shifts.
c) No other Qualification other than expressly mentioned in the Qualification Criteria would be accepted.
d) The Call letter for the Group Discussion and Personal Interview indicating the time and venue can be downloaded from MRPL website. Candidates are advised to check the website
frequently for updates and not to rely on any other source for any information pertaining to this recruitment.
e) While filling online application, it is mandatory for all the candidates to upload their Photograph, Signature, GATE – 2022 Score Card, Caste Certificate/PWD certificate/ Income and Asset Certificate for EWS Category etc. as specified in this advertisement without any exception.
f) Candidates should comply with additional instructions of MRPL, if any.
g) No correspondence will be entertained about the outcome of the application, at any stage.
h) Candidates must ensure that they fulfill all the eligibility criteria specified in the advertisement as of 28/05/2022. In case it is found that the information furnished by a candidate is defective in any manner or has been deliberately suppressed, the candidature will be summarily rejected as and when it comes to the notice of the Management. The candidates are advised to satisfy themselves fully with the correctness of the information furnished to MRPL. The candidature would be rejected if found ineligible at any stage.
i) Issue of call letter for Group Discussion and Personal Interview does not confer any right of acceptance of candidature and should not be construed as an acknowledgment of fulfilling the eligibility criteria.
j) In case of any clarification on the recruitment process, please email at recruit1@mrpl.co.in. No other form of communication shall be entertained. However, the pendency of any such query will not affect in the extension of scheduled dates of the recruitment process.
k) The decision of MRPL in all matters relating to the conduct of Group Discussion and Personal Interviews and preparation of merit list will be final and binding on the candidates and no inquiry/correspondence will be entertained in this regard.
How To Apply:
Step 1: Candidates meeting the prescribed eligibility criteria for the post, may visit the website https://www.mrpl.co.in/careers and Click on "Advt. No.83/2022: Recruitment of Assistant Engineers And Assistant Executives in 'E2' Grade of Management Cadre through GATE 2022". Click on "Click here to register online" for generating a Login ID and Password.
Step 2: After generating Login ID and Password, click on "Sign In" for logging in to apply for the suitable post. Furnish particulars/details pertaining to educational qualifications, caste, etc. and such other information as sought in the online application form.
Step 3: Upon submission of particulars (Step 2), the online system will generate an Application ID which will be sent to the candidate through email/SMS.
IMPORTANT DATES AND LINKS
The cut-off date for deciding the maximum permissible age is 28/05/2022
Date of commencement of online application 29/04/2022 at 10:00 Hrs (IST)
Date of closing of online application 28/05/2022 till 18:00 Hrs (IST)
Date of Group Discussion and Personal Interview Will be announced on the MRPL website
https://www.mrpl.co.in/careers
Editors Note: Govt MRPL Hiring Chemical job, Govt MRPL Hiring Chemical Subscribe to Rasayanika for the latest chemistry and Pharma job openings, follow us on Facebook and Telegram and subscribe to our youtube channel for the latest updates on chemistry and Pharma jobs and much more.