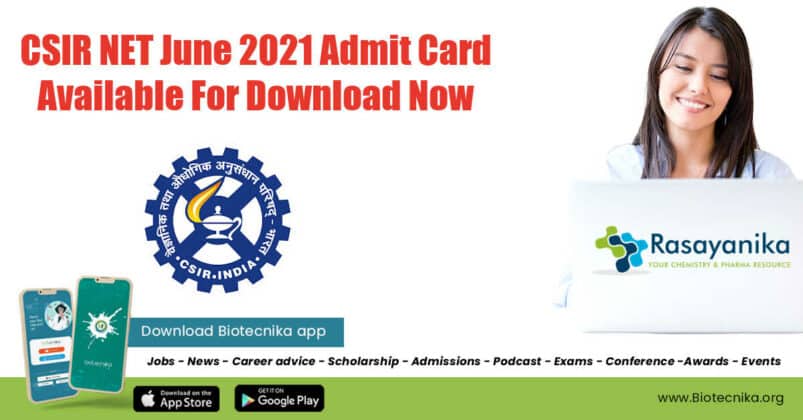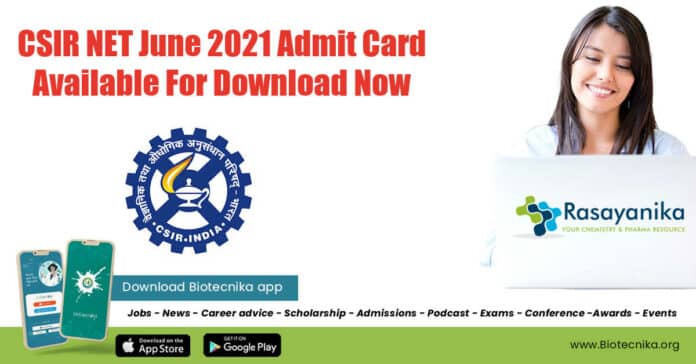 CSIR-NET June 2021 Admit Card Download – CSIR NET Admit Card Download
Dear Rasayanikans,
The wait is finally over. We have the admit cards for the Joint CSIR-UGC NET Examination June-2021 available for download. The dates for the exams have been released and now we have the CSIR-NET June 2021 Admit Card, so all the best!
Public Notice
Dated: 13.02.2022
Subject: Release of Admit Card for the Subjects "Physical Sciences", "Mathematical Sciences", "Chemical Sciences" and "Life Sciences" of Joint CSIR-UGC NET June 2021.
The National Testing Agency (NTA) will be conducting the Phase II of Joint CSIR-UGC NET June 2021 Examination for Junior Research Fellowship (JRF) and Lectureship
(LS)/Assistant Professor on 15, 16 and 17 February 2022 through the Computer Based Test (CBT) mode.
The Schedule of Joint CSIR-UGC NET June 2021 (Shift wise) is as below –
| | | | |
| --- | --- | --- | --- |
| S.NO. | SUBJECT NAME | DATE | SHIFT |
| 1 | CHEMICAL SCIENCES | 16th FEB 2022 | Shift-2 |
The Candidates can download their Admit Cards for the said Examination (Subject-wise)
from the NTA website https://csirnet.nta.nic.in using their Application Number and Date
of Birth.
Candidates are advised to note the following –
The Admit Card is issued provisionally to the candidates, subject to the fulfilment of


the eligibility conditions.

Admit Card will not be sent by post.
Candidate must not mutilate the Admit Card or change any entry made there on.
Issue of Admit Card, however, will not necessarily mean acceptance of eligibility
which shall be further scrutinized at subsequent stages of the admission process.
Candidates are advised to preserve a copy of their Admit Card and keep it in
good condition for future reference.
Candidates are also advised to be in touch with the NTA website(s) www.nta.ac.in,
https://csirnet.nta.nic.in for the latest updates on the exam.
In case any candidate faces difficulty in downloading the Admit Card for Joint CSIR-UGC
NET June 2021, he/she can contact on NTA Help Desk at 011 40759000 or email at
[email protected].
Download CSIR NET June 2021 Admit Card Here
New Batch starting on 4th March 2022
Enroll and Get THREE Free Certification Course
Register here for FREE Chemical Science Demo Class
Study with the guidance of the best experts in the country. Stay motivated by the competitive environment where you are pushed to perform better each day. With numerous study aids to support you throughout your journey, Success is guaranteed.
How will Rasayanika's classes help you?
To ace the upcoming CSIR NET Exam you need to start from scratch and cover the syllabus and we have the perfect set of tools that are going to help you.
Exam Focused Daily classes
Online Study Material
Unlimited Expert Assistance & Doubt Solving via chat
Class tests, Monthly practice exams, All India level test series
Video Backups of all classes & Much Much More
Various other tools to help you revise better
Subjects Available:
Batch Timings:
Morning Batch: 10 AM
Late Evening Batch: 7 PM
What's Included in the CSIR NET Coaching:
Online Coaching from Rasayanika's CSIR NET Qualified & experienced Experts, which can be taken from anywhere.
Online Study Material: Our state of art e-Learning portal equips you to prepare better for CSIR NET, contains powerpoints, animations, video tutorials on every topic of the csir net exam
Unlimited Classes – We do not limit your classes. Attend as many classes as you can, with no limits because our goal is your success
Double Success Guarantee – If you do not clear CSIR NET June 2022, then we give you free coaching for the next 6 months for CSIR NET December 2022
24*7 Chat Support for Doubt Solving
If your goal is to ace these competitive exams, our goal is to assist you while you step closer to your goals.
It's your dream, time to take action and make it a reality. At Rasayanika, we are always ready to help every student and professional. Join us and let us be a part of your achievement.
Rasayanika is committed to providing you with the best facility for CSIR NET Exam, and we stand by it
New Batch starting on 4th March 2022
CHAT WITH OUR EXPERTS TO KNOW MORE
Got Questions?
Our experts will be happy to help you out.
Feel Free to contact us at 1800-1200-1818 or 080-5099-7000
Editor's Note: CSIR-NET June 2021 Admit Card Download – CSIR NET Admit Card Download. Please make sure that you are subscribed to the Biotecnika Times Newsletter and our YouTube channel to be notified of all of the latest in the industry. Follow us on all of our social media like Twitter, Telegram, Facebook and Instagram.