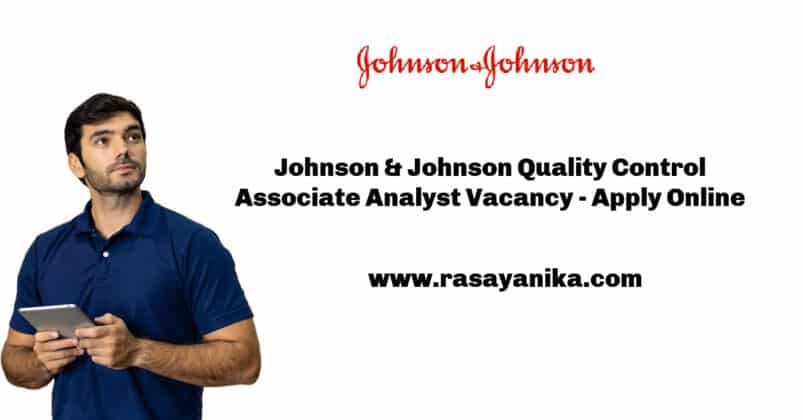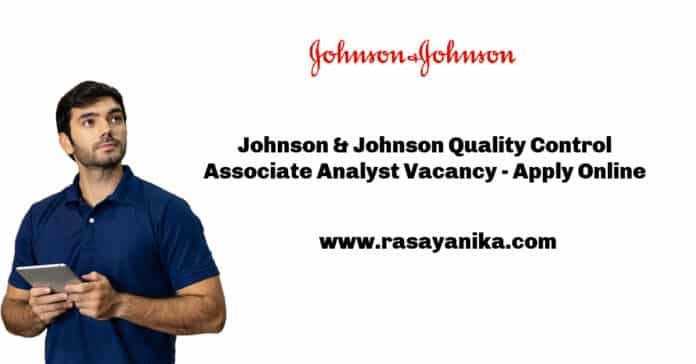 Johnson & Johnson Quality Control Associate Analyst Vacancy
Caring for the world, one person at a time inspires and unites the people of Johnson & Johnson. We welcome innovation—bringing ideas, products, and services to life to advance the health and well-being of people around the world. We believe in collaboration, and that has led to breakthrough after breakthrough, from medical miracles that have changed lives, to the simple consumer products that make every single day a little better.
Job Title: Associate Analyst – Quality Control
Job Location: Mumbai
Qualifications
Science/Pharmacy Graduate.
Adequate knowledge of verbal and written communication skills in the English language, including the ability to effectively communicate with internal and external customers.
Adequate computer proficiency
Knowledge of analytical techniques and ability to identify gaps, root causes of issues and think out of the box to develop a solution.
Must be able to work independently with minimum supervision to meet deadlines and maintain a positive attitude.
Essential Job Duties and Responsibilities
Employee is responsible for performing activities in compliance with currently established Site procedures of Safety and Quality. Main and additional duties are mentioned below:
To effectively plan the execution of tasks assigned by completing analyses right-first time and within analytical testing window.
To perform analyses according to current effective protocol, specifications, analytical methods, and laboratory processes.
To verify trending of results as per established laboratory procedure.
To report results and submit the documentation for data validation in a timely manner, as per established laboratory procedure.
To immediately escalate to Supervisor issues/ observations suspected to be not in conformity with applicable procedures /policies etc.
To initiate Quality Issues identified as per applicable procedure, participate in the investigation, perform investigation analysis in timely manner, and provide necessary information to enable implementation of effective CAPA.
To ensure training are completed on time in the electronic learning management system, and all tasks are performed only after completion of trainings on current effective procedures.
To provide technical/scientific support to other lab personnel within the premise.
To perform laboratory support activities as per training and perform tasks related to audit readiness.
Responsible for executing activities in EDMS as per assigned roles and as per applicable procedures.
To impart training to colleagues.
To participate in project teams as analytical technical team member, as applicable.
To attend (in-house) seminars, scientific meetings in own field
To attend the Department meetings and participate in the initiatives for quality improvement process, as applicable.
To compile data and collate information, such as required for regulatory submission, or preparation of work instructions and standard operating procedures.
GMP Responsibility
To execute the tasks according to the cGMP guidelines and established laboratory procedures
To document execution details contemporaneously and verify completeness of execution record as per established laboratory procedure.
To comply with procedure always and ensure lab is in state of audit readiness.
Quality & Compliance Responsibilities
To ensure that respective guidelines on data integrity and laboratory control processes are followed as per established SOPs.
To ensure the immediate escalation of issues/observations not in conformity with applicable procedures /policies etc.
How to Apply?
Internal Applicants: If you wish to apply, please consider the following information from our Policy:
You require you to have spent at least 18 months in your current position, and in good standing. As our employee, you may apply for a position without informing the current manager. However, when invited to interview, then, to the extent that this is consistent with local law or practice, you are required to notify your manager prior to the interview. This notification is inspired to promote development discussions between the managers and our employees.
If you want to refer external talent for this position, please review our Global Referral Policy and submit your referral through My Career Opportunities by following the appropriate process. (Applicable only for Internal postings).
Editors Note: Johnson & Johnson Quality Control Subscribe to Rasayanika for the latest chemistry and Pharma job openings, follow us on Facebook and Telegram and subscribe to our youtube channel for the latest updates on chemistry and Pharma jobs and much more.