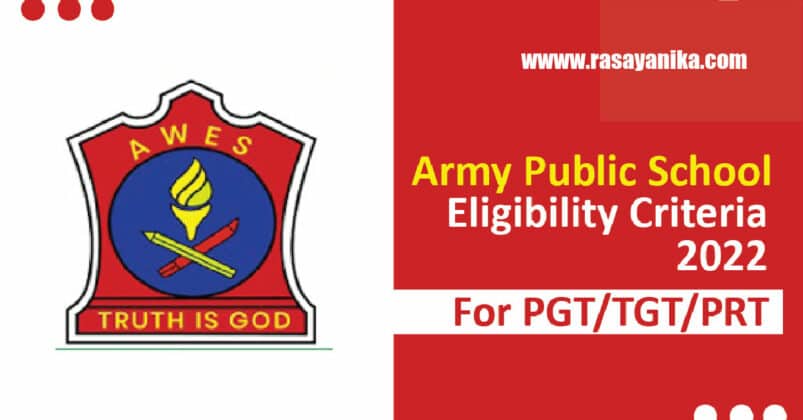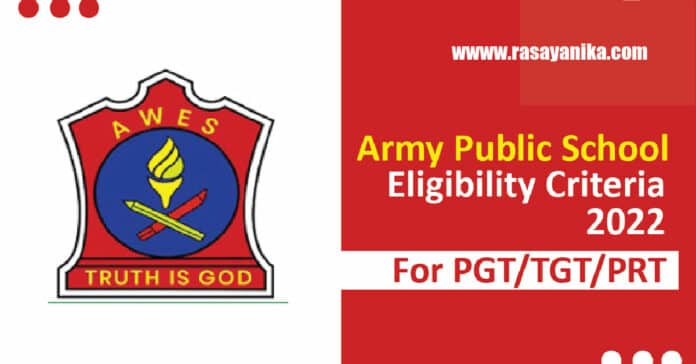 Army Public School Announces Exam For PGT & TGT Post 
Army public school is conducting exams for the selection of PGT & TGT candidates with master's degrees in chemistry and pharmacy may apply. Army Public Schools (APS) are located in various Cantonments and Military Stations across India. These schools are administered and managed by local Army authorities and affiliated to CBSE through the Army Welfare Education Society (AWES). Check out all the details on the same below:
Job Title: PGT/TGT/PRT
Position 1: PGT
Subject: Chemistry
Eligibility Criteria: Master's Degree in Chemistry or Bio-Chemistry
Desirable: PG in Pharmacy Chemistry provided it is preceded by graduation in Chemistry
Or M.Sc. Ed in Chemistry from RIE, NCERT
Professional: B.Ed
_______________________________________________________________________
Position 2: TGT
Subject: Chemistry
Eligibility Criteria: Degree in chemistry
Desirable: B.Sc.B.Ed.(Biological Sciences Group) RIE, NCERT
General
1. There are 136 Army Public Schools (APS) located in various Cantonments and Military Stations across India. These schools are administered and managed by local Army authorities and affiliated to CBSE through Army Welfare Education Society (AWES). A List of these schools is placed at Annexure 1.
2. There are approximately 8700 teachers on the rolls of these schools. Out of these, a large number get turned over every year due to various reasons.
Note: The exact number of vacancies available in the respective school will be announced by the School/Management while advertising for holding interviews/evaluation of teaching skills.
3. Post for teachers in various categories could be `regular' or of `fixed term' nature which shall be informed along with the announcement of vacancies. Appointments which fall in the category of "Regular" would be liable to transfer in organizational interest.
Selection Procedure.
The selection of teachers will be done in three stages: –
(a) Stage 1-Screening Exam. An `Online Screening Test' will be conducted on 19 and 20 February 2022, for vacancies that will arise during the ensuing academic year. This shall be conducted online by an agency identified by HQ AWES centrally, to ensure uniform quality of teachers in all Army Public Schools. Those who qualify in this stage will be given a Score Card which shall be valid for life provided the candidate picks up a teaching job within three years from the date of passing the screening exam in any CBSE affiliated school for
a continuous duration of at least one year. A Score Card will make candidate eligible to appear for the remaining stages of the selection process. In addition to fresh candidates, the following may also appear for the screening test: –
(i) Holders of Score Cards who want to improve their scores.
(ii) Those desirous of upgrading themselves. For E.g., candidates holding Score Card of TGT may now want to obtain a card for PGT, having acquired additional qualifications.
Note: Please note that holding a Score Card by itself does not entitle a candidate for an appointment as a teacher in any Army Public School. It only renders the candidate eligible for Stages 2 and 3 of the selection processes.
(b) Stage 2: Interview. As stated at Note to Para 2 above, the respective schools shall announce the vacancies available through various means like Local Newspapers, the School Website, Notice board, etc. Candidates would have to apply in response to these announcements. The interviews may or may not be held at the location of the
school. It may be held as per the discretion of the local management at a convenient place at one of the other Schools.
(c) Stage 3: Evaluation of Teaching Skills and Computer Proficiency. For Language teachers, a written test comprising Essay & Comprehension of 15 marks each will be held along with an evaluation of teaching skills. Selection The committee may also hold Computer proficiency tests if they so desire.
Note:
1. Stages 2 & 3 will be held in tandem under the aegis of the Board of Administration at HQ Command/School Management.
2. Appointments will be made as per CBSE/AWES Rules.
3. The interview shall be for a group of Schools (Cluster) and the selected candidate for Regular Category may be appointed in any of the schools in that cluster.
4. Authorities conducting the Interview may carry out additional screening of candidates if the number of candidates is large and administratively unmanageable.
5. Candidates who receive a letter of offer of appointment for the post of a teacher in any category are required to get a police verification certificate at the earliest and in no case later than 30 days from the date of joining. Spouses of serving Army, Navy and Air Force personnel will get verification of their antecedents from the Commanding Officer/ Formation Commander/ Station Commander of the establishment where their spouses
are serving. Online Screening Test
To qualify for an interview and evaluation of teaching skills, the candidates should have passed the Online Screening Test. This has been scheduled on 19 and 20 February 2022 at various centers across the country. The general guidelines for candidates are given in the succeeding paragraphs.
List Of Subjects The exam will be held for the posts of PGT/TGT/PRT for all subjects (List placed at Annexure 2)
Please ensure that you meet the educational and age criteria before you start registering yourself. If you do not, you are liable to be disqualified without refund of exam fees any time during the selection process and even thereafter whenever a discrepancy is noticed.
The Online Screening Test for 2022 will be conducted as under: –
(a) Date. 19-20 February 2022 as per schedule to be decided depending on the number of candidates who register for the exam.
(b) Method. The test will be conducted ON-LINE in the MCQ format. The questions will be randomly generated from a subject-specific question bank. A detailed blueprint of the question paper is given at Annexure 4.
(c) PGT/TGT candidates who fail in Part B but pass Part A may opt to take their scorecard for PRT subject to meeting other qualifications.
Notes: –
1. Scores will be normalized to 100.
2. There will be negative marking.1/4 marks will be deducted for each wrong answer.
3. Part A & B will be available together and the candidates have the freedom to answer questions in the order that they prefer.
4. To qualify, the candidate must score minimum 50 % marks in each part.
Exam Fee. ₹385/- (Non-Refundable).
How To Register:
Candidates are expected to register ON-LINE for the screening exam by logging onto the Registration Portal https://register.cbtexams.in/AWES/Registration/. Candidates can register between 07 January 2022 to 28 January 2022. Thereafter the portal will be closed for registration. The procedure to be followed will be as per details available on the website. Please use the steps given below to give general information about yourself to register your profile.
(a) For profile registration, you need to have a valid Mobile Number & Email ID
(b) You will receive OTP on your Mobile number & Email ID for verification
(c) You can edit your Post/Other details any time before submitting, except Basic Details (First Page).
(d) While entering the required information in Online form, you will be asked by the system to attach the following documents: –
(i) Photographs and signatures
(ii) Proof of date of birth
(iii) Certificates of academic qualifications
(e) The system will then ask you to pay the exam fee ON-LINE. Payment options are UPI/Debit/Credit Cards/ Net banking. A payment gateway has been integrated with the website for the purpose and candidates will be guided through the payment process.
(f) Once registration is completed, you will get a confirmation that registration is successful. You will also be informed through e-mail and SMS regarding the same.
(g) You may seek assistance till the examination from the following HELPLINE numbers: +91 62680 30939, +91 62680 03264, +91 62631 78414, +91 62680 62129
Mock Test:
Candidates would be able to take mock tests ON-LINE to familiarize them with the exam procedure. A link for this will be available on the Registration Portal with effect from 01 Feb 2022.
Exam Centres. A list of Exam Centres will be available on the Registration Portal. A Tentative List is also placed at Annexure 5. The candidates are required to fill in three choices in order of preference. Due to the prevailing COVID situation, if the candidate prefers to appear for the examination from home, the candidate should indicate this in the
choice. For candidates who wish to appear from an exam center, efforts will be made to allow one of the three preferred choices. If none of the choices are available the application fees shall be refunded.
Important Dates:
| | | |
| --- | --- | --- |
| Details | Day | Date |
| Start date for Registration and Submission of Form Online | Friday | 10:00 hours on 07th Jan 2022 |
| Last Date of Submission of Form Online | Friday | 23:59 hours on 28th Jan 2022 |
| Date of Downloading Admit Cards Online | Thursday | 10th Feb 2022 |
| Date of Written Test | | 19th and 20th Feb 2022 |
Editors Note: Army Public School Announces Subscribe to Rasayanika for the latest chemistry and Pharma job openings, follow us on Facebook and Telegram and subscribe to our youtube channel for the latest updates on chemistry and Pharma jobs and much more.