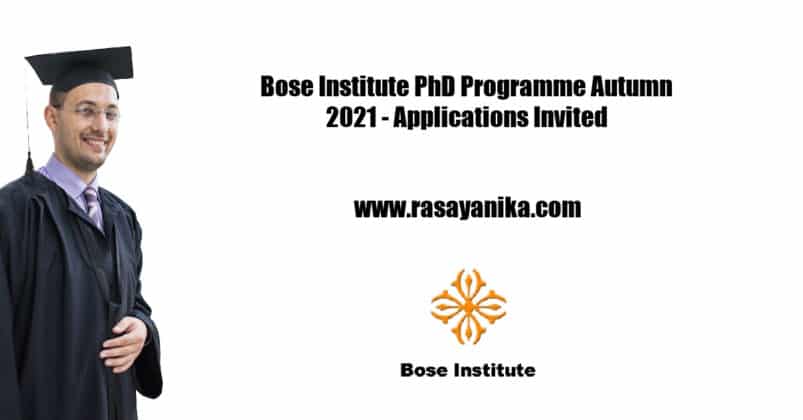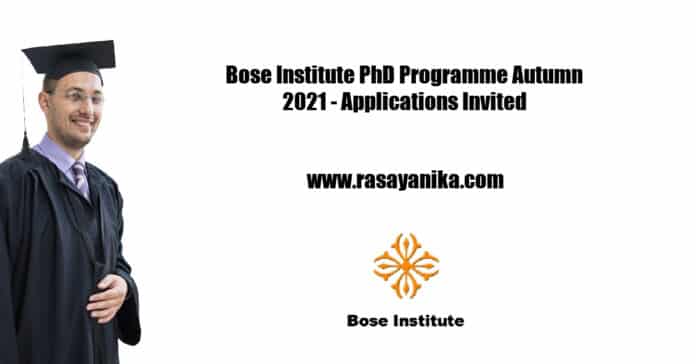 Bose Institute PhD Programme Autumn 2021 – Applications Invited
Bose Institute PhD Programme The Institute desires to admit students for its Ph.D. program twice a year, for sessions beginning tentatively in January and July. Interviews for this session will be held tentatively during the 3rd week of December 2021 in online/hybrid mode
Acharya J.C. Bose, the founder of modern science in the Indian subcontinent,
established Bose Institute in 1917. The Institute was set up as Asia's first interdisciplinary
research center and bears a century-old tradition of excellence in research.
Broad areas of research: Chemical Sciences
Candidates can apply simultaneously to a maximum of two positions as mentioned in
Annexure – I.
 Candidates are required to provide a Statement of Purpose (SOP), in prescribed
format, for each of the positions she/he applies for.
Fellowship: Admissible as per Govt. of India rules.
Reservation: The reservation quota will have adhered to the standard GoI rules
Eligibility for PhD Interview:
Candidates should have an award of JRF (CSIR-UGC JRF/ DBT-JRF/ ICMR-JRF/ DST INSPIRE/ DBT-BINC or equivalent), whose last date of validity should not be earlier than 31st March 2022 Candidates, who are in the final year of their Master's degree and are in possession of an award of a JRF, if selected, will have to submit their final degree certificate at the time of joining.
Master's degree or equivalent in any of the following fields: Engineering/ Science/ Technology with at least 55 %of marks for general, while for SC/ST/OBC (non-creamy layer) / Differently abled and other categories 50% marks is necessary
Age limit: 28 years as on the day of application and relaxation of age is applicable as per Government of India rule.
DST-INSPIRE candidates can only be admitted provisionally. Confirmation of their admission to the Ph.D. program of Bose Institute is subject to the final award of INSPIRE fellowship by DST. Subsequently, in case, the candidate is not finally awarded the INSPIRE fellowship by DST, his/her provisional admission is liable to be canceled by the Institute.
Candidates who have qualified in GATE/ JEST/ JGEEBILS/ NET (LS) etc. but who do not have a valid award of JRF mentioned in (1) above or equivalent are ineligible to apply.
Post Code: CS01
Project Title: Understanding the Structure-Function Relationship of IKK1 in Regulating NF-kB Activation and Beyond.
Description:
More than 500 protein kinases are encoded in the human genome. Protein
kinases provide the regulatory framework for most signaling pathways in eukaryotic cells. Stringent regulation of their activities is critical to the proper functioning of cellular processes, and consequently they act as important drug targets.
Indiscriminate inhibition of kinase activities often has a deleterious effect on the healthy being of cells. Signaling modularity is dictated by the choice of substrates, cognate-binding partners, subcellular localization, and posttranslational modifications of the kinase itself. It is important to investigate the mechanistic details of their activation and Spatio-temporal regulations to fully realize the scope of modulating them in a manner beneficial for the Chemistry organism.
We aim to study the structure-function relationship of, Inhibitor of kappaB Kinase 1/a (IKK1/a) and its close partner NIK (NF-kB Inducing Kinase also known as MAP3K14); and how they regulate each other's function. The primary function of IKK1 in cells is to activate NF-kB through the non-canonical/alternative pathway in response to an array of ligands and developmental cues.
IKK1 is also known to regulate gene expression by directly modifying the epigenome — it phosphorylates Ser10 of histone H3. Interestingly, IKK1 is dependent on NIK for its NF-kB-activating function but not for its epigenome modifying activity.
Desired Master's Background: Chemistry
Registration for Ph.D. Interview:
Interested candidates fulfilling required eligibility should register online at the URL –
http://www.jcbose.ac.in/applications/PHD-ADMISSION/
Deadline for online Registration: 6 PM of November 30th, 2021
An online acknowledgment receipt will be generated on successful registration.
Candidates should retain this receipt for future reference. Candidates must produce
this acknowledgment receipt for the interview. No candidates will be entertained for
interviews without this receipt.
In case of any difficulty during online registration, please send an email to
phdadmission@jcbose.ac.in
Shortlisting for Interview:
A shortlisting will be done based on 50% weightage on past academic records and
50% weightage on SOP.
 A list of shortlisted candidates, along with the date and time of the interview will be
displayed at the Institute website
Note: Candidates applying for more than one discipline may be called for separate
interviews.
Ph.D. interview:
The interview will be conducted online/hybrid mode. Specific instructions for the
interview will be communicated to the candidates at a later date.
The medium of the interviews is English.
Shortlist and selection:
The shortlist of candidates selected for the interviews will be posted on the Institute
website.
 It should be noted that mere appearance on the shortlist does not imply admission.
 Once the shortlist of candidates is posted on the Institute website, information on the
future course of action and the timelines thereof will be mentioned on the Institute
website or will be communicated to the candidates.
 The Institute Authority reserves the right to reject any or all applications without
assigning any reason thereof.
Important Dates:
Last Date for Online Registration: 18:00 hrs. November 30th, 2021
Date of display of short-listed candidates and instructions on the Institute website:
December 10th, 2021
 Tentative date of interview: 3 rd week of December 2021. The final dates of the interview
will be confirmed when the list of short-listed candidates is displayed on the BI
website.
View Main Notification
Editors Note: Bose Institute PhD Programme Subscribe to Rasayanika for the latest chemistry and Pharma job openings, follow us on Facebook and Telegram and subscribe to our youtube channel for the latest updates on chemistry and Pharma jobs and much more.