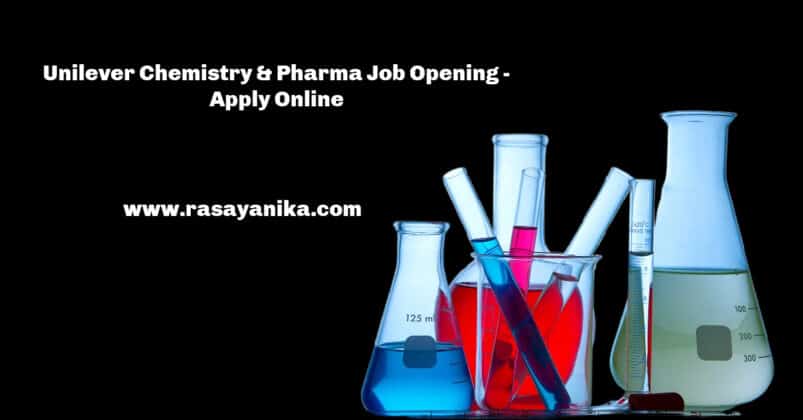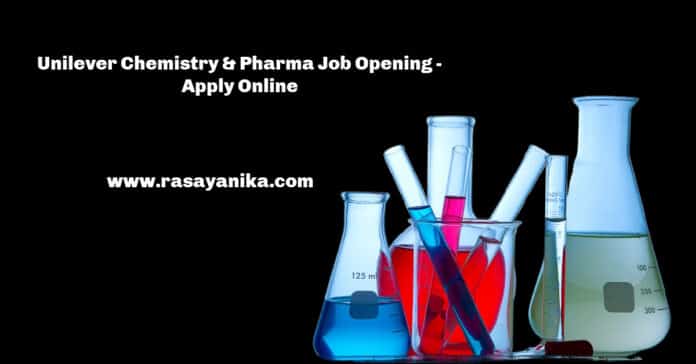 Unilever Chemistry & Pharma Job Opening – Apply Online
Unilever Chemistry jobs Unilever is the market leader in the Skin Cleansing category with over ~ €6 Bn turnover and has been growing well over several years. Naturals & Ayurveda is a huge opportunity and singles biggest opportunity for X-BPC India. It is an ingrained system of thinking and not a trend in India, which is evident from the fact that Naturals and Ayurveda contribute to 42% ie 2.7 bn Euros of the Indian BPC (Beauty & Personal care) market. As more and more people seek to go back to the roots and shun "chemicals" this part of the market is expected to grow even more exponentially.
Job Title: Assistant Manager – Formulation, Processing, and 3PM Development
Job ID: R-21138
Category: Research/Development
Location: Mumbai, Maharashtra
Educational qualifications, experience & skills
Bachelor and Master of Chemistry, B. Pharma/M. Pharma, Doctoral degree, B.SC Tech with a Post Graduate Degree in Naturals will be the best suit for the job.
Should have approximately 7 to 8 years of total work experience, preferably in S&T, design (formulation and processing and 3PM development) of Beauty and Personal care natural products. Design experience in a company engaged in the manufacture of Natural / Ayurvedic products.
The candidate should have excellent leadership skills, project and people management skills, communication skills, and should be able to seamlessly interface with cross-functional team members from Marketing, and Commercial etc.
This position is part of the new Functional Naturals & Ayurveda COE within the Skin Cleansing Category
Candidate will be responsible for supporting and assisting in setting up the Functional Naturals & Ayurveda COE and Ecosystem across the Mumbai and Bangalore R&D Centres and linking up to global programs.
The purpose of this COE to be the epicenter of unmatched FUNCTIONAL NATURALS & AYURVEDA expertise, crafting products that deliver on their promise and inspire trust based on their foundation of deep science that amplifies NATURE.
The responsibilities also include assisting globally the Innovations on the following brands: Ayush, Indulekha (non-hair), Vedayush and Hamam
This includes close working with external partners and working with internal Unilever.
Key Experience
Experience in formulation development, processing problem solving and landing new technologies on naturals in market
Sound knowledge on formulation design science and processing
Experience in leading single/multi-country projects across BPC categories
Understanding of holistic design across set of BPC products
Digital Transformation skills both in ways of working and creating digital systems for accelerating speed and impact to market
Superior Innovations
Support Ayurvedic Expert in formulation design work for innovations initiatives to deliver functional natural superior and consumer winning products OTIF
Interactions with key suppliers for capability, partnership & open innovation initiatives
Responsible to deliver Technical Transfer via PLM for the sourcing and supply chain, per agreed quality standards
Support for product launch and roll-out, and the continuous improvement of products as per the agreed timelines
Develop technical expertise in relevant sciences and technologies (BPC), supported by recognized achievements and publications
Build and maintain strong networks with cross-functional (Brand, CMI, SC(Supply Chain) etc) and R&D Cluster teams
Responsible for lab, pilot & MPT batches and Line managing and guiding junior WL1s and pilot plant staff
Ensure compliance to Internal Unilever protocols with respect to safety, environment, claims, specification management, etc.
Complexity Reduction
Support the formulation simplification for the brand to deliver the simplification objectives and drive margin improvement.
Support the formulation simplification agenda as required
Lead the new RM and alternate RM approval process working closely with suppliers and internal supply management teams
Skills
Good knowledge of formulation processing, Chemistry, a basic understanding of new product design and processing of personal care products would be an added advantage.
Basic understanding of IPR / Agreement process for projects involving the exchange of confidential information.
Ability to work independently with cross-functional partners and external parties to lead the project work.
Working knowledge of rheological assessment of personal care products.
Basic understanding of the claims challenge and substantiation process.
Basic understanding of statistical tools and complex data analysis.
Basic understanding of sustainability.
Excellent Project management skills with timelines and quality at the heart.
Excellent presentation skills.
Competency
Ability to influence leaders in the organization
Must be able to work well under pressure and manage conflict effectively
Significant understanding of the consumer business (FMCG model) preferred
Good analytical and problem-solving skills
Excellent interpersonal, team working and influencing skills
Strong communication & presentation skills
Business awareness & Influencing Skills.
Performance bias – Focuses effort and prioritizes work to deliver exceptional business value
Business awareness- Demonstrates understanding of internal and external customer needs and exceeds expectations.
Influencing people- Inspires others to contribute and uses a range of influencing styles
Wise decisions- Progresses issues even if only partial information is available; manages appropriate risks and manages the implications of actions.
Business impact
This role is responsible for supporting OTIF (on time in full) delivery of all innovation projects, roll out, and capability building for Functional Natural & Ayurvedic for the BPC category.
Editors Note: Unilever Chemistry & Pharma jobs, Unilever Chemistry & Pharma Subscribe to Rasayanika for the latest chemistry and Pharma job openings, follow us on Facebook and Telegram and subscribe to our youtube channel for the latest updates on chemistry and Pharma jobs and much more.