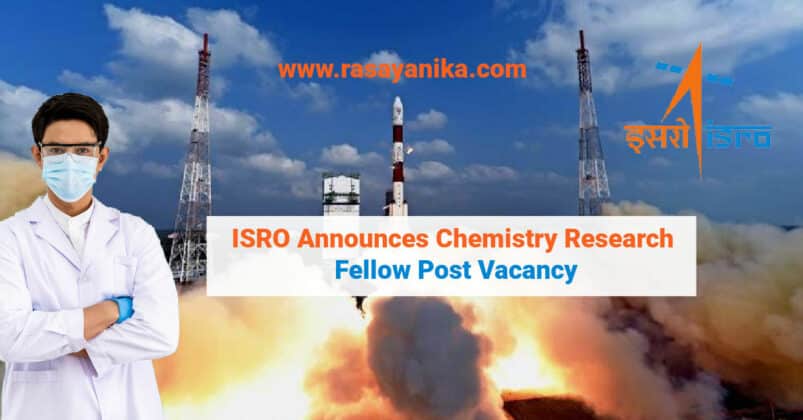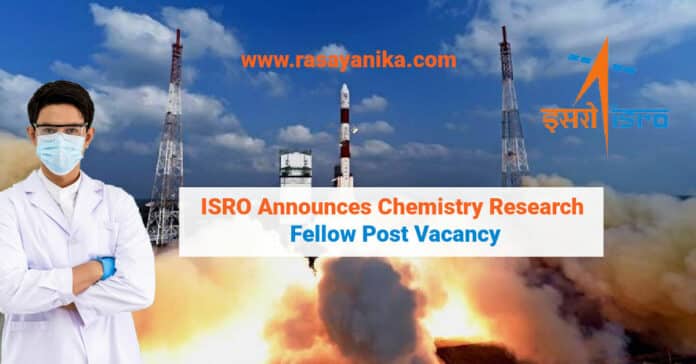 ISRO Announces Chemistry Research Fellow Post Vacancy 
Online applications are invited for engaging as /Offering of Junior Research Fellow (JRF) and Research Associate (RA) at U R Rao Satellite Centre, Bengaluru. Research Fellow job. ISRO announces Junior research fellow post vacancy 2021. Check out all the details on the same below:
U R Rao Satellite Centre (URSC) situated in Bengaluru of Karnataka State is the lead center of ISRO for satellite technology. URSC is at the forefront of spacecraft technology towards conceptualization, design, development, fabrication, testing, launch, and in-orbit management of spacecraft. As a sequel to its mandate of spacecraft development, the center is engaged in the development of cutting-edge technologies of relevance to its activities and infrastructures set up for the design, development, fabrication, and testing of spacecraft. Over a period of four decades, URSC has successfully established the Indian National Satellite (INSAT) system, which is one of the largest domestic communication satellite systems in the Asia-Pacific region, and the Indian Remote Sensing (IRS) system which is one of the largest constellations of earth observation satellites in operation. Navigation with Indian Constellation (NAVIC) an independent Indian Satellite based regional positioning system with a constellation of seven satellites for critical national applications will be operational shortly. Mars Orbiter Mission, Chandrayaan- I, Astrosat are some of the scientific and exploration missions which have garnered attention internationally. The future missions being undertaken by URSC is highly challenging
and provide an opportunity to undertake the development of innovative technologies and establish the advanced infrastructure needed for space exploration and beyond.
Job Title: Junior Research Fellow
Job Code: JRF06
No.of posts: 02
Eligibility: M.Sc. in Chemistry. The candidates who are qualified in NET or NET equivalent examinations are only eligible to apply.
M.Sc or equivalent Degree in First Class with an aggregate minimum of 65% average of all Semesters or 6.84 CGPA/CPI on a 10
point scale. The candidates who are qualified in NET or NET equivalent examinations are only eligible to apply.
NET/NET Equivalent qualifications: Any national level examinations conducted by the Central Government departments/agencies for admission to the Ph.D. program
are considered equivalent to NET. The following are the list of examinations, which can be equated to NET for the above positions:
a) CSIR-UGC National Eligibility Test including NET-Lectureship
b) Graduate Aptitude Test in Engineering (GATE) conducted by MHRD.
c) Joint Admission Test (JAM) conducted by MHRD.
d) Joint Entrance Screening Test (JEST).
Area of Work & Job Specification: 
Development, testing, and characterization of Surface treatment activities on 3-D printed metallic as well as for non-metallic components
Development of carbon nanotubes ultra-black coatings on various substrates
Modeling of Cell/Battery
Chemical Analysis of Lithium-ion cells using various analytical tools.
Age Limit: 
Maximum Age of 28 years as of 01.10.2021 i.e. the closing date of receipt of online applications but relaxable by 5 years in case of SC / ST and 3 years in case of OBC candidates. Age relaxations as per Government of India orders are applicable to ExServicemen, Persons with Benchmark Disabilities (PwBD), Widows, Divorced Women and Women judicially separated from their husbands and who are not remarried.
Fellowship & Stipend: 
The Fellowship will be initially for a duration of TWO YEARS and is extendable for further periods based on the assessment of their work and the requirement of the project. The maximum period of engagement as Junior Research Fellow and Senior Research
The fellow put together shall not exceed FIVE YEARS.
JRFs with the aptitude to pursue research in the respective areas will be encouraged to pursue Ph.D. with an external university registration. Fellowship Stipend as JRF will be ₹31,000 per month, with a possibility to be increased to ₹35,000 per month, as SRF and HRA at the prescribed rates in force at the place of posting will be paid if they are not provided with Hostel accommodation and Medical benefits for self and members of his/her families residing with them will be allowed as per extant rules.
No DA will be paid. The fellowship amount shall be taken as Basic pay for this purpose. JRFs are eligible only for casual leave. Maternity leave as per Govt. Of India, instructions would be available to all female JRFs. Apart from this, the candidates selected will not be entitled to any other benefits or concessions admissible to regular employees. In addition, JRFs are eligible to get subsidized canteen facilities.
How To Apply: 
The application for online registration will be hosted in the ISRO website i.e. www.isro.gov.in under the caption "CAREERS" during the period from 11.09.2021 to 01.10.2021. Candidates may visit our website to register their applications on-line
between 11.09.2021 and 01.10.2021. Applications will be received online only. Upon online registration, applicants will be provided with an on-line Registration Number, which should be carefully preserved for future reference. Email ID of the applicant will have to be provided in the online application correctly and compulsorily (Hall tickets will be sent by email only).
Selection Procedure: 
The qualification prescribed against each of the respective positions of JRFs and RAs is the minimum requirement and possession of the same does not automatically make the candidates eligible to be called for an Interview. There will be an initial screening based on the academic performance and other parameters given in the online applications and only those who screened in will be called for an Interview. The call letters for the Interview to the short-listed candidates will be sent only by e-mail. The result of the interview will be announced on the ISRO website subsequently
General Conditions: 
Originals of all certificates, mark sheets of all degrees and postgraduate degree, Ph.D. in proof of educational qualification, NET/NET equivalent qualification scorecard (Equivalency Certificate from Association of Indian Universities, New Delhi in case of foreign Degree) Proof of work experience, age, etc. should be produced at the time of interview. Candidates should also bring self-attested photocopies of all such certificates to the interview.
Applications will be received on-line only and all further communications will be made to the applicants through the e-mail/ ISRO website only. Therefore, the applicants are advised to check their e-mail regularly and visit the ISRO website from time to time. URSC will not be responsible for non-receipt of intimation regarding e-mail or / any communication due to technical or whatsoever reasons to the candidates.
Associates will be engaged initially for ONE Year and is extendable for further period based on the assessment of their work and requirement of the Project. The maximum period of engagement of RAs shall not exceed THREE YEARS. The fellowship will not confer any claim or right whatsoever for regular appointment in URSC or in any of ISRO/DOS/ Centres
No interim correspondence will be entertained. However, in case of any clarification, candidates may send their mail to

[email protected]
ISRO Announces Chemistry Research
Last Date To Apply 01.10.2021.
View Main Notification
Editors Note: ISRO Announces Chemistry Research job, ISRO Announces Chemistry Research Subscribe to Rasayanika for the latest chemistry and Pharma job openings, follow us on Facebook and Telegram and subscribe to our youtube channel for the latest updates on chemistry and Pharma jobs and much more.