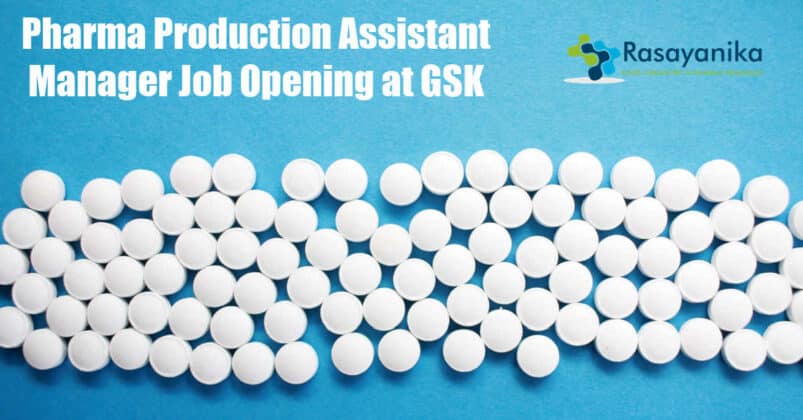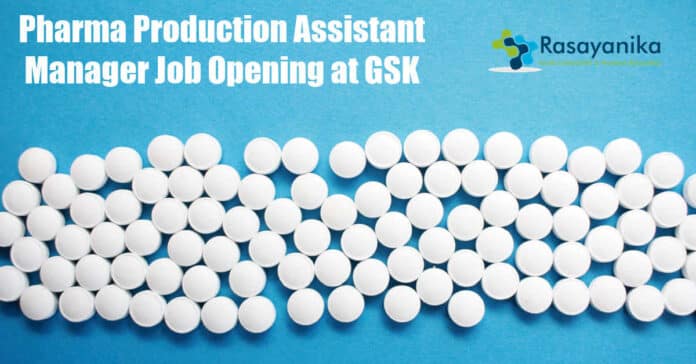 Pharma Production Assistant Manager Job Opening at GSK
Pharma Production Assistant Manager Job Opening at GSK. Pharma job opening 2021, Candidates with masters and bachelors degree in pharmacy are invited for the post of assistant manager. Pharma quality control job opening 2021. Check out all the details on the same below:
Job Title: Assistant Manager – Production
Location: NashikSite, India
ReqID: 298782
Responsibilities
People Leadership –
Working with the team to continuously improve the capability of both the individuals and the overall team to increase their performance towards targets.
Improve people capability by imparting training as per training curricula defined.
Ensuring development plans and PDPs are undertaken on a regular basis using the 70:20:10 and GSK methods. This includes ensuring that the training required is identified, recorded using the appropriate method and ensure that the training is undertaken using local processes.
Coaching and providing development to improve the behaviour/performance of individuals and the team to ensure that the expectations are being met. This will include holding people to account for the duties that they, are responsible.
NMS PDP completion & doing coaching/counselling of people to ensure adherence to stds for safety, quality & delivery.
Disciplinary, Absence management, Grievance procedures as appropriate in the site.
Role modelling the expected behaviours and standards for all staff in the area.
Performance management and Problem-solving –
Fully deploying performance management process within area ensuring accurate and timely data is used.
Real-time issue identification and resolution involving staff. Including running of GSK Problem solving process with staff and necessary
Support Functions, line side.
Current state analysis and "TOP 3 issues" identified with aligned target conditions/actions using Lead and Lag measures to track and improve.
Actively engage the team in Gemba Kaizen.
Ensuring that the appropriate Deviation procedure and problem-solving processes are used to avoid reoccurrence of issues.
Ensuring the area returns to standard after a safety, quality or performance/output deviation/incident in a controlled manner.
Ensuring that they understand the cost budget for the area and the impact that they and their team can have on this.
Coordination & monitoring of department consumables & inventory.
Process management –
Process confirmations against the 4M's Material, Manpower, Method, Measurement.
Required to manage safety, quality, compliance and output.
This includes being well prepared to have a good shift/batch/day/etc.
Ensuring adoption and adherence to the Leader Standard Work, and the application of Standard Work for roles within the area by staff.
Being highly visible during times in the shift when there is more risk for issues e.g. Line changeovers and providing guidance and resolving problems as they arise.
Ensuring alignment to and providing data for the tiered accountability meetings within the area and on-site. Following through on resulting actions in a timely fashion.
Ensure cGMP, regulatory, QMS, EHS, internal and external audit compliance.
Conduct a monthly L1 audit of EHS & Quality as per schedule to identify gaps & timely closure of actions.
Active engagement in Governance review meetings for the area e.g. Safety meetings, TIP review.
Input to GSK systems e.g. BPCS, Trackwise, CDMS, Workday etc.
Preparation of weekly production plan and schedule of activities with effective utilization of man, materials, process and machinery for better efficiency and productivity.
Proactive planning of required resources, Raw material / Packing
Material and non-coded items are required to perform the day to day activity in the work area.
Supervise the manufacturing processes & documentations (BMR /Logbook / Checklist etc) of various production activities.
To ensure safety checks like PSSR /guard interlocking.
Ensure the equipment/instruments are within the calibration due date.
To ensure that manufacturing is carried out according to SOP, BMR & cGMP practices are followed to ensure all time inspection readiness
(Area & facility upkeep & cleanliness, status labelling, good documentation practices etc)
To identify risk proactively in areas that could have an impact on safety, quality & delivery.
Any Additional Information
Manufacturing/Packing of Pharmaceuticals product.
Educational Qualifications
B Pharm/M. Pharm/BE/ M.Sc. (Science Graduate)
Years of Experience
1+years of Manufacturing / Packing pharmaceutical products.
Type of Experience
Manufacturing / Packing pharmaceutical products.
Key Skills
Resource Planning
Problem Solving
Effective communication skills
Ability to build relationships (Team building ) at all levels and across functions.
Have Influencing skilled & IR issue handling
Editors Note: Pharma Production Assistant Manager Job Opening at GSK. Subscribe to Rasayanika for the latest chemistry and Pharma job openings, follow us on Facebook and Telegram and subscribe to our youtube channel for the latest updates on chemistry and Pharma jobs and much more.