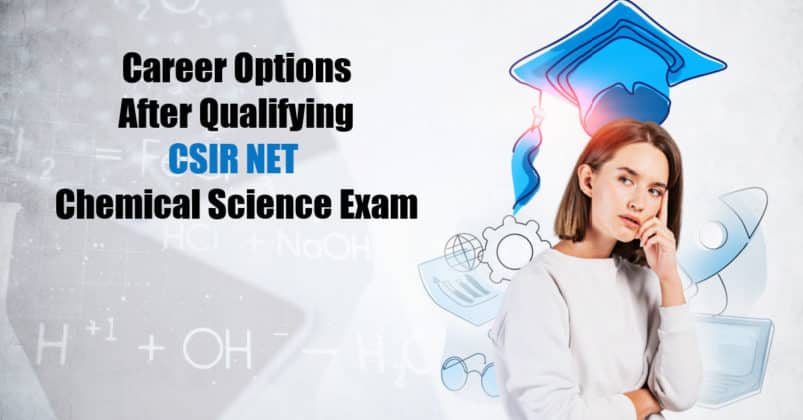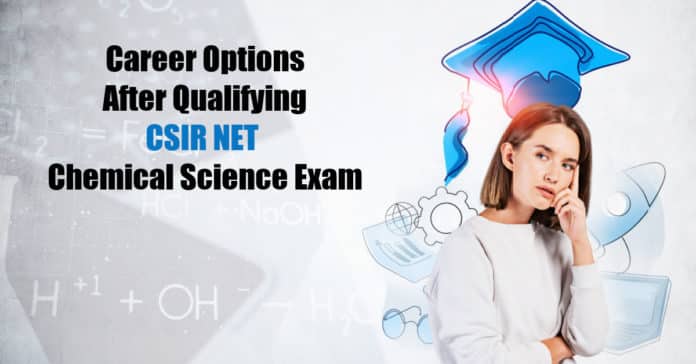 Career Options After Qualifying CSIR NET Chemical Science Exam
CSIR NET is a national-level exam conducted by the National Testing Agency (NTA) to select aspirant candidates for the award of Junior Research Fellowship and for determining their eligibility for appointment as lecturers. The CSIR NET exam outfits the candidate with a lot of expertise that can help in structuring commercial life science services or products.
The candidates who are fantasizing to progress in their job in this area and willing to apply for CSIR UGC NET 2020 must hold an M.Sc. or equivalent degree with a minimum of 55% aggregate.
Chemical science students aspiring for a research career will have to qualify in CSIR NET Exam in order to be eligible for JRF or for lectureship in Indian colleges and universities.  All the research institutes and labs prefer CSIR qualified candidates for Ph.D. programs.
Here, we have compiled a list of career options after qualifying for CSIR NET Chemical Science Exam. This is a must-read for all the chemical science students aiming to qualify  CSIR NET Exam.
Doctoral or post-doctoral degree (Ph.D.)
Students with a good rank in NTA CSIR NET can go for doctoral or post-doctoral programs and add doctoral degrees to their profiles. This will enrich you with proficiency in your domain. A doctoral degree will help you to develop stronger scientific and analytical thinking skills.
The majority of the research institutes and universities prefer students who qualified CSIR NET Exam. CSIR NET Exam makes it easier for you to enter into a Ph.D. program in top Indian universities/colleges/institutes.
A stipend of Rs. 31000 + HRA is graded by CSIR for JRFs for the first 3 years of their Ph.D. This is just like making you financially independent with your studies.
In the next 2 years of Ph.D., the stipend is raised to Rs. 35000 + HRA for the position of SRF for selected candidates according to the norms set by CSIR.
 Pursuing Ph.D. overseas with CSIR-UGC NET qualification
If you are interested to pursue a Ph.D. from abroad, qualifying for the CSIR NET exam can help you as several acknowledged foreign universities and research labs consider this score.
Though, you are not eligible for a JRF fellowship in the abroad Ph.D. program however you can get a few other Fellowships from India and abroad as per your expertise.
2. Research Fellow in Laboratories
Candidates can work as a researcher by applying for Research Fellow Position in any reputed CSIR Research Labs.
You can apply for the JRF post in various government-funded institutes such as CSIR/DBT/INSPIRE, DRDO, CSIR – CFTRI, ICAR, ICMR, SERB, IISER, NIPER, IICB.
As a research fellow, you can research and contribute your findings for the advancement of science.
3. Laboratory Technician
You can work as a Scientific Lab Technician after qualifying the CSIR NET Exam.
As a Scientific Lab Technician, you will be associated with a range of lab-based examinations like sampling, testing, gauging, recording, and evaluating results.
You will also have to help the Research Analysts in their experiments and projects.
As a Scientific Lab Technician, you are expected to have immense knowledge of the domain and abundant expertise in practicals.
4. Lecturer or Assistant Professor
Another prestigious Career Options After Qualifying CSIR NET Exam is Assistant Professor or Lecturer.
Once a candidate has qualified in CSIR NET-LS Exam, they can apply for this post in government colleges and universities. They also get priority in Private Universities/colleges.
Thousands of candidates apply to get hired for the positions of Lecturers in government as well as private colleges and universities. However, only a few succeed and NET qualifiers always get the priorities for those jobs.
The salary range for Lecturer Jobs is about Rs. 37000- 67000/- and would be upgraded to Rs. 1.31 lakhs. The salary range of Assistant Professor Jobs is Rs. 37000-67000/- and might be increased to Rs. 1.44 lakhs.
Being an academician, you can make a vital positive change in the Indian Educational System. and you can guide students in the right direction to reach and succeed in their dream job/career.
5. Public Sector Undertakings Jobs 
Careers in Public Sector Organizations are profoundly leading among young prospects. These Organizations offer a broad array of advantages and excellent payroll.
Currently, many PSUs have begun taking giving priority to the CSIR NET qualified candidates. During the selection of researchers and scientists, the CSIR scorecards are considered as the main filtering factor.
The salary package offered by PSUs ranges around Rs. 6-12 lakhs per annum.
Few organizations offering opportunities to the CSIR NET qualified candidates.
6. Scientific Officer
Being a scientific officer is another career option after passing the CSIR NET Exam.
Some of the leading institutes and companies in India provide job opportunities for Scientific officer posts to the CSIR NET Qualified candidates.
Few CSIR-Labs offering opportunities to Chemical Science CSIR NET Qualified candidates are:
Defense Research and Development Organization (DRDO) is an agency under the Department of Defence Research and Development in the Ministry of Defence of the government of India, which selects CSIR NET Qualified candidates in its laboratories.
Few organizations that offer job roles as a scientific officer:
These reputed organizations also provide higher priority to CSIR NET, qualified candidates.
Once you join as a scientific officer, you can reach the various scientist's ranks like Scientist B, Scientist C, Scientist E, etc. This job portfolio includes a managerial role and formulating products in companies and scientific research labs.
7. Private corporate companies
Now, multinational companies have started recruiting CSIR-NET qualified candidates for their research labs. Many companies are now selecting these candidates for their research and development labs. Chemistry students have extensive benefits as they get job opportunities in various chemistry, life science, and pharmaceutical companies. With the onset of the COVID-19 pandemic, chemistry, and life science students are getting immense opportunities as many of the multinational companies are racing to find a drug against COVID-19.
8. Entrepreneur
CSIR helps you and provides you with grants in setting up your own startups. If you are interested and intend to build your very own research lab, you need to apply and get consent from government officials. You are supposed to strictly adhere to the standards and guidelines to begin a research laboratory.
9. Work as a consultant
Various multinational companies and law firms are employing NET qualified candidates to offer consultancy service and research operations in their particular domain. In addition to the above-discussed career choices, there are a lot more in the listing like Writer, Lab Trainer, Guest Faculty, a Mentoring Tutor.
While the career options are many, it entirely depends on your skills & interest, which field you want to get into. It's a very crucial decision for your career hence you must explore all options. tale expert guidance and tread accordingly.
Enroll For CSIR NET Chemical Science Coaching With Us wherein you are not only trained to qualify CSIR NET exam with a high rank but also our mentors will help you & guide you through the interview procedures as well, hence it's an overall package you will be enrolling for.
Dial Toll-Free 1800-1200-1818 For More Details to Chat With Our Experts Here
---
Career Options After Qualifying CSIR NET Chemical Science Exam