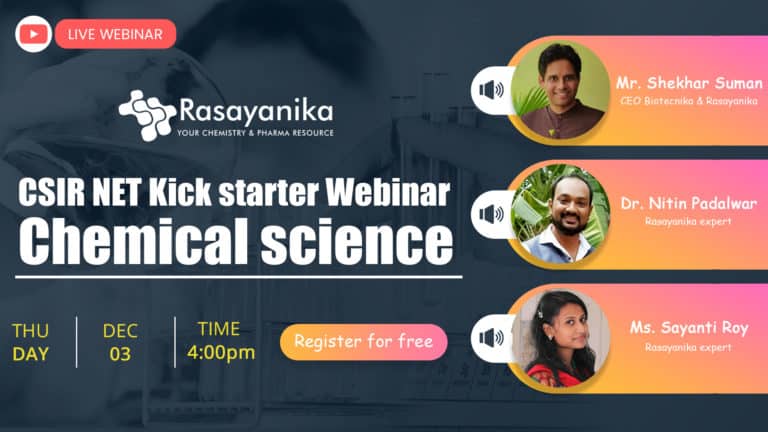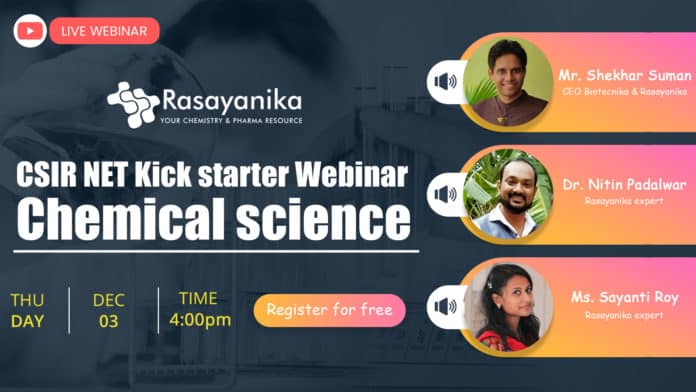 CSIR Chemical Science Exam IMPORTANT WEBINAR ALERT
Exclusive for Chemical Science candidates
CSIR NET Kickstarter Webinar – How To Start Your CSIR NET Chemical Science 2021 Exam preparation
Hello there!
Ready to take on the challenge called CSIR NET but confused about where to begin and how to prepare? 
Massive syllabus, difficult topics, and limited time. Does this scenario sound similar to you? You are not alone, It's a common situation faced by most of the students taking up competitive exams like CSIR NET & GATE. The only way to make sure you put in your 100% efforts and come out victorious without having lost your sanity is by proper Planning and Strategizing your preparation. Let's put an end to all your troubles and simplify CSIR NET Preparation. 
Rasayanika brings you a Free, Expert driven webinar on how to Kick start your preparation and make a strong study plan. Learn from the best on how to prepare for the exam, tips on how to manage time, important topics, reference books you will need for the exam.
CSIR NET Kickstarter Webinar 
What to expect from this webinar?
How to Plan Your CSIR NET Exam Smarter this time.

Smart Time management Technique

Tools You Can Use For Smart CSIR NET Study

Syllabus Hacking Tricks
Webinar Details:
Agenda

: How to kickstart CSIR NET exam preparation? The best plan and strategy for the next 6 months.

Date

: 3rd December 2020

Time

: 4:00 PM

Mode Of Webinar

: Online

Duration

: 2 Hrs Approx

Registration Fee

: Free of cost for all Rasayanika Members

Subject

: Chemical Science

Speakers

: Mr. Shekhar Suman,

Dr. Nitin Padalwar, and Ms. Sayanti Roy
All candidates taking up the CSIR NET Chemical Science exam must attend this discussion. Students preparing for competitive exams or plan to take up these exams in the future will benefit from this webinar.
Register for the free webinar, and thank us later! It's time to change the ordinary preparation strategy to get Extraordinary results.
Fill out the registration form below to save your seat.
If you're having any trouble, chat with our experts here.
We will be happy to assist you.
You can also call 1800 1200 1818 or dial 08050997000 for more details.