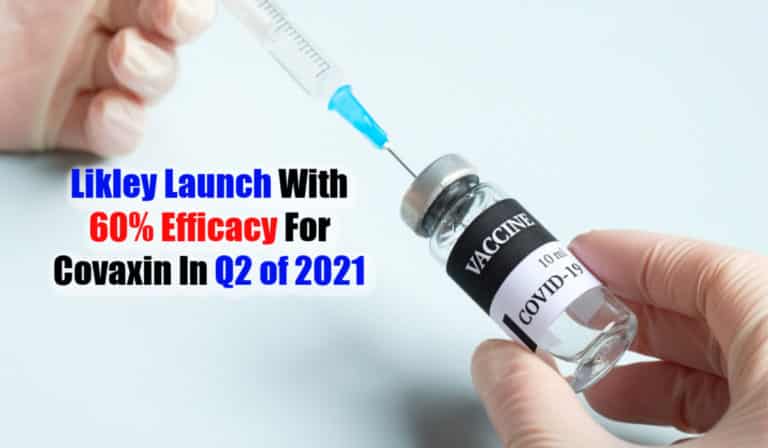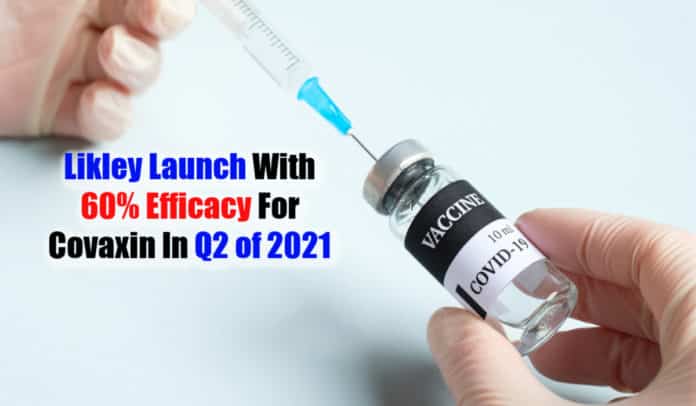 Bharat Biotech Covaxin Launch Mostly By 2021
Bharat Biotech intends to release India's very first native COVID-19 vaccine "Covaxin" in the second quarter of next year, confirmed by the firm's high official. Even though a clear statement of the efficiency rate of a minimum of 60% for the prospective inoculation for coronavirus disease is provided, they have halted disclosing its expenses. Covaxin, a completely killed novel immunization, is now in its second last phase of the clinical trial. Indian Council of Medical Research Study (ICMR) joined forces with Bharat Biotech to introduce an indigenous vaccine.
The Hyderabad-centred biotech company has begun Covaxin Phase III trials across 25 regions in India with 26,000 volunteers. The various regions participating in this trial consisted of Aligarh, Bhubaneswar, Nagpur, Goa, and Hyderabad. Numerous other locations will start advanced phase testing in the coming week. Based on Prasad's statement, this is the biggest scientific trial performed in our nation, including that India is conducting discussions with ten countries that have shown curiosity in its possible COVID-19 vaccine.
He said the outcome of the Phase-III test will be accessible by the end of the first quarter of 2021. Post this, the company will request governing authorization for the launch of the vaccine. Prasad also said that they will pursue the final phase which accordingly consists of volunteered trials for some years.
Prasad informed that Phase I and II were developed to examine the safety and immune response with two shots of Covaxin when inquired about the technique employed for its trials.
He added that if the drug is 50% efficient, then it is certain that the vaccine would be sanctioned by the World Health Organisation (WHO), India's Central Drugs Standard Control Organization (CDSCO), and the US Food and Drug Administration (FDA).
Bharat Biotech is focussing on accomplishing a minimum of 60% efficiency or more. It is highly unlikely to have an efficacy rate of less than 50% as per the trial outcomes, Prasad said.
Nevertheless, several other pharmaceutical companies like  Pfizer and Moderna Inc, have asserted to have attained a 90-95% efficiency rate. Based on this prognostication, Prasad hark backed boldly and advocated the methodology underlining the advancement of indigenously established Covaxin. This vaccine is isolated from the SARS-CoV-2 virus strain and killed. He specified that the killed vaccine innovation has been recognized as the secure type of immunization for the past decades, in contrast to various other newfangled and untested innovations. Besides all this, Prasad reported that Covaxin needs a storage environment of 2-8 degrees Celsius.
The vero cell manufacturing units utilized for Covaxin has presented over 300 million dosages till today, with an outstanding secure case history, Prasad declared to the network.
The current manufacturing capacity of Bharat Biotech is 30 crores vaccine, which will be improved to 50 crores the following year.
In the past 20 years, Bharat Biotech has carried out beyond 80 clinical trials of various other vaccinations throughout 18 countries. They take safety and security, assurance, GxP's extremely important and also carry out all drug product formulations and clinical progression in complete abidance with governing standards, Prasad pointed out.
COVID-19 vaccine expedition is active worldwide and different biotech firms in India are in various phases of the clinical study. The Oxford University-AstraZeneca vaccine developed by the Serum Institute of India ( SII), is assuming to launch the vaccine the following year in January to susceptible populaces. In the coming week, human trials of Sputnik V, from Russia are probably going to commence. Recently, Ahmedabad-based Zydus Cadila completed its Phase-II trial triumphantly.
Author : Geema George
Upload your CV to Rasayanika Talent Pool