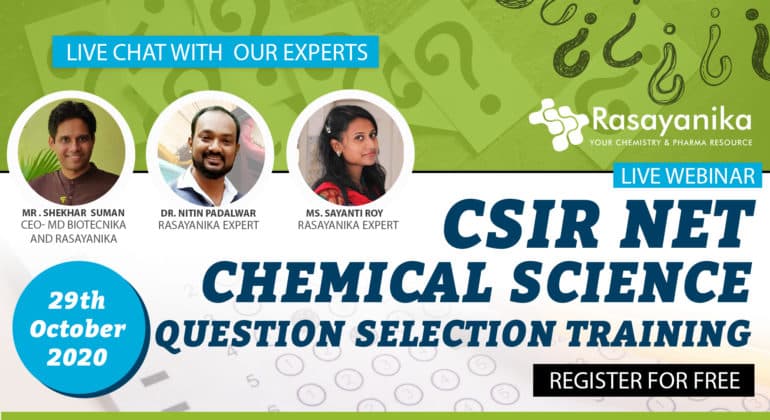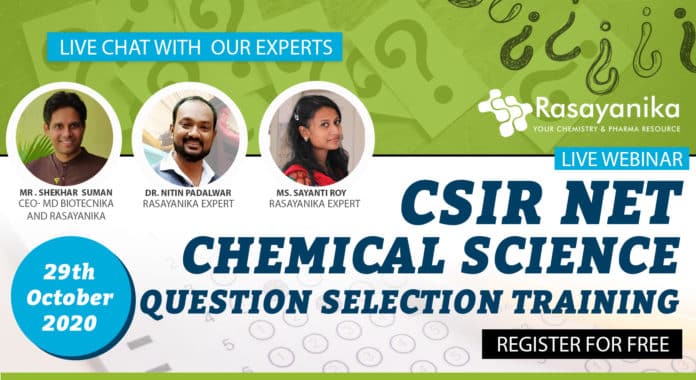 CSIR Chemical Science Question Selection Training
FREE WEBINAR
IMPORTANT FOR ALL CSIR NET Chemical Science Exam Aspirants 
Hello CSIR Aspirants!
Taking up a competitive exam can sometimes be a daunting experience. Sometimes you will end up in a state of dilemma and question yourself- If your preparation is sufficient? How to tackle the difficult questions? How much time to assign to different sections during the exam?
Rasayanika brings you an exclusive webinar on CSIR NET Question Selection Training to help you tackle one most difficult aspect of the examination- How to choose the correct questions and make the right decision during the 3 Hrs Examination.
Register For Free Webinar on CSIR Chemical Science Question Selection Training
What you can expect from this session:
In this session, we will be discussing.
Which question to choose, and which question to skip
Which are the questions which can actually be lethal and get you maximum negative marking
which are the questions which can be solved easily and can fetch you marks easily
Which are the sections of the question paper which you should skip
The sections of the question paper must double down all your efforts in finding out the right questions.
After learning these essential techniques from our experts, you can implement them in your preparation strategy!
Webinar Details:
Agenda: How to select questions in CSIR NET Exam? – CSIR Chemical Science Question selection training.
Date: 29th October 2020
Timing: 7 PM
Mode: Online
Duration: Approximately 90 Mins
Subject: Chemical Science
Registration Fee: Free for all Rasayanika Subscribers
Speakers: Mr. Shekhar Suman, Dr. Nitin Padalwar, and Ms. Sayanti Roy
Who should attend?
All candidates taking up the CSIR NET Chemical Science exam must attend this discussion. Students preparing for competitive exams or plan to take up these exams in the future will benefit from this webinar.
Register for the free webinar, and thank us later! It's time to change the ordinary preparation strategy to get Extraordinary results.
Fill out the registration form below to save your seat.
If you're having any trouble, chat with our experts here.
We will be happy to assist you.
You can also call 1800 1200 1818 or dial 08050997000 for more details.
Follow us on Telegram for more personalized Notifications.
CSIR Chemical Science Question selection training exclusive webinar