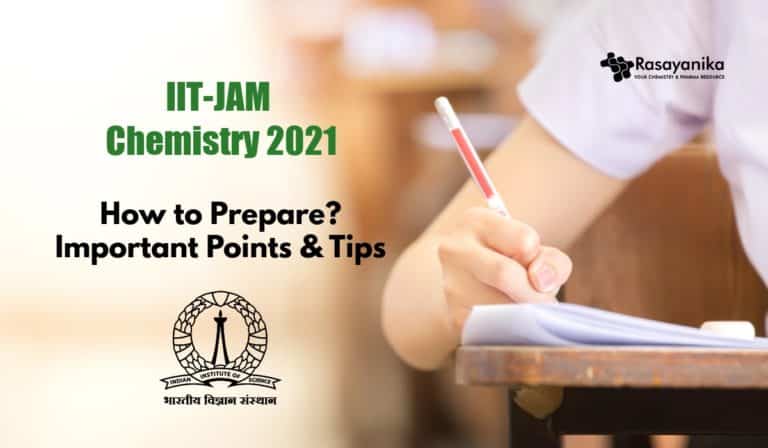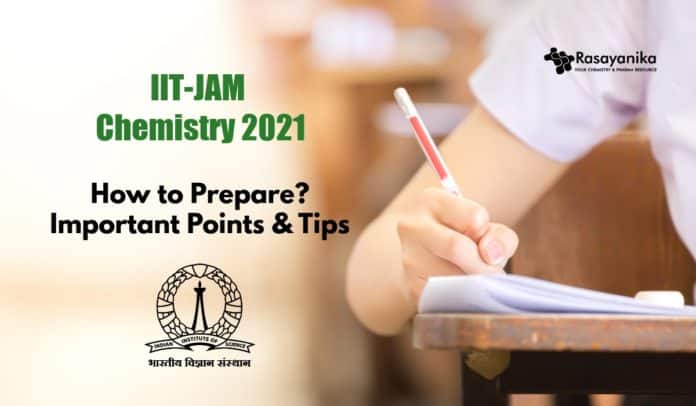 How to Prepare for IIT JAM Chemistry
Joint Admission Test for MSc (JAM) is an online entrance exam conducted all across India by the Indian Institutes of Technology (IITs) on behalf of the Ministry of Human Resources Development (MHRD), Government of India. It is conducted for admission into M.Sc., integrated Ph.D., and other postgraduate courses in science at IITs and IISc. The IIT JAM 2021 exam to be held on February 14, 2021 (Sunday), will be organized by IISc Banglore.
Eligibility:
The minimum qualification to appear in JAM for the admission to Msc or Integrated PhD in IISc or any of the IITs is to have a bachelor's degree (three years/ six semesters) in chemistry.
In order to get admission to any of these institutes, the candidate should have completed the bachelor's with at least 55% or 5.5 CGPA out of 10 for General/OBC (NCL)/EWS category candidates, and 50% or 5.0 out of 10 for SC/ST and PwD category candidates.
IITs are the top-ranking centers of excellence for training, research, and development in India. If you are a chemistry student looking forward to writing the IIT JAM exam or you have already started your preparations, here are some tips and information that would gear up your IIT JAM preparation and improve your chances of getting selected into one of the IITs or IISc.
Download the Syllabus and Be Thorough with it
For an effective preparation of IIT JAM, it is a must that every aspirant download the syllabus. Download the syllabus here.
The syllabus can be divided into three parts.
Pre-Graduation Syllabus: This is the syllabus of your higher secondary education. You can refer to NCERT books for this purpose.
Graduation Syllabus: Syllabus of your Bachelor's course.
Post-Graduation Syllabus: Few questions are asked from the post-graduation syllabus, particularly from the topics of spectroscopy, advanced bioinorganic chemistry, and organic chemistry.
Read through the syllabus thoroughly. It is recommended to start the preparation in the same sequence as mentioned above. The weightage for each topic is not decided; hence the aspirant should try to cover the complete syllabus to perform well in the exam. The syllabus for IIT JAM Chemistry is as follows.
| | | |
| --- | --- | --- |
| Physical Chemistry | Organic Chemistry | Inorganic Chemistry |
| Basic Mathematical Concepts | Basic Concepts in Organic Chemistry and Stereochemistry | Periodic Table |
| Atomic and Molecular Structure | Organic Reaction Mechanism and Synthetic Applications | Chemical Bonding and Shapes of Compounds |
| Theory of Gases | Qualitative Organic Analysis | Main Group Elements (s and p blocks) |
| Solid State | Natural Products Chemistry | Transition Metals (d block) |
| Chemical Thermodynamics | Aromatic and Heterocyclic Chemistry | Bioinorganic Chemistry |
| Chemical and Phase Equilibria | | Instrumental Methods of Analysis |
| Electrochemistry | | Analytical Chemistry |
| Chemical Kinetics | | |
| Adsorption | | |
| Spectroscopy | | |
2. Familiarize with the Pattern of the Exam
The duration of the computer-based online exam will be 3 hours. There will be 60 questions carrying 100 marks, and the medium of the question paper will be strictly English. The test will be entirely objective type with three different patterns of questions. Accordingly, the paper is divided into three sections, and it is compulsory to attempt all sections.
Section A: Multiple Choice Questions (MCQ)
This section contains 30 questions;10 questions of one mark each and 20 questions of two marks each. Each question will have four options, of which only one is the correct answer.
2. Section B: Multiple Select Questions (MSQ)
This section contains 10 questions of two marks each. Each question will have four options, but unlike MCQs, more than one option could be correct. The candidates will receive full credits only if they mark all the correct choices with no wrong answers marked.
3. Section C: Numerical Answer Type (NAT) questions.
20 questions, including 10 questions of one mark each and 10 questions of two marks each, will be available in this section. Answers to these questions will be real numbers, which have to be entered manually using the virtual numeric keypad on the monitor. No options will be given in this section.
The unattempted questions will result in zero marks in all sections. In Section-A (MCQ), Each wrong answer will result in negative marks in Section A. 1/3 mark will be deducted for each wrong answer for one mark questions, and 2/3 for two mark questions. There is no negative marking or partial marking provisions for Section B and Section C.
3. Do a Little Research on Previous Years' Cut Offs
Before you prepare for your IIT JAM Chemistry exam, it is recommended that you set your goal. You must have an idea on which IIT you want to go for your post-graduation, and accordingly, you must do a little research on previous years' cut-offs of the institute. For example, if you want to get into one of the best IITs and you are from the General category, you might require a rank within the first 100. But if you are very particular that you want to get into IIT Bombay, it is even harder. You might need a rank within the first 30.
This is the general trend observed over the last few years in the case of Chemistry. If you can score 66 or more marks in the IIT JAM Chemistry exam, you may have the chances in IIT Delhi or Kanpur. So if you have already decided your institute where you want to do your post-graduation, look into previous years' cut-offs and see your goal accordingly.
4. Choose your Reference Books Wisely
Reference Books are one of the most important factors that determine your performance in IIT JAM. There are a number of books available in the market, but choosing the right one is difficult. While preparing for IIT JAM, you could make use of your NCERT textbooks from pre-graduation as well as the books from graduation. Apart from these, there are books specifically designed for IIT JAM in the market. Such books can get you acquainted with the topics and to get an idea of what to expect in the exam.
To get a deeper knowledge of the topics, you can go for some of the best books in chemistry. But trying to read every other book is also not a good idea.  So, some of the best books you can refer to while preparing for IIT JAM chemistry are listed below.
Inorganic chemistry
Shriver and Atkins' Inorganic Chemistry
Inorganic Chemistry by James E. Huheey
Inorganic Chemistry by Miessler & Tarr
Physical chemistry
Physical Chemistry by Peter Atkins ( Solid-state, liquid, and solutions)
A textbook of physical chemistry by K L Kapoor (Thermodynamics, Electrochemistry & Conductance)
Principles of physical chemistry by Puri Sharma Pathania (Electrochemistry & Conductance)
Quantum chemistry by Levine ( Quantum chemistry & physical spectra)
NCERT Textbook (Equilibrium, Biochemistry)
Organic chemistry
Advanced organic chemistry, reactions, mechanisms, and structure by Jerry March (VBT theory, general organic chemistry)
Organic chemistry by Jonathan Clayden (MOT, reaction mechanisms, name reactions)
Introduction to Spectroscopy by Pavia (Organic spectrometry )
For coordination Chemistry, bioinorganic chemistry, and analytical chemistry, you can use study materials specific for IIT JAM.
5. Solve Previous Years' Question Papers
Go through the IIT JAM chemistry question papers of the last 10 years and try to understand the pattern and topics of importance. Solve as many as question papers possible. Solving previous years' question papers will help you to identify the crucial topics. While studying the complete syllabus is important, focusing on important topics is eve more important for the best results. Moreover, questions are often repeated from previous years. You can download the previous years' question papers here.
6. Join Online Test Series or Give Mock Tests
IIT JAM is conducted as a computer-based exam (CBT) every year. So it's important for the aspirant to get acquainted with the CBT format. Giving mocks tests online or joining IIT JAM online test series can help you get used to the format. Your prior experience with online exams will prepare you to give the real one without any stress or pressure. Also, remember, you are not allowed to use physical calculators during the exam. You have to depend on virtual calculators. So make sure you use virtual calculators while giving the mock tests.
7. Maintain a Regular Time Table
To complete the syllabus, solve the question papers, and to revise the topics beforehand, you must plan your preparation efficiently and invest enough time for topics that need special attention. Apart from the weekly and monthly plans, you should plan your next months left for the exam to complete the syllabus and to have a proper revision. While preparing the timetable, make sure you keep a slot for relaxation. Remember, the most important thing during your preparation is to be consistent with the timetable you make and follow deadlines strictly to cover your topics. If you are regular and consistent with your IIT JAM Chemistry preparation, spending two to three hours daily, four months should be necessary for you to prepare well for the exam.
Important Dates for IIT-JAM 2021
Commencement of Online Application for IIT JAM 2021: September 10, 2020
Last Date for Online Application: October 15, 2020
Admit Cards available for Download: January 05, 2021
IIT JAM 2021 Examination: February 14
Announcement of Results: March 20
Submission of Application Form for Admission on the JAM website: April 15-28
Declaration of First Admission List: June 16
Declaration of Second Admission List: July 01
Declaration of Final Admission List: July 16
Closing of Admission: July 20
Remember, IIT JAM isn't a very difficult exam. Anyone with a consistent effort, practice, and smart planning can score top rank in the exam and make their way into one of the IITs or IISc.