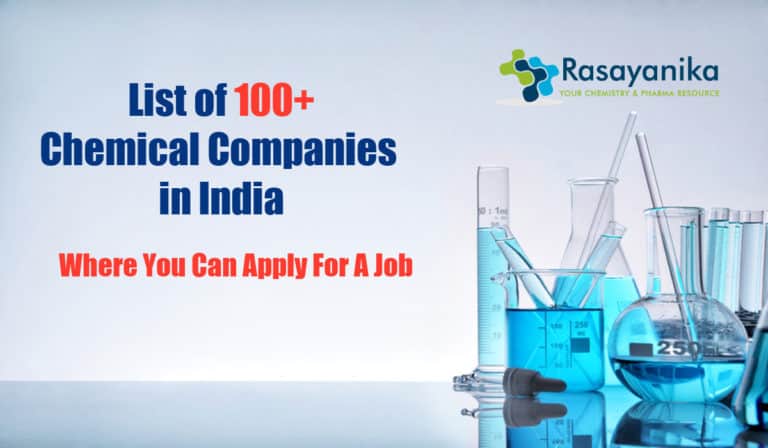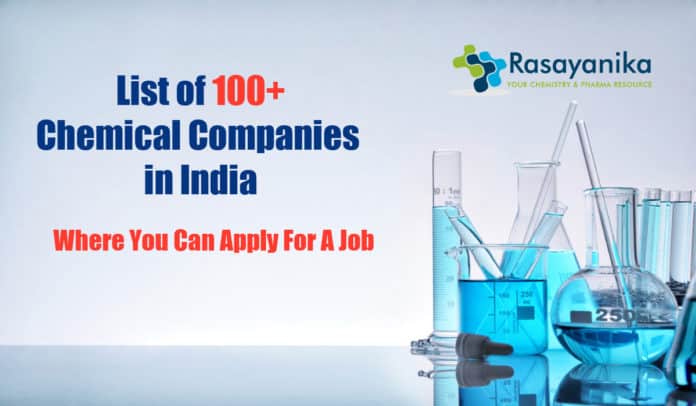 Chemical Science Companies in India

List Of Chemical Companies Chemical Science Candidates Can Work For 
One of the oldest industries in India, the chemical industry is a significant part of the Indian economy and by supplying products and raw materials, it contributes to a lot of other sectors. Globally, India is the sixth-largest producer of chemicals and the third-largest in Asia with a coverage of over 80 thousand products. The chemical industry in India constitutes of basic chemicals and their related products such as pharmaceuticals, varnishes, paints, fertilizers, petrochemicals, etc. Chemicals cover an array of more than 70,000 commercial products among the most diversified industrial sectors.
This highly diversified industry field consists of various companies under different categories of the chemical industry.
In this article, we have given a list of reputed Chemical Companies in India where chemical sciences and life sciences candidates with the appropriate degree and eligibility can secure a suitable job and shape their career!
The list includes more than 100 chemical companies in India and the company's website details where you can check for the current job openings and the recruitment process.
CHEMICAL SCIENCE COMPANIES    
Shortlisted Chemical Companies consist of
Refinery Companies
Petrochemicals Companies
Fertilizer Companies
Pharmacy companies
Paint and Adhesive Companies
Agro Chemicals Companies
Chemical Companies
Catalyst Manufacturer Companies,
and FMCG (Fast-moving Consumer Goods) Companies.
For Refinery Companies, the recruitment process is Campus + Gate + Experience. The companies recruit candidates through the GATE exam for the post of a management trainee. The best way to get into these companies is to prepare for the GATE exam. With a good score, you can be selected as a management trainee.
Generally, for all the below-mentioned companies, the recruitment process will be published on their website. Some pharma companies from this list recruit through campus placements, while most will have the job openings notified on their websites. Keep tracking the company's websites and when there is a job notification, follow the instructions, and apply accordingly. If your resume gets shortlisted, you will be called for the interview, and you can bag the job if you crack the recruitment process.
To get job notifications from all the below companies at one place, keep visiting Rasayanika.com.
List of Chemical Science Companies in India
CHEMICAL COMPANIES: Refineries       
CHEMICAL COMPANIES: Petrochemical Companies
CHEMICAL COMPANIES: Fertilizer Companies
CHEMICAL COMPANIES: Pharma Companies
CHEMICAL COMPANIES: Paint and Adhesive Companies
CHEMICAL COMPANIES: Agro Chemicals Companies
CHEMICAL COMPANIES: Chemical Manufacturing Companies
CHEMICAL COMPANIES: Catalyst Manufacturer
These are the companies where a college pass out student or experienced candidate can apply for available and suitable job roles and set out to have their career in the field of chemical sciences. Since the mentioned companies are all from the chemical field, the eligibility for the jobs is ideally a degree in chemical sciences, however, even candidates with a degree in Pharma & life sciences can also apply according to the requirements of the specific job.
Within a few years, the chemical industry in India has grown rapidly and is continuing to flourish. According to the current chemical industry trends, India's chemical industry has recorded an annual growth of 20%. There will be a great boost in revenue generation as India's chemical industry seems to double in size by 2025. For the past years, India's chemical sector performance has increased and further holds an excellent scope for development. As you can see, there are a plethora of companies offering jobs under different categories within the chemical industry. More than 2 million people are employed in the Indian chemical industry. All you have to do is find the right one for you!
All the Best!
Keywords: Chemical Science Companies in India, Chemical Companies in India
Upload your CV to Rasayanika Talent Pool