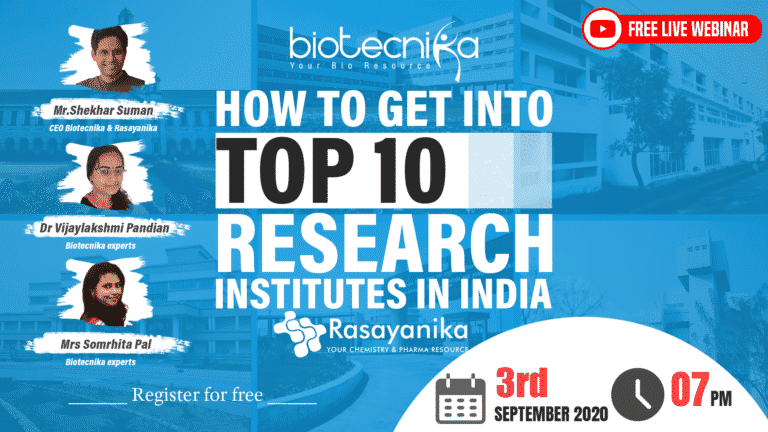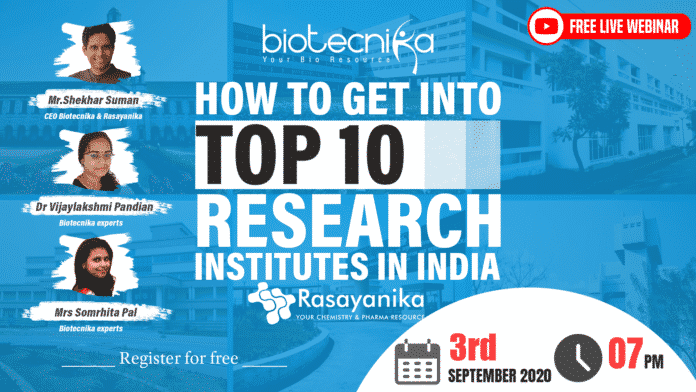 Research Institute Chemistry & Pharma In India
FREE WEBINAR BY Rasayanika
How to get into Top 10 Research Institutes in India?
Modern India has a strong focus on Science and Technology. India is also home to famous and prestigious institutes that have a history of nurturing the top scientists and brightest minds of our country. Thanks to some of the premier world-recognized institutions in our country, India has significantly contributed impactful research to the global scientific community. To be able to study in these institutes, under the guidance of the best of teachers is a privilege itself and a dream to most of the students. 
Every student graduating in Biological sciences dreams of studying in these prestigious institutions but somewhere down the road lose track and miss out on the opportunities. Reasons like lack of information regarding entrance exams, criteria for admission, or guidance for interviews might be just a few reasons to list out. 
If you are one of those students looking for guidance on how to get into the best research institutes in India then we have delightful news for you!
BioTecNika & Rasayanika experts are going live on 3rd September to throw some light on this! It is a webinar every student must attend. 
Nothing is worse than missing an opportunity that could have changed your life!
Webinar agenda: How to get into Top 10 Research Institutes in India
Webinar Details:
Date:

3rd September 2020

Time:

7 PM IST

Mode Of Webinar:

Online

Duration:

2 Hrs Approximately

Registration Fee:

Free of cost for all Rasayanika Members & Subscribers

Who can attend?: All Bsc / Btech / Msc/ Mtech / PhD candidates from life science /Chemical science & Pharma can Attend.
Subject:

How to get into Top 10 Research Institutes in India

Speakers:

Mr. Shekhar Suman, Dr. Somrhita Pal, Dr. Vijaylakshmi Pandian
This webinar by BioTecNika & Rasayanika is for all students who are currently pursuing studies in Biological Sciences and Chemical Sciences & Pharma. Learn how to tap your right potential and achieve your dreams. Learn How To Get into Top Research Institute Chemistry & Pharma. Ask the right questions and get the guidance you are looking for.
Register for this webinar and gain a free invite for many more webinars in the future – Do not miss out!
How to register?
Fill out the registration form below.
If you are having any trouble, CHAT HERE with our experts. We will be happy to help you out.
Call 1800-1200-1818 / 080-5099-7000 / 080-5099-2444 for more details.