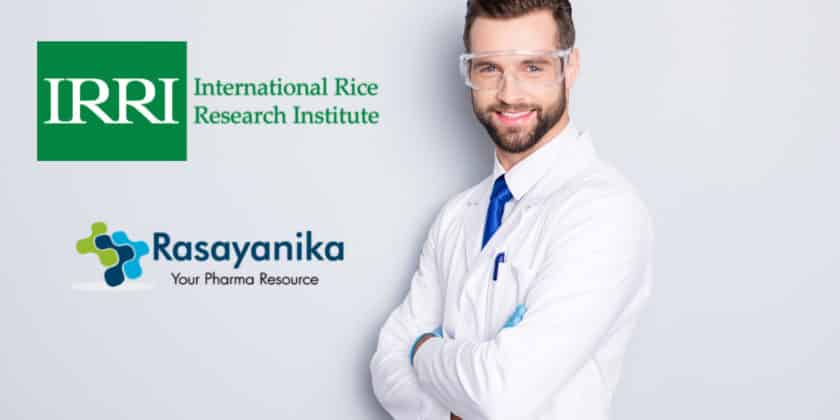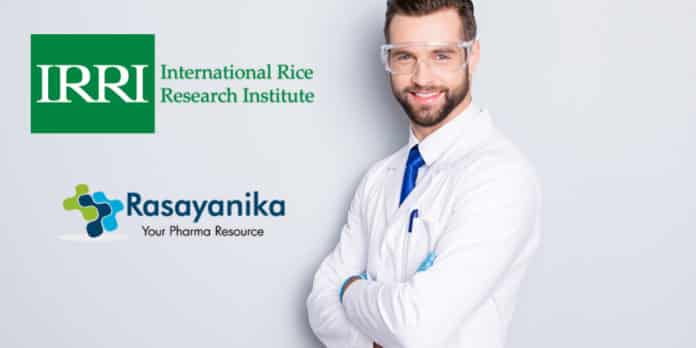 International Rice Research Institute Chemistry Associate Scientist
MSc Chemistry candidates are encouraged to apply online for an Associate Scientist – Chemistry (CERVA) vacancy at The International Rice Research Institute (IRRI). The International Rice Research Institute (IRRI) is the world's premier research organization dedicated to reducing poverty and hunger through rice science; improving the health and welfare of rice farmers and consumers; and protecting the rice-growing environment for future generations.
Job Title: Associate Scientist – Chemistry (CERVA)
Job ID: HQ01136
Location India
Salary: 49700 – 103300 INR per month
Qualifications
Master of Science degree in Chemistry with 3 years of relevant work experience in rice grain quality,
Job Purpose
The Centre of Excellence for Rice Value Addition (CERVA) is a major component of the IRRI South Asian Regional Centre (ISARC) that is being established in India by IRRI, with strong support from the Government of India to enhance research and training capability in the south Asian and African regions enabling the production of rice with superior grain qualities. Under the general direction of the Head of CERVA, the Associate Scientist will conceptualize, plan and conduct research studies including activities such as preparation, improvement and/or development of necessary research tools, data collection, analysis and interpretation. The role involves working closely with a collaborating partner(s), exchanging information and presenting research findings (in seminars, conferences, publications). The Associate Scientist will also coordinate and prepare training sessions for a range of people, supervise, train and guide scholars, on-the-job trainees, researchers and research technicians.
The Associate Scientist will work widely across all areas of grain quality including milling, cooking, nutritional qualities and safety aspects to contribute significantly to the research and service missions of CERVA.
This position will be based at the IRRI South Asia Regional Centre (ISARC) at Varanasi in Uttar Pradesh and will be filled in only by existing IRRI Staff.
Skills Required
Mandatory
Proven Technical proficiency in conducting research experiments
Experience in contributing to research publications, presentations or related areas
Excellent analytical skills in chemical and biochemical lab environments
Skills in implementing Quality assurance tools
Familiar with the laboratory accreditation process
Experience in some Research management
Experience in leading a small research team
Experience in chromatographic and mass spectrometric techniques
Preferred
Analytical skills in nutritional quality and safety evaluation of grains
Allowances
House-Rent Allowance: IRRI provides a house rent allowance of 40% of base pay per month.
Transport Allowance: A monthly transport allowance is provided to NRS as below: NRS L6: INR 5,000
Dearness Allowance: One Hundred and Thirteen per cent (113%) of employee's base pay.
Leave Travel Allowance (LTA): One-month base pay per annum, on availing minimum 2 days of vacation leave
Education Allowance: INR 1000/- per child per month (limited 2 children)
Roles and Responsibilities
To plan and design multiple experiments and research studies in the field of Biochemistry.
Prepare research outline stating the rationale, hypothesis, experimental layout, statistical design, timetable of activities and conducting and overseeing the analysis of starch structural and functional properties and other grain quality attributes using a range of techniques including chromatographic and Mass spectrometric approaches.
Learn and implement novel analytical technologies for evaluating the nutritional properties of grain and food safety aspects such as heavy metal and other toxic chemical contamination.
Organize research requirements by procuring all the necessary materials and equipment; ensure adequate manpower with appropriate skills.
Identify the appropriate protocol for the implementation of the targeted metabolite platforms for free sugars and free amino acid analysis in the rice grain.
Discuss and clarify guidelines for the appropriate utilization of experimental materials and facilities.
Manage the implementation of experiments, and other research studies related to understanding the role of starch, proteins, fat, and other metabolites to grain quality.
Coordinate and monitor activities on a regular basis to ensure the efficiency of the research process/operation.
Develop standard operating procedures (SOP) and other necessary documentation to obtain and sustain Laboratory accreditation.
Interpret the outcome of the data analyses/research findings based on the defined objective of the study and review of related literature.
Validate that database/datasets is current and initiate updates as necessary.
Contribute to the content of publications in peer-reviewed scientific journals.
Supervise or assist Post-Doctoral Fellows, students and/or trainees
Meet with project leaders and/or collaborators to discuss the scope of specific research areas in the field/laboratory/greenhouse.
Collaborate with Head of Grain Quality and Nutrition Centre at IRRI Headquarters and other IRRI colleagues to develop new projects to strengthen research in the area of rice grain quality.
Present research studies at seminars and/or conferences (local/international)
Guide/coach researchers, technicians, scholars and interns
Mentor team members in the process of establishing and maintaining the experiment(s)
Prepare training materials and acts as a resource person in training within and outside IRRI
Organize and coordinate training for on-job trainees and interns
Contribute to professional service activities such as strategic committees or task forces etc.
Act as a resource person for training courses and visitors
Supervise the work of Assistant Scientists, Researchers and/or Research Technicians
Carry out performance appraisals of Researchers
Manage other activities such as services sourced out from other units and /or contractors
Ensure that research procedures follow the experimental protocol as described in the outline
Consolidate, verify and analyze collected data using appropriate advanced statistical tools independently Draw conclusions from the research studies
Prepare reports, scientific papers, articles, posters, database for publication and presentation
Responsible for the professional development of Researchers
Last Date To Apply: 13th August 2020
Editors Note: International Rice Research Institute Subscribe to Rasayanika for latest chemistry and Pharma job openings, follow us on Facebook and Whatsapp and subscribe to our youtube channel for latest updates on chemistry and Pharma jobs and much more.