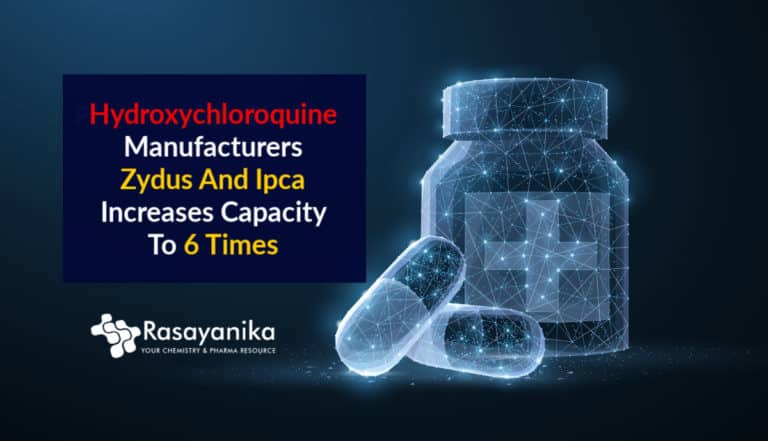 Hydroxychloroquine manufacturers Zydus and Ipca prepare to increase capacity to 6 times to meet demand
Pharmaceutical companies of India are raising regular monthly production of anti-malarial medicine Hydroxychloroquine (HCQ) 4 times to 40 metric tonnes (MT) by the end of this month as well as five to six times to over 70 MT by the following month. The proposal to raise the manufacturing came after the Government of India indicated it will certainly aid countries in alarming demand for the medication to eliminate COVID-19.
350 million tablets of 200 mg dose can be produced every month with its highest capacity would. The government of India has placed an order with the leading Indian Hydroxychloroquine manufacturers – Zydus Cadila and Ipca Laboratories to increase capacity and the country's own demand is not likely to surpass 10 crore tablets. Pharma specialists claim that 10 crore tablets are sufficient to treat with 7 crore people if needed. In India, the cost of drug HCQ is less than Rs 3 per tablet.
The extra products will be exported to the nations that need them such as the US and the neighboring nations. US President Donald Trump was prompted to seek India's help in obtaining HCQ because the drug has shown some solid antiviral impacts on the COVID-19.
The other manufacturers of HCQ include Cipla, McW Medical Care of Indore, Intas Pharmaceuticals, Lupin and Macleods Pharmaceuticals. Active pharmaceutical ingredient (API) distributors for the drug include Rusan Pharma, Mangalam Drugs, Abbott India, Vijayasri Organics, Unichem Remedies, Laurus Labs, and so on.
A top executive of a leading HCQ drug manufacturer, said, "Together, we approximate API manufacturing can be augmented to 40 MT this month and to 70 MT monthly in 2 months."
Sources claimed that the manufacturers are cautious, as research done until now to evaluate the efficiency of HCQ in treating coronavirus included only smaller sized populations. Trials in the larger population will start this week only. One research had also fallen short to prove its efficiency, as per a report, though it is a safe and proven drug.
Now, HCQ is not a primary anti-malarial drug anymore. It is primarily utilized around the world to treat some immunological diseases like Rheumatoid Arthritis as well as Lupus. Almost 80-85% of the production is exported to almost all parts of the globe by the Indian medication formulators, as pharma giants worldwide more or less stopped large scale production of this inexpensive drug because of less requirement.
Hydroxychloroquine manufacturers – Zydus Cadila and Ipca's plan to increase manufacturing capacity
Zydus Cadila and Ipca Laboratories – significant Indian manufacturers have backward integrated manufacturing capacity, they convert vital key materials to intermediates and then to APIs and finally to the end formulations, in the almost 12-15 step procedure to make the drug.
Some key raw materials and intermediates are imported from China or Finland, Italy or South Korea by many other Hydroxychloroquine API makers.
An inventory of raw materials is kept for six months by API producers. Industry sources said, with most of China going back to normality, importing raw material will certainly not be a concern. "Shipments of intermediate chemicals for manufacturing HCQ have started from China, said a representative of Indian Medication Manufacturers Association (IDMA) to India Today.
Dr. Sharvil P Patel, Managing Director, Zydus Cadila, said "We have increased the production to 20 MT to meet the demands and if the demand emerges we will be scaling it up further to around 40-50 MT in the coming months. This should not pose a difficulty as we are fully integrated. The top priority is to guarantee that all patients who require the medicine get it".
The current increase in production is evidently a 10-fold rise from around 4 MT. This current increased capacity alone is sufficient to make about 150-200 million tablets.  The US Food and Drug Administration (FDA) has temporarily cleared the over three-year ban on Ipca's API manufacturing unit at Ratlam in Madhya Pradesh and two formulation facilities in Silvassa and Pithampur in Madhya Pradesh. Ipca earned 18% of its revenues in 2018-19 from sales of anti-malarials, and had sales of API and intermediates worth Rs 885 crore. Almost 77% of this was the exports, other than to the US due to the restriction.
In 1934, Chloroquine was discovered by Hans Andersag and his team at Bayer's labs, however, it was not used for over years as researchers feared that it was too harmful for human usage. In 2017, the WHO estimated that there were 219 million cases of malaria worldwide, causing 435 thousand fatalities, and 1,190 death per day, especially young kids.
Sources claimed, India's exports of HCQ in 2018-19 were only $51 million and the entire current size of the US market is just $220 million, generating about 5.5 million yearly prescriptions. In the market of United States, Zydus Cadila is the biggest player with 32% market share by volume and the top 10 players consist of Dr. Reddy's Lab (10%) and Sun Pharma (7%).
Author: Sruthi S