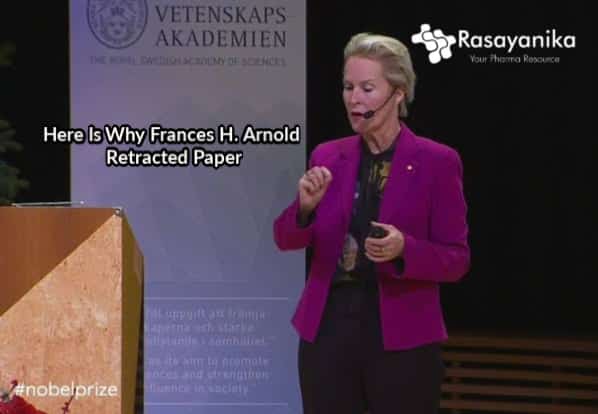 Nobel Laureate Retracts Paper. Here is Why Frances H. Arnold Retracted Paper
Not even Nobel Prize Winners are perfect.
Winning a Nobel Prize in science is a big deal. It is nearly impossible to win the most prestigious award without contributing a lot to science and many successes as a scientist. Frances H. Arnold, Ph.D. who won the 2018 Nobel Prize in Chemistry has now caught the attention of the Twittersphere as she tweeted about something that did not work out well. Arnold, the Linus Pauling Professor at the California Institute of Technology recently tweeted that she has withdrawn her last year's paper on the enzymatic synthesis of beta-lactams as the work was not reproducible. The tweet could possibly contribute to changes in the way scientific research is being done nowadays.
It is painful to admit, but important to do so. I apologize to all. I was a bit busy when this was submitted, and did not do my job well. https://t.co/gJDU0pzlN8

— Frances Arnold (@francesarnold) January 2, 2020
Through her tweet, the Nobel laureate Arnold was referring to her paper that got published in May 2019 in the journal Science. The work was co-authored by the members of Arnold's research group, Zhi-Jun Jia, Ph.D., and Inha Cho. Science published the retraction statement that while trying to reproduce the work entitled "Site-selective enzymatic C‒H amidation for the synthesis of diverse lactams", it came to notice that the enzymes are not able to catalyze the reactions with the claimed selectivity and activity. A careful examination of the first author's lab notebook revealed that some raw data and contemporaneous entries are missing. Therefore the authors have retracted the paper.
In a follow-up tweet, Arnold took the responsibility of the mistake saying that she was a bit busy when the paper was submitted and she couldn't do her job well. She also apologized for the mistake and said it's painful but important to admit it.
Scientist Anmol Kulkarni tweeted, "Seeing a Nobel laureate tweet about a paper retraction teaches how important it is for a scientist to be honest about their data."
Most of the reactions to Arnold's tweet appreciated her courage to admit the mistake and retract the paper even after being a Nobel laureate.
In 2018, one half of the Nobel Prize in Chemistry was awarded to Frances H. Arnold. She performed the very first directed evolution of enzymes, which are proteins that catalyze chemical reactions in 1993. She had been polishing the methods since then that are now regularly used to develop new catalysts. Frances Arnold's enzymes are more environmentally friendly for manufacturing renewable fuels for a greener transport sector and chemical substances like pharmaceuticals.
Upload your CV to Rasayanika Talent Pool