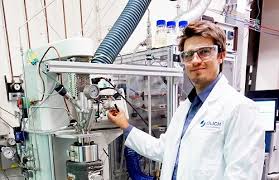 Cargill provides food, agriculture, financial and industrial products and services to the world. 
Together with farmers, customers, governments and communities, we help people thrive by applying our insights and over 150 years of experience. 
We have 150,000 employees in 70 countries who are committed to feeding the world in a responsible way, 
reducing environmental impact and improving the communities where 
we live and work.
Job Title:    Quality Chemist
Job Description:
Position Purpose:
A QC Shift chemist, or quality control shift chemist, utilizes chemistry lab skills to test and measure materials, generally in a manufacturing or process field. As someone whose work is generally part of a team effort, a QC chemist ensures that experiments are completed according to established Standard Operating Practices (SOP), Good Laboratory Practices (GLP) or Good Manufacturing Practices (GMP), as well as any applicable federal regulations or industry standards. Some QC chemists also validate instrumentation and experiments. A candidate needs to hold a chemistry Bachelor / Master's degree to become a QC chemist.
Principal Accountabilities:
60% – Quality control Shift chemists prepare and test samples from all phases of a manufacturing or other handling process, with the goal of determining if the substance meets the standards or requirements of the
project. He should demonstrate basic lab-work skills and thorough understanding of chemical testing equipment and processes. Responsible for maintaining the laboratory equipment's and if required he is capable enough to take care about minor equipment troubleshooting and repair. QC Shift chemists have a role in preserving workplace safety and safe materials handling as appropriate, since they sometimes work with hazardous materials.
15% – Must be able to perform analysis from the following analytical equipment: NIR, HPLC, KF-TITRATOR, REFRACTOMETER, SCALES, OVEN, MUFFLE FURNACE, ETC. Maintain all analytical equipment according to the schedule and Standard Operating Procedures. Complete all paperwork related to the analysis (Calibration Log, Finished Goods Log, Raw Materials Log, ETC.). Validation and development of analytical methods, also validation of manufacturing equipment, production lines and products.
10% – All the In process analysis and Final FG analysis report to be documented and recorded in the log sheet and also same needs to be posted in the SAP for further clearance. Arrangement of retention samples with clear identification which should be easy traceable to retrieve. Cleaning of the Glassware's and equipment's before completion of shifts
10% – Work with production, engineering, customer service and technical support in solving problems directly related to process, analysis and customer complaint. Monitor the critical food safety parameters and recorded the same in SAP and also in Log book.
5% – Ensure before approving the material all the analysis carried out as per customer request and same has been uploaded in SAP for taking the COA. Analyze all non-conforming material reports and complaints and work with applicable parties to assist in the Resolution of these complaints.
 Qualifications: 
Other Requirements:
Carry out other such duties as may be required by FSQR team / Business requirement within scope of BU FSQR.
Required Qualifications:

B.Tech/ MSc Degree in Chemistry or Equivalent
Minimum of 1- 2 years related professional experience + Laboratory Quality Management experience
Demonstrates verbal and written communication
Ability to work in night shifts and weekends
Preferred Qualifications:
2+ years of Shift chemist and Laboratory experience
A strong Chemistry base and knowledge of analytical methods and instrumentation including chromatography techniques such as HPLC and NIR handling will be preferred
Analytical method Minor trouble shooting experience
Ability to make decisions and take initiative to solve problems in a timely fashion
Strong written and verbal communication skills
Previous experience with Laboratory handling experience
Demonstrated Assertiveness
Experience interacting with customers
Knowledge expertise with product lines (e.g. Fructose, Corn Syrup, Corn Oil, Industrial Starch and Feed)
Computer application experience with Cargill software packages
Core Competencies:
Ability to closely coordinate with process team and FSQR team to take the immediate decision
Should be a Team Player and strong communication skills
Ability to develop and maintain the Good practices in laboratory
Adherence to monitoring and Maintaining the chemical inventory