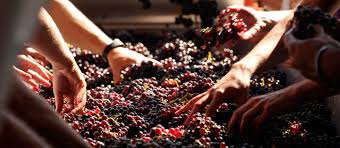 JOB STATEMENT:
This position is responsible for preparing wines and beers for final blends for bottling, working with the Analytical Laboratory to coordinate analyses and Cellar to coordinate process orders.
ESSENTIAL DUTIES: .
Dedicated to crafting quality wines, providing value to our customers, and continuing to improve.
Supervise in grape receiving, crushing, pressing and wine production operations during harvest on days, swing shift, or graveyard.
Supervises Assistant Winemakers
Participate in wine tasting at all stages throughout the winemaking process and responsible for conducting evaluation and recommendation of treatments.
Write process orders for all production related tasks from harvest to bottling.
Responsible for supervising, training, and mentoring all cellar employees during harvest, as assigned.
Contributes to the continuous improvement of the winemaking process and procedures.
Maintain brewery, inventory and brew sheet paperwork.
Schedule work for brewers while maintaining budgeted labor costs on a weekly basis.Weekly product forecast.
Evaluate and monitor beer and raw materials involved in brewing.
Operate brew equipment to maintain acceptable inventory of raw materials and beer.
Supervises cleanliness & sanitation of all equipment, tanks and work areas to maintain consistent beer quality.
Fundamental knowledge of plumbing and machinery mechanics/maintenance.
Possess good beer knowledge and a good sense of smell, distinguishing flavors, and colors in beer.
JOB REQUIREMENTS:
Degree in Enology, Chemistry or related field
Minimum 2 years of experience as an Assistant Winemaker and 1-3 years experience as a Head Brewer in a Brewery / Restaurant.
Experience with both the practical and technical aspects of the winemaking process and understand winemaking regulatory requirements. Includes all aspects of harvest, fermentation, cellar work, and winemaking analysis is required.
Ability to work and communicate well with staff, customers and outside parties.
Strong attention-to-detail & good project management skills with ability to prioritize multiple tasks.
Available to work a varied schedule during harvest season as needed.
Competent with Microsoft office & basic computer functions.
Capable of speaking in front of a small group of people as an instructor.
Job Type: Full-time
Required language: