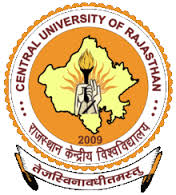 Applications are invited for the post of Junior Research Fellow on purely temporary basis to work on the DST-sponsored research project to be undertaken at the Department of Pharmacy, Central University of Rajasthan.
1. Name of the Temporary Post : Junior Research Fellow (JRF) – 01
2. Name of the Research Project : Multi‐functional nano-therapeutics for the effective treatment of advanced breast cancer : A dual delivery approach for siRNA and anticancer drug
3. Name of the Sponsoring Agency : Science and Engineering Research Board, Department of Science and Technology, New Delhi
4. Tenure of the Project : 03 Years
5. Tenure of the Assignment : 01 Years (extendable up to total of 2 years based on performance)
6. Job Description: To carry out the research work in the area of nano-therapeutics and siRNA delivery as well as characterization.
7. Consolidated monthly compensation / Fellowship : Rs. 25,000
8. Essential Qualifications and experience: M. Pharm. (minimum 55%) or equivalent qualification/specialization with GATE or GPAT score.
9. Desirable Qualifications/ Experiences: Working experience in a pharmaceutics research laboratory; knowledge of handling DNA and siRNA, molecular biology techniques and hands-on experience of gel electrophoresis, western blotting, HPLC, characterization techniques, NMR, IR etc.
10. Accommodation:
Bachelor accommodation in the institute may be provided subject to the availability.
11. For technical information on the project, the candidate may contact to the Principal Investigator
Application on plain paper with complete bio-data including email id, phone number should be sent to the Principal Investigator by post or should be sent as attachment to [email protected] (preferably through Email) on or before 09 th March 2016. The cover/email subject should be super-scribed clearly the post applied for and the name of the project. Mere possession of the minimum qualification does not guarantee invitation to the interview. Candidates will be short listed based on the merit and the need of the project. If called for interview, candidates are expected to bring all original certificates along with experience certificate, testimonials if any. Shortlisted candidates will be intimated via email. No TA/DA will be paid for attending the interview.
Dr. Umesh Gupta
(Project Investigator)
Assistant Professor
Department of Pharmacy Central University of Rajasthan,
NH-8, Bandarsindri- 305817, Kishangarh, Ajmer, Rajasthan
Telephone No.: 01463-238-730; Mob- 08003274082
E-mail: [email protected]