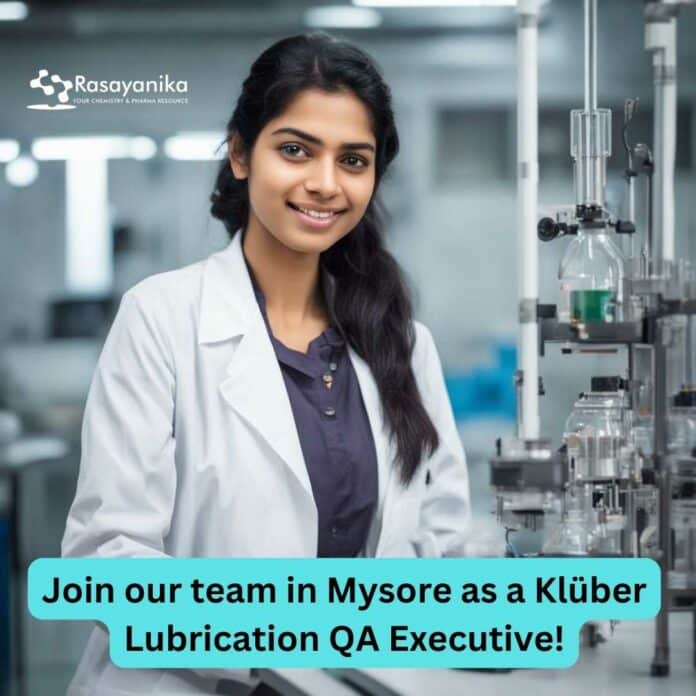 Klüber Lubrication QA Executive Job
Welcome to Klüber Lubrication India Pvt. Ltd., a leading company in the lubrication industry. We are currently looking for an EXECUTIVE – QA to join our team in Mysore, for on-site work.
Responsibilities
Handling raw materials and packing materials incoming inspection
Taking care of in process inspection & final testing of products (kettle release & Final release)
Periodic maintenance and calibration of laboratory instruments (including Annual Maintenance)
Handling the process of analysis of used lubricant samples received from customers
Handling customer concerns and carrying out appropriate corrective and preventive action
Overall supervision of the Quality Assurance activities
Experience in Testing & Analysis as per International standard (ASTM/DIN etc.)
Qualifications
Graduate/Post Graduate in Chemistry or Industrial Chemistry with 3 to 5 years of experience in QA and R&D from a Multi National Company. Exposure to ERP based system, preferably SAP-QM, ISO systems (TS 16949) and TQM is desirable.
Apply for this position by clicking here.
Keywords: Klüber Lubrication, QA Executive, Mysore, Quality Assurance, Testing, Analysis, Chemistry, Industrial Chemistry, SAP-QM, ISO systems, TQM