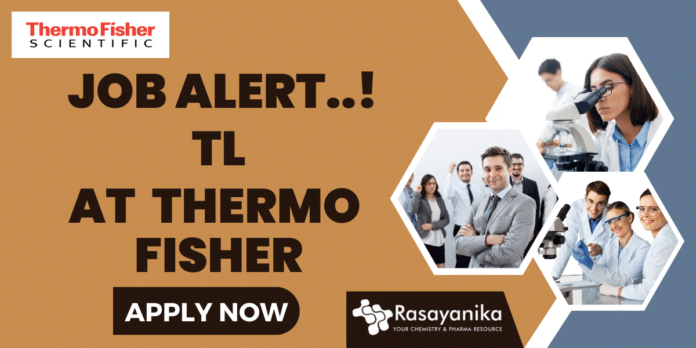 Latest TL at Thermo Fisher check out all the details given the same below
Job Role : Team Leader, Operation
Job location: Bangalore, Karnataka, India
Job Description
Job Title: Production Lead at GTS Manufacturing Facility, Invitrogen BioServices India Pvt Ltd
About Company:
Thermo Fisher Scientific Inc. is the world leader in serving science, with revenues of more than $40 billion and approximately 70,000 employees globally. Our Mission is to enable our customers to make the world healthier, cleaner and safer. We help our customers accelerate life sciences research, solve complex analytical challenges, improve patient diagnostics, deliver medicines to market and increase laboratory productivity.
Through our premier brands – Thermo Scientific, Applied Biosystems, Invitrogen, Fisher Scientific and Unity Lab Services – we offer an unmatched combination of innovative technologies, purchasing convenience and comprehensive services.​
About Team:
Candidate will be working in GTS Manufacturing Facility, Thermo fisher Scientific, The Manufacturing Team is a strong team with 7 people, and we deliver superior quality Invitro diagnostic products to our Indian and Southeast Asian customers/market. The team is involved in the production of covid related kit and other qPCR-based detection kits.
Roles and Responsibilities for TL at Thermo Fisher :
Thermo Fisher Scientific is recruiting a Production Lead who will be responsible for supervising all manufacturing and workforce performance, ensuring efficiency and timeliness. An exciting opportunity to join the Manufacturing team and the responsibilities would include.
Lead the production team in manufacturing of the products as per ISO13485 standards and MDR2017 rules.
In charge of the planning and execution of the semifinished goods /Finished Goods of IVD and RUO products manufactured at the site
Should find efficient/optimal ways to use all resources: machines/tools, materials, and production executives, to ensure on-time delivery of products, and enhance manufacturing throughput.
Lead all aspects of the day-to-day production activity. Responsible for productivity, quality, on-time delivery along with the team, and continual improvement
Production capacity planning and identifying and calling out the bottleneck to obtain Optimal process flow.
Interviews/Recruiting of the team members. Review performance of manufacturing supervisors and production executives
Training of the production executives on manufacturing process and changes implemented as per ISO and GMP guidelines.
Ensure execution of the planning, validation of new products or process as assigned to production function.
Lead investigations to determine root cause of quality issues in manufacturing, customer complaints, and customer returns. Work closely with the Quality, IPQA and QA team to implement corrective and preventive actions.
Initiate and Document change control (write, review and revise) in manufacturing processes ie DHR procedures, work instructions, visual aids, etc.
Review Batch records/ DHR, ERP system – E1 entries and documents prepared by the production team
Assist in performing periodic cycle counts on the manufacturing shop floor and reconciliation with the ERP system (E1). Monitor stock of RM finished goods at the shop floor and critical safety stock of RM.
Support the New project introduction with the assigned tasks.
On time submission of the production activity, its data trending, monthly review meeting and Production critical metric
Support to internal and external audit as planned.
Candidate Requirement:
Qualifications we seek in you for TL at Thermo Fisher  ! 
Applicants should have a background in Biological /Chemical sciences, Master's degree in microbiology/ Biotechnology or related Life Science or 'B/B Tech ,MTech in Chemical or Mechanical Engineering. Have a minimum 3-to-5-year experience
Nature of experience and Skills for TL at Thermo Fisher :
Should have a clear understanding of manufacturing process in IVD industry.
Previous experience in healthcare manufacturing environment would be highly suitable.
Experience in handling Chemicals, microbes, molecular biology, qRT-PCR will be an added advantage.
Organizational skills with attention to detail are critical.
Candidates with strong communication skills, both oral and in scientific writing is
preferred.
Ability to apply Statistical Process Control (SPC) techniques.
Experience with Enterprise Resource Planning (ERP) costs and how to influence them.
An understanding of Corrective and Preventative Action (CAPA) and Change Control principles with the ability to process records within the respective databases/systems.
The capability to contribute to and perform Risk Assessments, Risk Management/Control exercises, and Failure Mode Effect Analyses (FMEA)
An understanding of Process Validation principles and procedures with the ability to implement.
Candidate should be a good great teammate, ready to learn new techniques, an innovative, and problem solver
At Thermo Fisher Scientific, each one of our 70,000 extraordinary minds has a unique story to tell.
Thermo Fisher Scientific is an EEO/Affirmative Action Employer and does not discriminate on the basis of race, colour, religion, sex, sexual orientation, gender identity, national origin, protected veteran status, disability or any other legally protected status.
Possible interview Questions may be asked for TL at Thermo Fisher
Question: Can you provide an overview of your experience in manufacturing and how it aligns with the responsibilities of a Production Lead at Thermo Fisher Scientific?
Answer: Certainly. I hold a Master's degree in Biotechnology and have over 4 years of experience in the manufacturing sector, particularly in the field of IVD industry. My experience includes working in a healthcare manufacturing environment, where I have been involved in the production of diagnostic products. I have hands-on experience with processes involving chemicals, molecular biology, and qRT-PCR, which are directly relevant to the role of a Production Lead at Thermo Fisher Scientific.
Question: How would you ensure the manufacturing process is aligned with ISO13485 standards and MDR2017 rules as a Production Lead?
Answer: Ensuring compliance with ISO13485 standards and MDR2017 rules is of utmost importance in the manufacturing of IVD products. As a Production Lead, I would meticulously review and update manufacturing procedures to match these standards. Regular training sessions for the production team would be conducted to educate them on these standards and their implications. Additionally, I would implement thorough quality control processes and work closely with the Quality and QA teams to ensure that all manufacturing activities adhere to the required regulations.
Question: Can you explain how you would approach optimizing resource utilization to enhance manufacturing throughput?
Answer: Optimizing resource utilization involves a holistic approach. I would start by assessing the current production process to identify any bottlenecks or inefficiencies. By closely monitoring machine/tool usage, material consumption, and workforce performance, I would identify areas for improvement. Collaborating with cross-functional teams, I would develop strategies to streamline workflows, reduce waste, and enhance overall efficiency. Regular performance reviews and data analysis would help in maintaining an optimized production process.
Question: How do you plan to lead the production team to ensure productivity, quality, and on-time delivery?
Answer: Leading the production team requires a combination of effective communication, strong leadership skills, and a commitment to quality. I would establish clear goals and expectations for the team, ensuring that everyone understands their roles and responsibilities. Regular communication channels would be maintained to address any challenges and provide guidance. Quality checks and audits would be implemented at critical stages to maintain product quality. By fostering a collaborative and proactive environment, I would ensure the team's success in delivering high-quality products on time.
Question: Can you discuss your experience with initiating and documenting change control processes in manufacturing?
Answer: I have experience with initiating and documenting change control processes in manufacturing. This involves identifying process improvements or necessary changes, documenting them accurately, and obtaining necessary approvals. I have successfully written, reviewed, and revised documents related to manufacturing processes, including procedures, work instructions, and visual aids. I understand the importance of maintaining proper documentation and ensuring that changes are implemented smoothly to maintain compliance and quality.