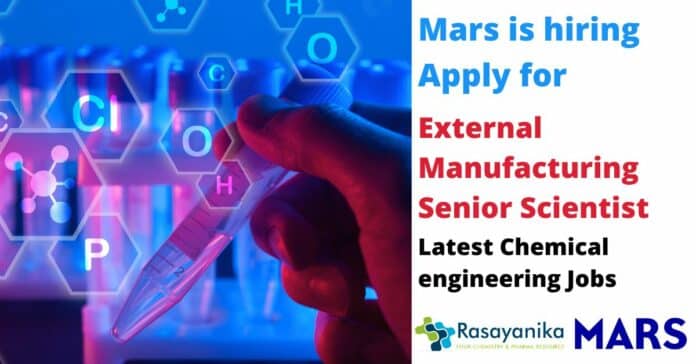 External Manufacturing Senior Scientist at Mars. Interested candidates can check the details below and apply online.
Job Title: External Manufacturing Senior Scientist
Job ID: R59329
Job Location: Bangalore, Karnataka, India and Cairo, Egypt
Job Function: R&D (Q&FS)
Segment/Business Unit: Mars Wrigley
Job Purpose of External Manufacturing Senior Scientist:
Supports, coordinated, and lead the execution of the QFS strategic direction of External Manufacturing Quality Assurance (EMQA) for GEM taking into consideration, how to approach the model from a risk-based approach while enabling an accelerated model that is mutual for all parties.
Ensures that externally manufactured products, comply with the Mars standards in GEM by coaching, guiding, and supporting the cluster EMQM.
The associate will also oversee governance for sourcing standards and ensures Quality is designed in new initiatives.
Key Responsibilities
As the Regional MARS GEM QFS representative at External manufacturers, the Senior scientist is responsible for:
Design a Risk based approach to use with new Co-manufacturers including assessments to ensure that all Q&FS and legal risks are considered
Standard owner for the GEM region for sourcing standards with focus on EMQM
Translating and embedding MARS principles and culture while balancing the acceleration process for the growth portfolio
Partnering with commercial & supply to drive the performance and continuous improvement of our External manufacturers, with focus on their adherence to MARS Q&FS requirements and best practices to ensure that we protect our brands and corporate reputation.
Perform all co-manufacturing Q&FS governance and metrics to verify the quality and effectiveness of their quality management systems and compliance to MARS QMP requirements
Training Mars EMQM cluster associates on various problem-solving tools such as PDCA, 5 whys, IWS to aid root cause analysis as part of post incident reviews for GEM co-manufacturer including the assurance of corrective and preventative actions are implemented within agreed time frames and incident learnings are shared with the wider business
Leading the COP for GEM to build a technical community of expertise
Thinking of strategic methods to mutually choose, cooperate and coordinate with co-manufacturers.
Context and Scope
In this role the job holder's key area of responsibility is ensuring the implementation and maintenance of the Global Quality & Food Safety Standards and Factory Quality Management Process (QMP) and driving a continuous improvement culture .
In addition, the jobholder is responsible for ensuring all new product development and technical changes are DESIGNED IN QUALITY or built taking Quality standards from the beginning into account such as QMP processes Into DICE and QuEST.
Education & Professional Qualifications
Academic education in food science/ technology /Chemical engineering / Industrial Engineering or similar
FMCG experience in various aspects of the food or pet industry.
Knowledge / Experience Professional Qualification:
Minimum 5 years experience in a Quality or Food Safety role in food industry or related industries
Strong relationship builder with good commercial awareness and supplier management skills
Proven and effective strategic thinker, planner, project management & organizing experience
Visible passion, behaviour and leadership around Mars first principle – Quality
Key Skills
HACCP, ISO, and quality & food safety management systems
Basic Knowledge about micro chemical and physical hazards
PRIMP or Incident management
Risk assessment & management
Good technological knowledge around food processing equipment & engineering
Knowledge about Lean Six Sigma methods
Quick learner
Mars is an equal opportunity employer and all qualified applicants will receive consideration for employment without regard to race, color, religion, sex, sexual orientation, gender identity, national origin, disability status, protected veteran status, or any other characteristic protected by law. If you need assistance or an accommodation during the application process because of a disability, it is available upon request. The company is pleased to provide such assistance, and no applicant will be penalized as a result of such a request.
About Mars:
Mars is a family-owned business with more than $35 billion in global sales. We produce some of the world's best-loved brands: M&M's®, SNICKERS®, TWIX®, MILKY WAY®, DOVE®, PEDIGREE®, ROYAL CANIN®, WHISKAS®, EXTRA®, ORBIT®, 5™, SKITTLES®, BEN'S ORIGINAL® and COCOAVIA®. Alongside our consumer brands, we proudly take care of half of the world's pets through our nutrition, health and services businesses such as Banfield Pet Hospitals™, BluePearl®, Linnaeus, AniCura, VCA™ and Pet Partners™. Headquartered in McLean, VA, Mars operates in more than 80 countries. The Mars Five Principles – Quality, Responsibility, Mutuality, Efficiency and Freedom – inspire our 130,000 Associates into taking action every day towards creating the world we want tomorrow.
Note to Search Firms/Agencies:
Mars, Incorporated and its subsidiaries and affiliates (Mars) do not compensate search firms for unsolicited assistance unless they have a written search agreement with Mars and the requisition is position-specific. Any resumes, curriculum vitae, and other unsolicited assistance from search firms that do not have a written search agreement or position-specific requisition submitted to any Associate of Mars will be deemed the sole property of Mars and no fee will be paid in the event the candidate is hired by Mars.
Here are few interview questions with answers related to the job role of External Manufacturing Senior Scientist at Mars:
1. Can you explain your experience in Quality or Food Safety roles within the food industry or related industries?
Answer: As an External Manufacturing Senior Scientist, I have over five years of experience in various aspects of Quality and Food Safety roles within the FMCG (Fast-Moving Consumer Goods) industry. I have worked extensively in ensuring compliance with quality standards, implementing food safety management systems, and driving continuous improvement initiatives.
2. How would you approach designing a risk-based approach for new Co-manufacturers to ensure all Q&FS and legal risks are considered?
Answer: Designing a risk-based approach involves assessing potential risks and vulnerabilities associated with external manufacturers. I would conduct comprehensive assessments, evaluate their existing quality management systems, and identify areas of improvement. By collaborating with cross-functional teams, I would prioritize risks and develop strategies to mitigate them effectively.
3. How do you plan to embed Mars principles and culture while ensuring an accelerated process for the growth portfolio?
Answer: Embedding Mars principles and culture requires effective communication and engagement with all stakeholders involved in the growth portfolio. I would emphasize the importance of Mars' Five Principles – Quality, Responsibility, Mutuality, Efficiency, and Freedom – and align our strategies with these principles. While pursuing accelerated growth, I would ensure that ethical practices and quality standards are never compromised.
4. What strategies would you employ to drive the performance and continuous improvement of our External manufacturers regarding their adherence to Mars Q&FS requirements and best practices?
Answer: To drive performance and continuous improvement, I would establish a collaborative and transparent relationship with external manufacturers. Regular audits, performance metrics, and feedback sessions will help monitor their adherence to Mars Q&FS requirements. Additionally, I would encourage knowledge sharing and training programs to enhance their understanding of best practices.
5. How do you handle post-incident reviews for GEM co-manufacturers and ensure effective implementation of corrective and preventive actions?
Answer: Post-incident reviews involve a systematic analysis of the root cause, involving tools like PDCA (Plan-Do-Check-Act) and 5 whys. As a Senior Scientist, I would lead these reviews, ensuring that the identified corrective and preventive actions are promptly implemented. The learnings from such incidents would be shared across the business to prevent similar occurrences in the future.
Subscribe RASAYANIKA for more chem and pharma related job updates.