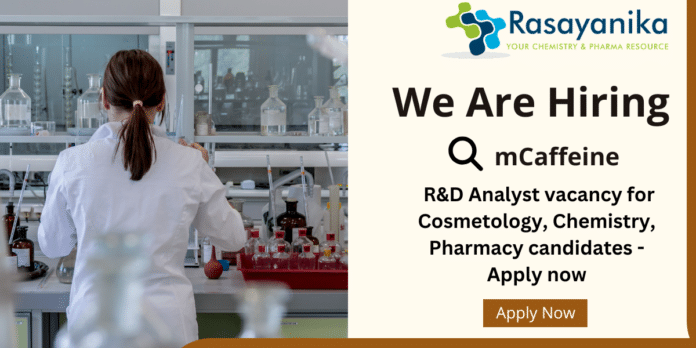 mCaffeine is India's 1st​ caffeinated personal care brand with an exciting range of Caffeinated products for young and aspiring millennials. R&D Analyst vacancy is there at mCaffeine and the details given below. Please go through the details and apply now for Cosmetology Chemistry Pharmacy job.
Position – R&D Analyst
Location – Bangalore & Mumbai
Responsibilities & Duties:
Handling end-to-end complete new product developments.
Responsible for tech transfer from lab scale to a commercial unit
Interacting and coordinating with all international and domestic vendors for product development.
Coordination with multiple teams for a smooth launch as per the timeline
Overlook the quality of launched products
Troubleshoot & resolve product issues at the manufacturing level
Extend support to Quality Control Team to ensure the quality of the lab, vendors & manufacturers
Source: new ingredient suppliers, R&D partners & manufacturers
Building & maintaining strong relationships with external vendors & partners
Skills & Qualifications:
Master's in Cosmetologist or a Science related field (Chemistry, Pharmacy)
7+ years of experience
Leading team of 3-6 resources/ Strong leadership skills
Understanding of Brand & capable of taking business-oriented call
Capability to make decisions under pressure
Excellent social & communication skills
Dear candidates, we are providing some
of the expected interview questions and answers here for your reference. You can practice the same after applying for the Cosmetology Chemistry Pharmacy job. Good luck with your interview!!!
Question: Can you describe your experience in handling end-to-end new product developments in the cosmetics industry?
Answer: Certainly. Over the course of my career, I have been involved in the entire lifecycle of new product developments in the cosmetics industry. This includes ideation, formulation development, lab-scale testing, and overseeing the successful scale-up to a commercial unit. I have collaborated with cross-functional teams to ensure the smooth execution of projects, adhering to timelines and quality standards. Additionally, I have been actively involved in sourcing new ingredient suppliers and R&D partners to enhance product innovation.
Question: How do you ensure a smooth tech transfer process from lab scale to a commercial unit during new product development?
Answer: Tech transfer is a critical phase in the development process. To ensure a smooth transition, I focus on establishing clear communication channels between the R&D lab and the commercial unit. This involves documenting all procedures, specifications, and quality standards meticulously. Regular meetings and collaboration with both teams help address any challenges that arise during the transfer. Rigorous testing and validation at the commercial scale are also key aspects to guarantee a successful tech transfer.
Question: How do you manage coordination with international and domestic vendors during the product development phase?
Answer: Effective coordination with vendors is essential for a successful product development process. I prioritize establishing strong relationships with vendors, both domestic and international. Regular communication and updates on project progress are crucial in keeping everyone aligned with timelines and objectives. I am attentive to their inputs and address any concerns promptly. My experience in working with diverse vendors has equipped me with the ability to navigate cultural differences and regulatory requirements across regions.
Question: How do you ensure the quality of launched products, and how do you handle product issues at the manufacturing level?
Answer: Quality is of utmost importance in the cosmetics industry. I take a proactive approach to ensure the quality of launched products by conducting thorough quality checks and validations during the development phase. Post-launch, I closely monitor customer feedback and perform regular quality audits at the manufacturing level. In case of any product issues, I promptly investigate the root cause, collaborate with relevant teams, and implement corrective and preventive actions to resolve the issue effectively.
Question: As a leader, how do you motivate and lead your team of 3-6 resources to achieve project goals?
Answer: As a leader, I believe in fostering a positive and collaborative work environment. I encourage open communication, actively listen to my team's ideas, and provide constructive feedback. I lead by example and set clear expectations for individual roles and project objectives. Recognizing and appreciating their efforts is essential in motivating the team. I am also sensitive to their professional growth and provide opportunities for skill development and training to enhance their capabilities. Overall, I believe in empowering my team members to take ownership of their work while offering support whenever needed.