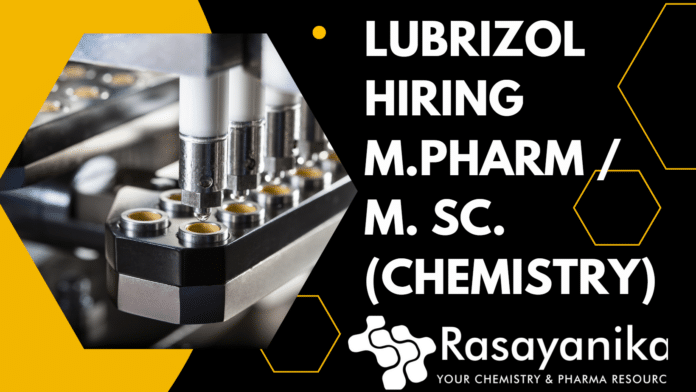 Lubrizol Hiring M.Pharm/ M. Sc. (Chemistry) for Assistant Manager
The Lubrizol Corporation is an American provider of specialty chemicals for the transportation, industrial, and consumer markets. Lubrizol is Hiring M.Pharm/ M. Sc. (Chemistry) candidates for Assistant Manager – Technical Services & Application, Beauty & Home Position Interested & eligible candidates – Apply Online
Job title: Assistant manager – Technical Services & Application, Beauty & Home
Job Company: Lubrizol Corporation
Job Location: Mumbai, MH, IN, 400079
Educational Qualification: M. Pharm / M. Sc. (Chemistry) OR equivalent
About Lubrizol
The Lubrizol Corporation, a Berkshire Hathaway company, is committed to enabling a sustainable future. Their unmatched science unlocks immense possibilities at the molecular level, driving sustainable and measurable results to help the world Move Cleaner, Create Smarter, and Live Better. Their solutions are used by people every day, improving billions of lives around the world.
They value diversity in professional backgrounds and life experiences. By enabling a consistent, unbiased, and transparent recruitment process, Lubrizol seeks to create a positive experience for candidates so we can get to know them at their best. They recognize unique work and life situations and offer flexibility, ensuring our employees feel engaged and fulfilled in every aspect of
life.
Summary of the Role:
Accountable for providing timely technical support to all stakeholders in LLS Beauty (Skin care) for Customer projects, global initiatives, regional Innovation, Application development and promotion of Actives and botanical extracts in the region.
Responsibilities / Accountabilities:
To develop Beauty formulations as per Regional requirements, with expertise in Skin care and also participate in Global skincare development initiatives.
Lead new product development (Innovation), create, and implement testing protocols, applications and solutions as required.
Troubleshooting customer issues
Collaborate with commercial for value selling of Lubrizol ingredients.
Technical support for the sales and marketing teams
Training internal team and Customers/distributors on Lubrizol ingredients (with expertise in Actives and botanical extracts).
Actively support in Pipeline development for Actives and Botanical extracts
Requirements (education, experience, competencies and specific job requirements):
Education / Certification: Minimum of M. Pharm / M. Sc. (Chemistry) OR equivalent.
Experience and Skills:
Minimum 10-year of experience in formulation R & D / Technical Service and Application in reputed Personal Care Company(s) or Related chemical companies
Understands formulation of Skin care and other beauty application.
Experience and Expertise of Actives and botanical extracts
Customer interaction
Job Segment: Information Technology, IT Manager, Technical Support, Application Developer, Product Development, Technology, Research
Lubrizol Hiring M.Pharm / M. Sc. (Chemistry) . Here are Possible interview questions and answers for  Assistant Manager Post
1. Can you describe your experience in developing beauty formulations and your expertise in skincare?
answer: I have over 10 years of experience in formulation R&D and technical services in reputed personal care companies. During this time, I have gained extensive knowledge in developing beauty formulations, particularly in the skincare segment. I have worked on various projects involving the formulation of skincare products, such as creams, lotions, and serums, and have a deep understanding of the ingredients and processes involved in achieving desired skincare benefits.
2. How have you provided technical support and troubleshooting to customers in the past?
 answer: As a technical services professional, my primary responsibility has been to provide timely and effective technical support to customers. I have actively engaged with customers to understand their requirements, address their concerns, and provide solutions to technical issues they encounter with our products. By leveraging my knowledge and expertise, I have successfully troubleshooted various customer issues, ensuring their satisfaction and fostering long-term relationships.
3. Could you explain your experience and expertise in working with active ingredients and botanical extracts?
answer: Throughout my career, I have worked extensively with active ingredients and botanical extracts. I have a solid understanding of their properties, functionalities, and their impact on product performance. I have formulated products incorporating a wide range of active ingredients, such as antioxidants, anti-aging compounds, and UV filters, and have also utilized botanical extracts known for their beneficial effects on the skin. My experience includes selecting, formulating, and evaluating these ingredients to create innovative and effective beauty products.
4. How have you collaborated with commercial teams to promote and sell ingredients?
answer: Collaboration with commercial teams has been a crucial aspect of my role. I have actively worked with sales and marketing teams to provide technical support in promoting and selling ingredients. By leveraging my technical expertise, I have contributed to value selling by demonstrating the benefits and efficacy of Lubrizol ingredients to potential customers. I have also provided training to internal teams and external stakeholders, equipping them with the knowledge necessary for effective ingredient promotion and sales.
5. Can you provide an example of a time when you contributed to pipeline development for actives and botanical extracts?
answer: In my previous role, I actively participated in pipeline development for actives and botanical extracts. For instance, I conducted thorough market research and analyzed industry trends to identify emerging customer needs and preferences. Based on these insights, I collaborated with cross-functional teams to prioritize and develop new actives and botanical extracts that aligned with market demands. By proactively contributing to pipeline development, I ensured that our product portfolio remained innovative and competitive in the rapidly evolving beauty industry.
     Subscribe Rasayanika for more Chemistry and Pharma job updates.