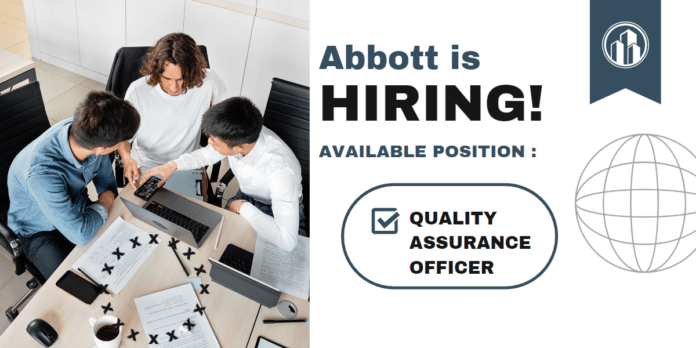 Abbott Latest Chemistry Job. Abbott hiring for the post of quality assurance officer. Chemistry, Daily / Food Tech candidates can check more details & apply online.
JOB COMPANY – Abbott
ROLE – QUALITY ASSURANCE OFFICER
 LOCATION – JHAGADIA
Education Qualification – B.Sc/M.Sc. / M.Tech in Chemistry (Dairy / Food)
JOB DESCRIPTION
PRIMARY OBJECTIVE:
Analysis and Review of IP, FP.
MAJOR RESPONSIBILITIES:
On time analysis & release of raw material, in process samples & finished product samples.
Ontime Training completion within predefined timelines.
Laboratory standards, chemicals preparation, standardization & stock management.
Lab SOP & work instruction review & revision.
Lab Equipment calibration & preventive maintenance.
Adhere Abbott safety & quality requirements.
Lab area 6S, GMP, GLP management Laboratory consumables stock management etc.
More details about Abbott Latest Chemistry Job
ACCOUNTABILITY & SCOPE:
PRIMARY FUNCTION:
OPERATIONS
Ensure right product quality is released to market by carrying out the timely and accurate analysis of all the finished products in shifts and timely feedback (signals) to Production on quality trends.
•Responsible for analysis of in-process liquid samples & finished product powder for macro & micro nutrients (protein, fat, moisture, minerals, vitamins etc).
•Responsible for operation, calibration & maintenance of equipments as per Abbott &amp
; OEM Guidelines.
•To maintain and upkeep the hygiene, cleanliness and work place safety in the lab.
• Laboratory SOP & Work instruction review & revision inline with global AN/AQ policies & other relevent governing documents (Including regulatory documents FSSAI,BIS etc.).
•Participate in product sensory analysis.
•Implementing, maintaining and improving the established analytical lab and in-process testing process and methods.
•Monitoring, analyzing and communicating site analytical testing results and productivity, and recommending improvement actions.
•Participating in site internal audits, Providing professional analytical inputs when any needs from other functions, such as supplier evaluation, validation etc.
•Managing the analytical lab to assure the EHS compliance, Maintain safe and healthy working conditions for employees under his/her supervision.
•Attend EHS training assigned and ensure that employees who report to him/her attend required training.
•Ensure to submit Near Miss reports and other opportunities to improve the EHS Program. Adhere use of PPE in accordance with all safety rules and practices.
•Analytical laboratory equipment maintainence and calibration, Analytical reagents, reference standards and glassware procurement and management.
•Carryout cleaning validations for new equipment and existing equipment and suggest effective methods of cleaning for ensuring right product quality, Support the validation activities in terms of design, operational and performance qualification of the process and laboratory equipment
COST
•To support in preparation of Opex & Capex budgets for Analytical function, making the proposal and close follow-up of execution of new and exisitng projects.
PEOPLE
Building and Managing analytical team to assure the capability and stability, Recommending the structure, roles and responsibilities for the analytical lab, Recruinting talents, Behaving as an example of the analytical staff, Communicating the site goals/metrics, Performing people manager's activities on setting goals, coaching and reviewing performance, Supporting functional head on building the function structure to achive the function goals.
•Promote and support team development activities.
•Impart training to workmen and staff on GMP requirements and QMS requirements.
COMPLIANCE:
•Implement BIS method where applicable.
•Preparation of SOPs and work instructions whenever new QMS requirements become effective. Carryout gap analysis of new QMS documents and take actions for their implementation.
•Ensure that the laboratory operates with calibrated equipment and carryout performance qualifications of the equipment, as per the frequencies.
•Meet the requirements of EHS/GPCP in handling of Biohazardous waste generated at the laboratory
•To support the Analytical compliance of ISO 17025, ISO 9001, ISO 22000 and HACCP, BIS, FSSAI requirements in and around the manufacturing facility by regular interaction with all stakeholders.
•Ensure all the requirements as per the ISO 9000:2000 / QMS elements and implementing the updated requirements in Quality Assurance to improve & sustain the systems.
BACKGROUND & EDUCATIONAL QUALIFICATION:
1-3 years of experience in a reputed food processing / pharmaceutical industry. (Out of which at 1-2 years as QA Executive Analytical Laboratory in similar industry is preferrable)
•  Being proficient in Gujarati is advantage.
Ability to accurately interpret the quality related problems of ingredients, finished food & process checks in food processing.
•   Ability to conduct trouble shooting studies to resolve the problems encountered w r t          Quality and Hygiene/GMP at Site.
•   Ability to handle all type of Analytical quality issues in the entire supply chain.
•   Hands on experience of analytical lab equipment operations. (i.e. HPLC, ICPMS, LCMS, Protein Analyser, Fat Analyser, moisture analyser etc.)
To apply for the job please click the link below
Here are some interview questions and potential answers that you may expect for the Quality Assurance Officer role at Abbott: Abbott Latest Chemistry Job
Can you tell us about your experience in quality assurance in the food processing/pharmaceutical industry?
Answer: "I have been working in the quality assurance field for the past 3 years in a reputed food processing company. During this time, I have gained experience in analyzing raw materials, conducting in-process and finished product testing, ensuring compliance with regulatory requirements, and maintaining laboratory standards. I have also been involved in calibration and maintenance of equipment and implementation of quality management systems."
How do you ensure timely and accurate analysis of raw materials, in-process samples, and finished products?
Answer: "To ensure timely and accurate analysis, I follow a systematic approach. I prioritize tasks based on urgency and importance, maintain a well-organized laboratory with proper stock management of chemicals and consumables, and adhere to standard operating procedures (SOPs) and work instructions. I also ensure that laboratory equipment is calibrated and well-maintained. Additionally, I stay updated with the latest analytical techniques and methodologies to improve efficiency and accuracy."
How do you ensure compliance with safety and quality requirements at Abbott?
Answer: "Compliance with safety and quality requirements is of utmost importance in any manufacturing facility. To ensure compliance, I strictly adhere to Abbott's safety and quality protocols, as well as relevant regulatory guidelines such as FSSAI and BIS. I actively participate in internal audits to identify areas for improvement and take necessary corrective actions. I also emphasize the importance of maintaining a clean and organized lab environment (6S) and follow good manufacturing practices (GMP) and good laboratory practices (GLP)."
Can you describe your experience with laboratory SOP and work instruction review?
Answer: "Reviewing and revising laboratory SOPs and work instructions is crucial for maintaining consistency and ensuring compliance. In my previous role, I actively participated in reviewing and revising laboratory SOPs and work instructions in line with global AN/AQ policies and relevant governing documents. This involved conducting thorough document assessments, incorporating necessary updates based on regulatory changes, and seeking input from relevant stakeholders. I understand the importance of clear and comprehensive instructions to maintain consistent quality standards."
How do you manage laboratory consumables stock and procurement?
Answer: "Managing laboratory consumables stock is essential to ensure uninterrupted operations. I closely monitor stock levels and usage patterns to anticipate future needs and avoid any shortages. I maintain a well-organized inventory system, including proper labeling and storage practices. When it comes to procurement, I ensure that the necessary reagents, reference standards, and glassware are procured in a timely manner, following the company's procurement procedures and guidelines.
Abbott Latest Chemistry Job. To explore more job opportunities, please follow Rasayanika.