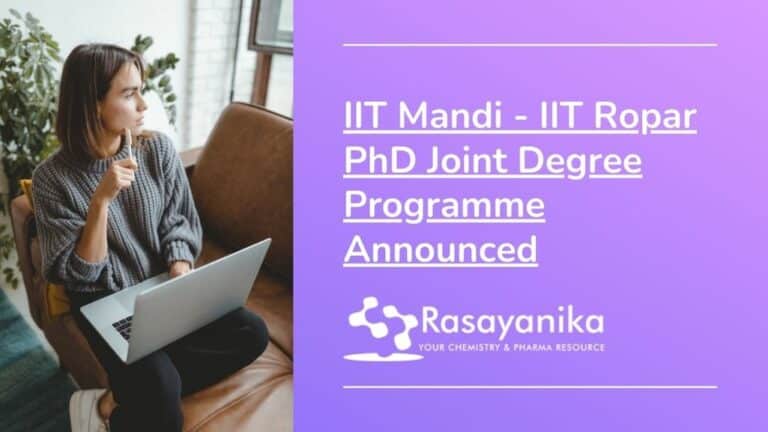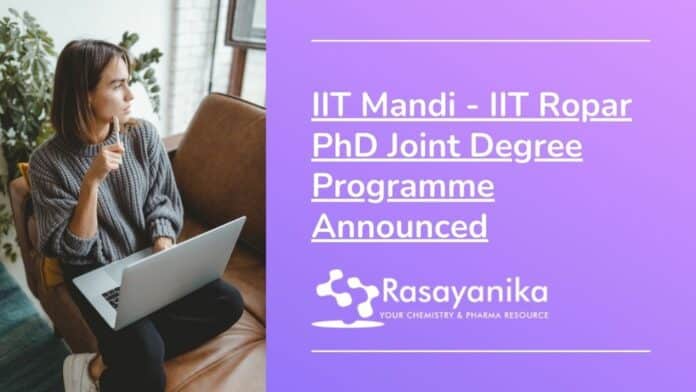 IIT Mandi – IIT Ropar PhD Joint Degree Programme Announced
They are delighted to introduce the PhD Joint Degree Program (JDP) that brings together the esteemed institutions of IIT Mandi and IIT Ropar. This collaborative PhD program offers a unique opportunity for enrolled students to engage in a multidisciplinary research project. By joining forces with faculty members and research teams from both IIT Mandi and IIT Ropar, participants can leverage the collective expertise and resources of these renowned institutions.
The JDP not only facilitates collaboration but also provides students with access to state-of-the-art facilities and professional development opportunities available at both IIT Mandi and IIT Ropar. This immersive experience ensures that participants receive comprehensive training and exposure to diverse perspectives, preparing them to become exceptional researchers in their respective fields.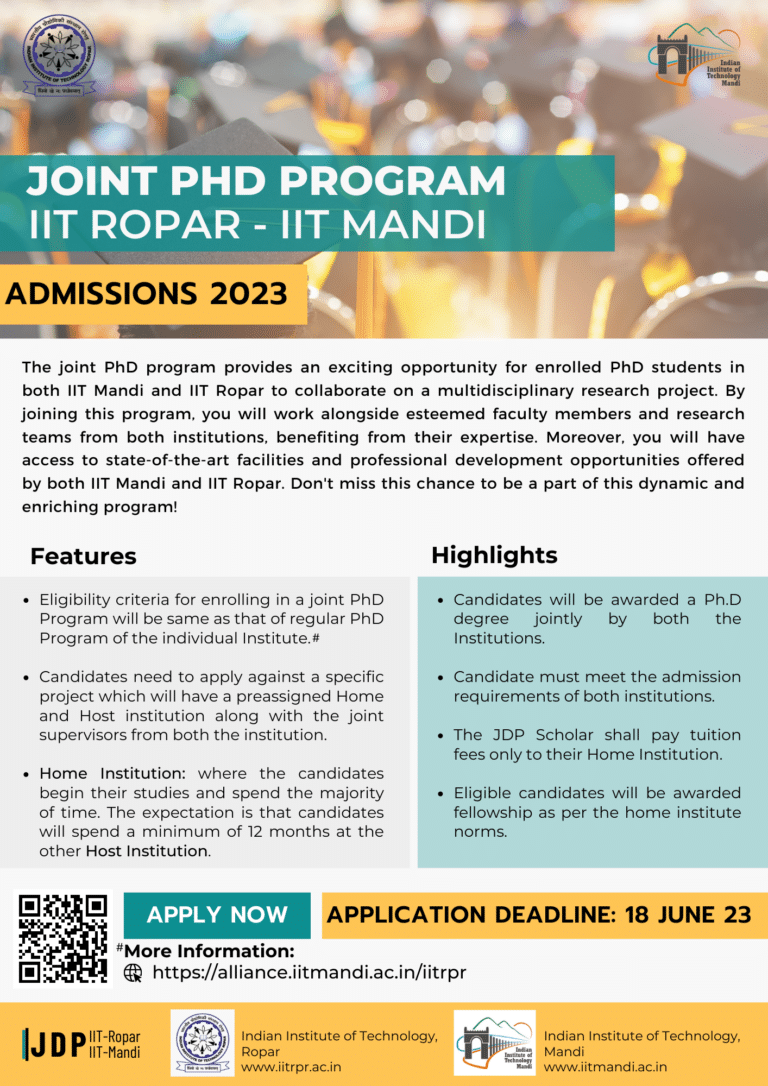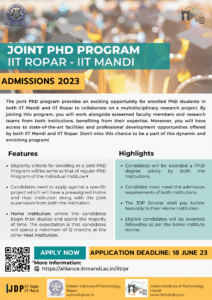 We invite aspiring scholars who are passionate about pushing the boundaries of knowledge to explore the exciting possibilities offered by the PhD Joint Degree Program between IIT Ropar and IIT Mandi. Embark on this transformative journey and be a part of our dynamic research community as we strive to make significant contributions to science and technology.
Admissions are currently open under the following research projects:
Advanced peptide/polymer based nanocomposite hydrogels for wound healing application
Home Institute: IIT Mandi
Host Institute: IIT Ropar
Supervisor: Dr. Garima Agrawal
Supervisor: Dr. Yashveer Singh
School/Dept.: School of Chemical Sciences
School/Dept.: Department of Chemistry and Department of Biomedical Engineering
Effective Hamiltonian for multi-state problems
Home Institute: IIT Mandi
Host Institute: IIT Ropar
Supervisor: Aniruddha Chakraborty
Supervisor: T. J. Dhilip Kumar
School/Dept.: School of Chemical Sciences
School/Dept.: Chemistry
Design of polymer scaffold and polyoxometalate nanocluster as nanocarrier in drug delivery and study the dynamical cellular events by various sophisticated imaging techniques.
Home Institute: IIT Ropar
Host Institute: IIT Mandi
Supervisor: Debaprasad Mandal
Supervisor: C. K. Nandi
School/Dept.: Chemistry
School/Dept.: School of Chemical Sciences
Last date for filling Online Application 18th June 2023
IIT Mandi – IIT Ropar PhD Looking for latest chemistry and Pharma job openings, follow Rasayanika Facebook and Telegram and subscribe to our youtube channel for the latest updates on chemistry and Pharma jobs and much more