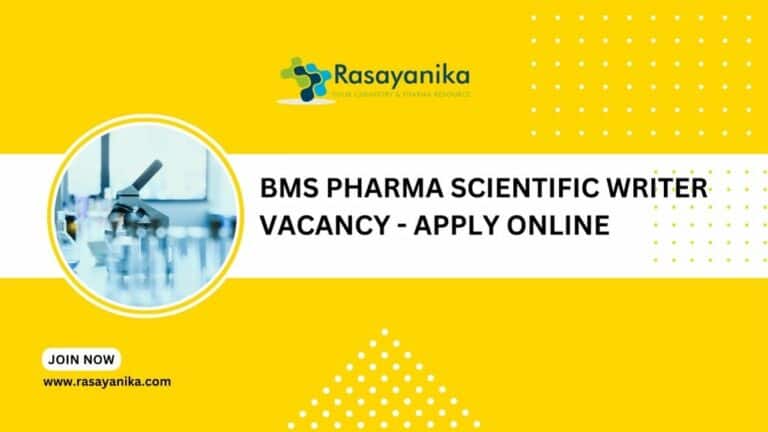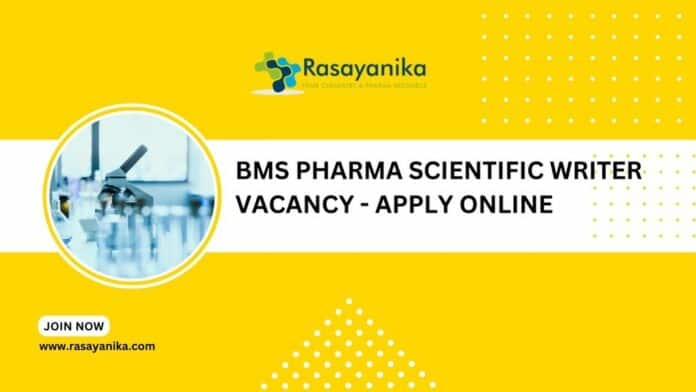 BMS Pharma Scientific Writer Vacancy – Apply Online
BMS Pharma job opening 2023, D Pharma job opening 2023, Scientific writer job opening 2023, Pharmacy job opening 2023, Pjharma ob opening2 023
Job Title: Scientific Writer II
Location: Hyderabad, India
Id: R1569037
Eligbility Criteria:
PharmD/PhD or Master's/Bachelor's degree with prior experience
Experience Requirements
PharmD/PhD in a relevant scientific discipline or Master's/Bachelor's degree with approximately 2-4 years of regulatory documentation. All PhD in biological sciences and PharmD candidates are considered.
Key Competency Requirements
Demonstrated strong writing skills in authoring and managing the production of IB,
Safety Aggregate Report, Clinical Protocols, and/or CSR.
Ability to analyze and interpret complex data from a broad range of scientific disciplines.
Understanding of global pharmaceutical drug development.
Demonstrated ability to manage timelines and quality of work using strong organizational, communication, facilitation, and interpersonal skills in a cross-functional team.
Working knowledge of a document management system and basic knowledge of the document publishing process.
Position Summary / Objective
To coordinate and author documents needed for regulatory submissions, ensuring the coordination and integration of the scientific, medical, and regulatory input from cross-functional team members.
Position Responsibilities
Coordinate and author regulatory documents [eg, Investigator's Brochures (IB), development safety update reports, periodic benefit-risk evaluation reports, clinical study reports (CSR), protocols, and high-level summary documents] ensuring the coordination and integration of the scientific, medical, and regulatory input from development team members.
Participate in relevant document subteam(s) and ensure effective planning and management of timelines for all components of assigned documents.
Participate in document strategy sessions, including messaging, document flow, logic, and consistency for assigned projects.
Maintain document prototypes and shells.
Comply with internal and external processes and guidelines while managing the review process and, on an ongoing basis, resolve issues, errors, or inconsistencies with pertinent team members to ensure timely completion and high quality of assigned documents.
Review and edit documents as required.
Functional Area Description
Leads document strategy and authoring of message-driven, clear and concise regulatory documents in support of submissions and approvals in key markets (US, EU, China, Japan) and other geographies. Provides support for fit-for-purpose regulatory documents (nonclinical, clinical pharmacology, translational medicine, clinical, safety) to facilitate speed of information during development, submission, approval, and life cycle management of products in BMS pipeline.
BMS Pharma Scientific Writer Looking for latest chemistry and Pharma job openings, follow Rasayanika Facebook and Telegram and subscribe to our youtube channel for the latest updates on chemistry and Pharma jobs and much more