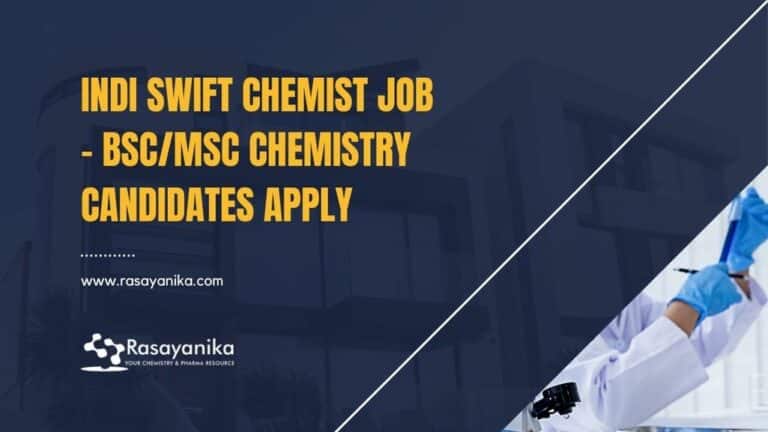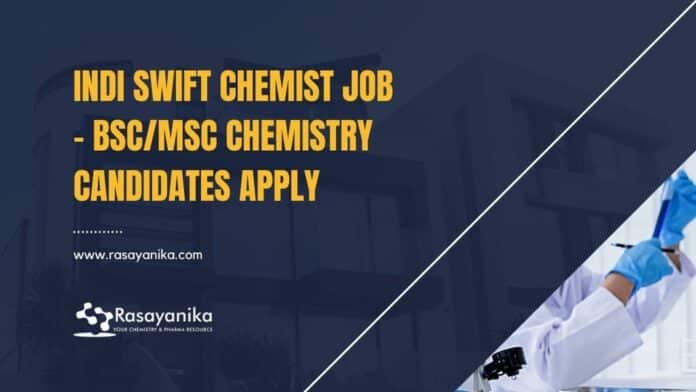 Indi Swift Chemist Job – BSc/MSc Chemistry Candidates Apply
Dont forget to check out possible interview questions for this job below
Chemist job opening 2023, Indi Swift chemist job opening 2023, BSc Chemistry job opening 2023, Ind Swift hiring MSc Chemistry candidates. MSc job opening 2023, Chemist job opening 2023. chemistry job opening 2023, Chemistry job opening 2023. Intrested and eligible candidates may check out all the details on the same below:
Job Title: Chemist
Salary: 1.5-4 Lacs P.A.
Industry: Pharmaceutical & Life Sciences
Department: Production, Manufacturing & Engineering
Role Category: Operations, Maintenance & Support
Employment Type: Full Time, Permanent
Eligbility Criteria
UG:B.Sc in Chemistry,Diploma in Chemical
PG:MS/M.Sc(Science) in Chemistry
Roles and Responsibilities
Production- Chemists(API Only)
QC-Chemist/Sr.Chemist(HPLC,GC,Wet Lab,UV, IR,RM)
Key Skills
UVApi
Production Wet Lab
API Manufacturing
HPLC
Centrifuge Distillation Pilot
Plant GLRHy
drogenationReactorsRMGC
Chemistry job opening 2023, Chemist job opening 2023, IND-SWIFT is Chandigarh based pharmaceutical company, established in 1986 with a mission of winning global customers through innovative pharmaceutical products. Three visionaries Jains, Mehtas and Munjals, dedicated themselves to work for humanity's quest for longer, happier and healthier lives.
Important Interview Questions and Answers for the above job role:
Can you describe your experience with HPLC and GC, and how you have used them in your previous roles? Answer: Yes, I have worked with HPLC and GC extensively in my previous roles. I have used HPLC to analyze complex mixtures of compounds and to quantify drug substances in various formulations. GC has been instrumental in my work for analyzing volatile and semi-volatile organic compounds in a range of matrices.
How have you managed to ensure that your work in production has consistently met quality standards? Answer: I have always been meticulous in my work and take care to follow all protocols and procedures. Additionally, I have used statistical process control techniques to monitor and analyze the production process to ensure that it is within acceptable limits. I also perform frequent checks of raw materials and finished products to ensure compliance with quality standards.
Have you ever encountered an unexpected problem during production and how did you solve it? Answer: Yes, I have encountered several unexpected problems during production. One such instance was when a batch of product did not meet the expected purity levels. I was able to identify the issue by investigating the upstream and downstream processes, and ultimately was able to correct the issue by modifying the reaction conditions.
Can you describe your experience with hydrogenation and pilot plant operations? Answer: I have extensive experience in hydrogenation reactions and have worked on pilot plant operations to optimize reaction conditions and scale up processes. I am familiar with the safety protocols and precautions that need to be taken while working with hydrogenation reactions and have always prioritized safety in my work.
How have you kept up with advancements and changes in the pharmaceutical industry? Answer: I regularly attend seminars and conferences to stay up to date with the latest advancements in the pharmaceutical industry. I also read scientific literature and keep up to date with industry news and regulations. Additionally, I have completed various online courses to stay up to date with new techniques and technologies.
Indi Swift Chemist Job Looking for latest chemistry and Pharma job openings, follow Rasayanika Facebook and Telegram and subscribe to our youtube channel for the latest updates on chemistry and Pharma jobs and much more