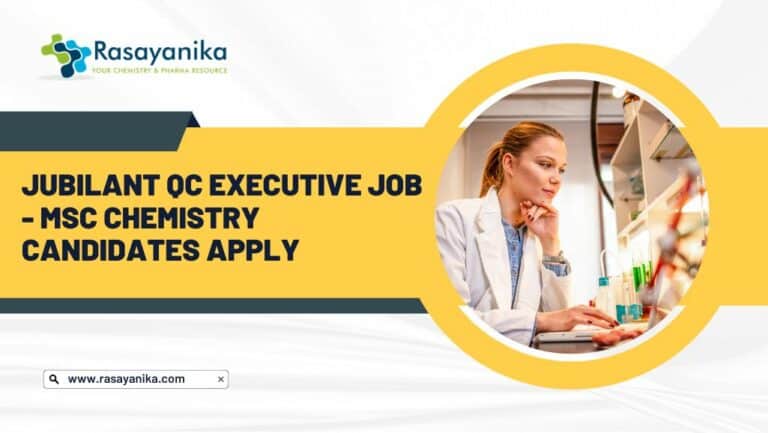 Jubilant QC Executive Job – MSc Chemistry Candidates Apply
Dont forget to check out possible interview questions for this job below
Jubilant Ingrevia is looking for Asst. Officer / Executive / Sr. Executive- QC for the Chemistry department. Chemistry job opening 2023, Chemistry job opening 2023, BSc Chemistry job opening 2023, Chemistry job opening 2023, Intrested and eligible candidates may check out all the details
Job Title: Asst. Officer / Executive / Sr. Executive- QC
Grade: A2 A3
Business Unit / Function
Department – Quality Control
Eligbility Criteria & Experience
M.Sc. (Chemistry) with 2 – 6 yrs.
Key Competencies
(Technical, Functional & Behavioral)
Handling, Calibration and Hand-on experience of all QC instruments.
Compliance of 21 CFR Part-11.
Troubleshooting related to QC analytical instrument
Key Responsibilities
(Performance Indicators)
Knowledge about IMS system (ISO 9001:2015, ISO 14001:2015 OHSAS 18001:2007, and cGMP.
Analytical skill for QC instrument, i.e. GLC, HPLC, UV-Visible, FTIR, ICP, K/F, Melting point etc.
Regularize the QC activities as per cGMP requirements.
RM, PKG, In-process and FG sampling & Analysis.
Co-ordination with QC staff, R&D, Commercial and production for quality & dispatch related activities for on time dispatches.
Day to day monitoring and execution online all IPQC and FG analysis activities.
Resolve the trouble shooting related to QC activities.
Knowledge about 21 CFR Part 211, 111 with data integrity (Part-11)
Awareness about responsible care (Environment, Health, Safety and Security)
Purpose/ objective of the job Department Organogram to be enclosed)
candidate is required having complete experience in API/Bulk/ Intermediates industries as per global regulatory requirements and responsible for implementation & compliances of ICH-Q7A, cGMP, WHO-GMP, ISO9001, FSSC, HACCP / global QMS requirements at SEZ site.
Important Interview Questions and Answers for the above job role:
What experience do you have with QC instruments? Answer: I have a hands-on experience with GLC, HPLC, UV-Visible, FTIR, ICP, K/F, and melting point instruments. I am familiar with their calibration, maintenance, and troubleshooting related issues.
How do you ensure compliance with cGMP requirements in QC activities? Answer: I regularly update my knowledge about cGMP regulations and ensure that all the QC activities are performed as per the defined procedures. I ensure that all the documentation and data recording comply with cGMP requirements.
How do you handle RM, PKG, In-process, and FG sampling & analysis? Answer: I follow a well-defined sampling plan and sampling techniques as per the SOPs. I perform the analysis as per the prescribed test methods and document the results in the relevant formats. I ensure that all the instruments used in analysis are calibrated and validated before use.
How do you resolve troubleshooting related to QC activities? Answer: I follow a systematic approach to identify the root cause of the problem and then propose a solution to eliminate it. I ensure that all the troubleshooting activities are documented and reviewed by the QC head.
How do you ensure data integrity and compliance with 21 CFR Part-11? Answer: I am aware of 21 CFR Part-11 regulations related to data integrity and electronic records. I ensure that all the electronic data are securely stored, backed-up, and accessible only to authorized personnel. I follow the data integrity principles such as ALCOA+ and ensure that all the data are accurate, complete, and attributable.
Editors Note: Jubilant QC Executive Job Subscribe to Rasayanika for the latest chemistry and Pharma job openings, follow us on Facebook and Telegram and subscribe to our youtube channel for the latest updates on chemistry and Pharma jobs and much more.