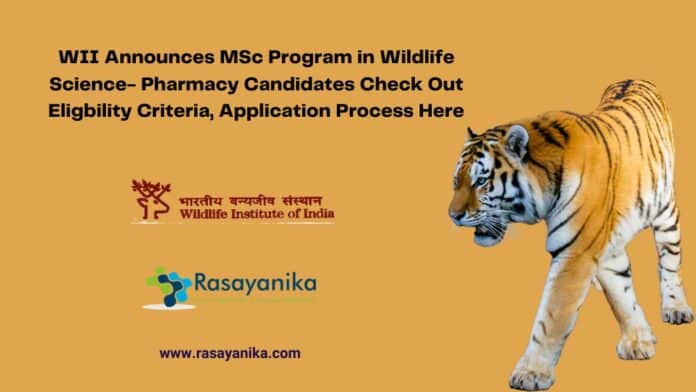 WII Announces MSc Program – Pharmacy Candidates Check Out 
Wildlife Institute of India 
(An Autonomous Institution of the Ministry of Environment, Forest and Climate
Change, Government of India)
Affiliated to Academy of Scientific and Innovative Research (ACSIR)
Advertisement for the Admission to XIX M.Sc. Course in Wildlife Science
(2023-2025)
Advt. No. WII/AC/2023-25/Advt for XIX M.Sc
The Wildlife Institute of India (WII) is a premier National Institute for training, research
and academics in the field of wildlife science and management. The Institute's idyllic
ambience, state of the art infrastructure and reputed faculty provide a vibrant academic
atmosphere and an enriching and learning experience to its students. The M.Sc. Course
in Wildlife Science at the Institute is widely acclaimed both nationally and
internationally.
This course aims to impart theoretical knowledge on concepts, principles,
approaches, analytical skills and field techniques in Wildlife Science. Students of high
calibre, motivation and having passion for wildlife and conservation are selected for the
two-year residential course.
The course is currently affiliated with the Academy of Scientific and Innovative Research (AcSIR). AcSIR has been established as an 'Institution of National Importance' with a view to maximize the number of qualified researchers and professionals of impeccable quality in the
domain of science & engineering; and to equip them with the skills to innovate and conduct seamless interdisciplinary research. AcSIR was established by an Act of Parliament, viz. the Academy of Scientific Innovative Research Act, 2011 notified by the Central Government vide The Gazette of India notification No.15 dated February 7, 2012. The
Headquarters of Academy of Scientific Innovative Research is located at CSIR-Human
Resource Development Centre (CSIR-HRDC) Campus, Postal Staff College Area, Sector
19, Kamla Nehru Nagar, Ghaziabad, Uttar Pradesh 201002. More than 50 R&D institutes
including all CSIR National R&D institutes are affiliated with AcSIR for
academics/higher education.
ELIGIBILITY:
(a) Bachelor's degree in Life Science, Medical Science, Engineering, Veterinary
Science, Agriculture, Forestry, Pharmacy, Social Science and Computer Science
or degrees recognized as equivalent thereof.
(b) Minimum of 15 years of formal education (10+2+3).
(c) Candidates who have completed the graduation degree in any of the above disciplines with a pass certificate (50% in aggregate at the field of studies mentioned above for general category and OBC candidates and 45% in aggregate for SC/ST candidates), or who have appeared OR will be appearing at the qualifying (final) bachelor's degree examination and whose result is still awaited may also apply. However, they need to provide their Consolidated Marksheet/Graduation Pass Certificate/Provisional Degree Certificate prior
to the registration in the course at AcSIR by 31st July 2023 or as soon as the
concerned university issues to the above or relevant certificates.
The minimum qualifying marks to become eligible to appear for the written examination
is 50 percent in aggregate at the field of study mentioned in the eligibility section for
general category and OBC candidates (both Indian and foreign nationals) and 45 percent
in aggregate for SC/ST candidates.
Candidates with Bachelor's Degree from Universities outside India should obtain certificates of equivalence from the Secretary General, Association of Indian Universities, AIU House 16, Comrade Indrajit Gupta Marg, New Delhi 110002 (Website: http://bit.ly/2iFSsBb), email to

[email protected]

,

[email protected]

(Ph: + 91-11-23230059; 23232429; 23232305, Fax: + 91-11- 23232131). The Institute will facilitate obtaining the degree equivalence from the Association of Indian Universities, New Delhi and eligibility certificate for AcSIR. However, final decision by them in the matter of equivalence/eligibility will be binding on the applicant. In case of foreign nationals who do not have English as their native language should provide evidence of proficiency in English (e.g., TOEFL Score) for admission to this course. The TOEFL or IELTS score reports should not be before 01.01.2022. A minimum TOEFL Score of 213 (computer based), 550 (paper based), or 79 (internet based), or minimum of 6.0 IELTS score is required
SEATS AND DATE OF COMMENCEMENT:
Twenty meritorious students will be admitted to this two-year residence course (four
semesters), which include 15 Indian and 05 foreign nationals (with preference to SAARC
countries). Applications are open to both Indian and foreign nationals. The break-up of
seats (15) for Indian nationals is: General Candidates – 07; OBC Candidates – 04; SC
Candidates – 02; ST Candidate – 01; Economically Weaker Sections (EWS) – 01. If
OBC/SC/ST candidates secure seats on their own merit in competition with general
candidates, they shall not be counted against reserved seats. In case of five foreign
candidates are not available for selection, these seats will be offered to Indian candidates
proportionately as per the reservation policy of Government of India. Following the
selection of candidates, the course will commence on August 07, 2023 at Wildlife
Institute of India, Chandrabani campus, Dehradun, Uttarakhand.
COURSE FEE AND SCHOLARSHIPS:
The Course Fee for the entire course is: Indian Nationals – INR 6,00,000/ and Foreign
Nationals – US $ 13800/-, payable to WII. The fee covers entire course expenditure
including tuition fee, hostel accommodation, field trips, etc. Additionally, a monthly
stipend of Rs. 3000/- per month and support for the dissertation project will be offered,
subject to fund availability with the Institute. Subject to fund availability and based on certain selection criteria, the Institute will also provide full scholarship to eight Indian students. The breakup of the scholarships for Indian nationals is: General – 03; OBC – 02, SC – 01; ST – 01 and EWS – 01. Other candidates (Indian and Foreign) selected for the course will be treated as self-sponsored. The students are required to pay the course fee in four equal instalments prior to commencement of each semester
AGE LIMIT:
Not more than 25 years as on May 05, 2023 with relaxation of 3 years for OBC candidates
and 5 years for SC/ST candidates. For the in-service candidates working in Forest and
Wildlife Departments, and Foreign Candidates, the age limit is 35 years as on May 05,
2023.
SELECTION PROCESS:
Indian Candidates:
Eligible candidates will be required to appear for an online National Eligibility Test (NET) in any one of the 14 Centres (Thiruvananthapuram, Chennai, Hyderabad, Bengaluru, Bhopal, Mumbai, Delhi, Lucknow, Dehra Dun, Ranchi, Kolkata, Guwahati, Aizawl and Jammu) on May 28, 2023 (Sunday) at 1000 hrs. The allocation of test centres would be decided by the institute based on number of candidates registered for a particular centre and the candidate would be accordingly informed. The NET will be for 2-hours duration for 100 marks, with objective types questions and essays, covering general aptitude, knowledge, analytical and language skills, basic mathematical and quantitative skills, knowledge about basic biology, ecology and conservation issues. Shortlisted candidates based on NET screening will be called to appear for a Personality and Aptitude Test (PAT)/interview to be held at Dehradun on June 20-23, 2023. Shortlisted candidates belonging to "General Category" will be interviewed on June 20- 21, 2023, while shortlisted reserved category (SC/ST/OBC) candidates will be interviewed on June 22-23, 2023. Final selection to the course will be made on the basis of combined merit of 50% marks obtained in the NET and 50% of PAT. In case of equal marks in NET and PAT, the following criteria shall be adopted for taking admission in the course:
(i) Preference will be given to the candidates who have higher aggregate
percentage of marks in the graduation level.
(ii) In case the candidates have equal marks in the above stated examination then
the candidate senior in age will be given preference.
The selected Indian nationals including wait-listed candidates are required to confirm their joining in the course i.e. acceptance of selection offer positively on or before July 10, 2023 by email, although it is encouraged to confirm as early as possible. Accordingly, the waitlisted candidates in appropriate lists will be offered the seat.
Candidates should note that their candidature is provisional. Their candidature will be
deemed final upon verification of eligibility condition with reference to the documents
enclosed with their application and as required by AcSIR and payment of First Semester
Fee in case of Self Sponsored candidates.
HOW TO APPLY:
Indian Candidates:
(i) The entire process for registration and NET is "Online". Details for online registration
and NET would appear on the WII's website (https://wii.gov.in/) as well as AcSIR
website (https://acsir.res.in/) latest by April 15, 2023. The online registration process will
be open on April 20, 2023 and will close on May 20, 2023. All eligible candidates are
advised to follow the latest updates on the WII and AcSIR websites for online registration
of applicants, submission of application and payment of application processing fee, etc.
(ii) All in-service candidates are required to register online and route their applications
(after successful online registration, application submission and payment of fees) through
proper channel to the Course Director, XIX M.Sc. Wildlife Science Course, Wildlife
Institute of India, Chandrabani, Dehradun – 248001 (Uttarakhand) by Registered Post
positively by May 25, 2023. However, they may send an advance copy for preliminary
consideration. Envelope containing application of in-service candidate being sent
through proper channel should be marked "APPLICATION OF IN-SERVICE
CANDIDATE FOR XIX M.SC. WILDLIFE SCIENCE COURSE".
(iii) Candidates will be required to fill in their personal, educational and professional
experience profiles online besides uploading a recent passport size photograph, scanned
copies of school certificate/ valid passport as age proof, marksheet of Graduation degree
(Previous/Final year), caste certificate (applicable for candidates seeking reservation
quota). Candidates will make the payment of non-refundable application processing fee
(Rs. 1500/- Rupees One thousand five hundred only) through the prescribed "Payment
Gateway".
(iv) The entrusted online agency will issue "Admit Card" to eligible candidates which
can be downloaded from weblink provided. The admit card will have details of
Examination Centre, Date and Time of online NET wherein applicants will appear in the
NET on their own cost. Applicants will make their own arrangement for travel and
accommodation for appearing in the 2-hour online NET to be held on May 28, 2023.
(v) The Institute will upload the result of NET and shortlisted candidates for PAT i.e.
those are being called for interview at WII, Dehradun latest by June 05, 2023
TERMS & CONDITIONS
(i) Director, WII reserves the right to re-schedule the NET/PAT/interview in case of
foreign nationals and/or change the test centre at his sole discretion, without
assigning any reasons thereof, and as warranted by the circumstances.
(ii) Director, WII reserves the exclusive right to reject any application without assigning
any reasons thereof.
(iii) SC/ST candidates called for the interview (Personality and Aptitude test) will be
paid to and fro train fare (Sleeper Class) by shortest route from their place of
residence to Dehra Dun on production of their journey tickets.
(iv) Candidates belonging to the SC, ST and OBC category should submit a caste
certificate from the competent authority at the time of PAT, failing which they will
not be allowed to appear in the interview.
(v) All selected students (Indian as well as foreign nationals) are required to arrive at
Dehradun, Uttarakhand, India on August 4, 2023 and report at the Institute during
Office hours (0900-1730 hrs).
(vi) Candidates/Applicants will send all correspondence related to admission to Academic Officer (Telephone: +91-135-2646116, Fax: + 91-135-2640117, E-mail:
[email protected]) with a copy to Dr. K. Vishnupriya, Associate Course Director
(Telephone: +91-135-2646203, Fax: + 91-135-2640117, E-mail:
[email protected])
(vii) Incomplete applications or those not accompanied by supporting documents will
be summarily rejected.
(viii) If any candidate has been found at any stage to have furnished wrong information
or deliberately suppressed any relevant information, his/her candidature/ admission
will be rejected/ cancelled as soon as it comes to the notice of either WII or the
University concerned.
Important Dates: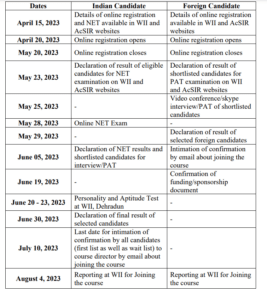 Editors Note: WII Announces MSc Program, WII Announces MSc Program 2023, WII Announces MSc Program, WII Announces MSc Program, WII Announces MSc Program,WII Announces MSc Program Subscribe to Rasayanika for the latest chemistry and Pharma job openings, follow us on Facebook and Telegram and subscribe to our youtube channel for the latest updates on chemistry and Pharma jobs and much more.