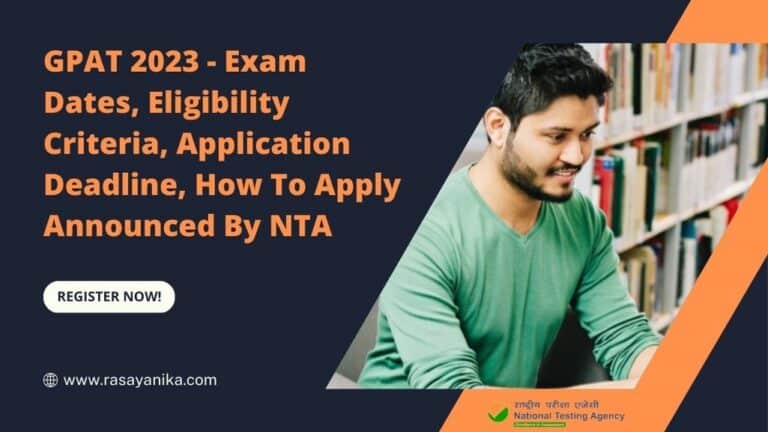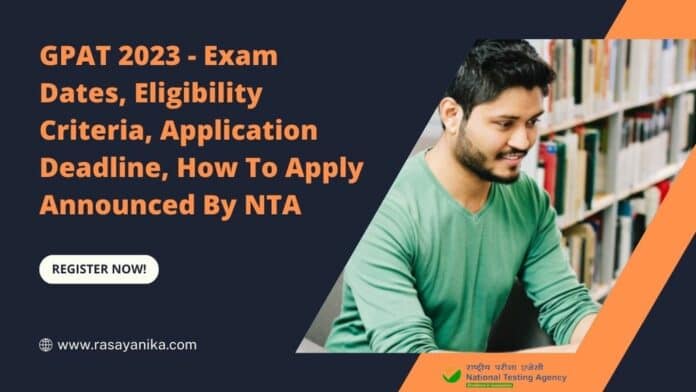 GPAT 2023 – Exam Dates, Eligibility Criteria, Application Deadline
NTA invites Online Applications for Graduate Pharmacy Aptitude Test (GPAT) -2023 Graduate Pharmacy Aptitude Test (GPAT) is a National Level Entrance Examination for entry into M. Pharma programs. The National Testing Agency (NTA) announces the conduct of GPAT-2023. Check out all the details on the same below:
About the Exam:
This test facilitates institutions to select suitable Pharmacy graduates for admission into the Masters (M.Pharma) Program. The GPAT is a three hours Computer Based Online Test. A few scholarships and other financial assistance in the field of Pharmacy are also given on the basis of GPAT Scores.
The GPAT score is accepted by all AICTE/Pharmacy Council of India (PCI) approved/affiliated University Departments / Constituent / Affiliated Colleges / Institutions.
Eligibility Criteria for GPAT-2023
The candidate must hold a Bachelor"s Degree in Pharmacy (4 years after 10+2, including lateral entry students) or equivalent from a recognized university. Candidates appearing for the final year of Bachelor"s Degree B.Pharmacy (10+2+4) whose result will be declared before commencement of admission for academic year 2023-24 can also apply for GPAT – 2023 Computer Based Test (CBT).
B.Tech. (Pharmaceutical and Fine Chemical Technology)/ equivalent candidates are not
eligible to apply. The candidate must be a citizen of India.
There is no age restriction for appearing in GPAT – 2023.
Candidates can apply for GPAT 2023 through "Online" mode only. The Application Form in
any other mode will not be accepted. Only one application is to be submitted by a candidate. More than one application i.e. multiple Application Forms submitted by a candidate will not be accepted
Dates, fee details
Online registration and submission of Application Form (complete in all respect) through NTA Website: gpat.nta.nic.in
13 February 2023 – 06 March 2023
(upto 05:00 P.M.)
Last date for successful transaction of examination fee (through Canara/ ICICI Bank Credit Card/ Debit Card/Net Banking & Paytm Payment Modes upto 11:50 pm)
06 March 2023
(upto 11:50 P.M.)
Fee payable for GPAT – 2022

(through Credit Card /Debit Card (except Master/Visa Card)/ Net-Banking/UPI)

General (UR)
Male- ₹ 2200/-
Female- ₹ 1100/-
Gen-EWS/ SC/ST/PwD /OBC-(NCL)
Male- ₹ 1100/-
Female- ₹ 1100/-
Third gender
₹ 1100/-
*Applicable service/processing charges & GST over and above the examination fee, are to be paid by the candidate to the concerned Bank/ Payment Gateway Integrator (For details refer to Annexure-I).
| | |
| --- | --- |
| Correction in the Particulars of Application Form online only | 07 March 2023 – 09 March 2023 |
| Downloading of Admit Cards by the candidate"s from the NTA website | To be announced on the website |
| Date of Examination | To be announced later through the website. |
| Duration of Examination | 180 minutes (3.00 hours) |
| Timing of Examination | To be announced later on the website |
| Exam Centre As indicated on the Admit Card Display of Recorded Responses and Provisional Answer Keys on the Website for inviting challenges | To be announced later through website |
| Declaration of Result on NTA Website | Will be intimated later through website |
| Website | gpat.nta.nic.in / www.nta.ac.in |
Instructions for filling Online Application Form:
Download Information Bulletin and Replica of Application Form. Read these carefully to
ensure your eligibility.
Follow the steps given below to Apply Online:
Step-1: Register for Online Registration using your own Email Id and Mobile No.and
note down system generated Application Number.
Step-2: Complete the Online Application Form and note down the system generated
Application Number. Upload legible scanned images of:
(i) a recent photograph (file size 10Kb – 200Kb) either in colour or black & white with 80%
face (without mask) visible including ears against a white background;
(ii) candidate"s signature (file size: 4kb – 30kb) (iii) PwD certificate (file size: 50kb
to 300kb), if applicable.
Step-3: Pay fee using Canara/ICICI Bank/Paytm Payment Gateway through Net
Banking/Debit Card/Credit Card/UPI/Wallet and keep proof of fee paid.
Download, save and print a copy of the Confirmation Page of the Application Form (which
would be downloadable only after successful remittance of fee) for future reference.
All the 3 Steps can be done together or at separate timings. The submission of
Application of a candidate could be considered as successful and his/her candidature
would be confirmed only on the successful transaction/receipt of the prescribed
application fee from him/her.
The Confirmation Page of the online Application Form will be generated only after
successful payment by the Candidate.
In case the Confirmation Page is not generated after payment of fee, then the
candidate should approach the concerned Bank/Payment Gateway (in the helpline
no. and email is given in Annexure- I of the Information Bulletin) for ensuring the
successful payment or for obtaining the refund of duplicate / multiple payments.
However, if in spite of the above action payment has not been successfully made it means that the transaction has not been completed and the amount is not reflected in the NTA account. Such amount will be refunded to the concerned Credit/Debit Card within a reasonable time. Therefore, such candidates have to pay the fee once again and
ensure the OK fee status.
Choice of Cities for Exam Centre
The City of Examination Centres where the test shall be conducted are given at
Annexure-III. It is mandatory for candidates to select four cities of their choice
while filling Online Application Form of GPAT 2023. The effort will be made to allot
Centre of examination to the candidates in order of the City Choice opted by them in
their Application Form. However, due to logistic & administrative reasons, a different
city of the nearby area may be allotted.
The City of Examination once chosen and allotted cannot be changed (after the
closing of the correction window) and any request in this regard will not be
entertained.
 NTA will allocate the examination center in the chosen city, which will be mentioned
in the Admit Card.
General Instructions
GPAT 2023 is an Examination for Admission to Pharmacy (PG) Programme
Courses for 2023-24 Academic Session.
Merely appearing in GPAT 2023 does not make a candidate qualified and eligible
for admission in Institutions and it does not confer any automatic rights to secure
a PG seat.
Applications of candidates producing false or fabricated information will not be
considered and candidates may be debarred from appearing in any future
examinations conducted by NTA/AICTE.
Before initiating the registration process, candidates should go through the
Information Bulletin carefully for eligibility criteria, scheme, and pattern of
examination etc. Any queries and other issues will only be entertained if the
requested information is not given in the Information Bulletin.
An incomplete application, if not in accordance with instructions, will not be
considered and is liable to be rejected. Applicants should carefully fill up all the
fields during the registration process correctly. The application cannot be modified/edited, after the closing of the correction window period.
The Examination Fee once paid will neither be refunded nor be carried
forward under any circumstances.
NTA/AICTE reserves the right to withdraw permission, if any, granted
inadvertently to any candidate who is not eligible to appear in GPAT 2023 even
though Admit Card/Registration number has been issued or is displayed on
website.
 Candidates must verify criteria of eligibility for admission from the respective
institutions where they want to seek admission.
 The existing schedule, pattern, policy and guidelines are for ready reference only
but in no way, they are or ought to be treated as representative or
acknowledgment of fact that NTA/AICTE is bound to follow the same in the future.
In case of any ambiguity in the interpretation of any of the instructions/terms and
conditions/rules/criteria regarding the determination of eligibility/conduct of
examinations/registration of candidates/information contained herein, the
interpretation of the NTA/AICTE will be final and binding.
Requests shall not be entertained for change in date or subject of examination.
Absentees from the examination will forfeit their examination fee. No further
communication will be acknowledged in this regard.
The result for GPAT 2023 will be available on the website gpat.nta.nic.in only.
Candidates should ensure before applying for online registration that their degree
is recognized as per provisions of AICTE. If it is found at any time that degree is
not recognized, the candidature/result of the candidate shall be canceled.
All the correspondence should be addressed by e-mail. The e-mail query
shall be addressed only if it is not anonymous and contains the name, postal
address, and contact number of the sender. An e-mail containing vague or general
queries and other queries as contained in the Information Bulletin shall not be
entertained. Queries shall not be entertained from people claiming themselves to
be representatives, associates or officiates of the applicant candidate.
The following information shall not be revealed by phone or email:
a. Internal documentation /status of NTA
b. The internal decision-making process of NTA/AICTE, Any claim/counterclaim
thereof
c. Dates and venue of internal meetings or name of the staff/officers dealing.
d. Any information which in the opinion of NTA/AICTE cannot be revealed.
Terms & Conditions of GPAT 2023 as mentioned in the Information Bulletin shall
apply.
GPAT 2022 will be conducted by NTA at exam centers engaged for the purpose.
Candidates are advised to familiarize themselves with the route and location of
the exam center. (Refer to Annexure III for List of Exam cities)
 Candidates are advised to look into the website gpat.nta.nic.in regularly for
various information, updates, and notices pertaining to GPAT 2023 examination.
 Kindly note that by registering for the GPAT 2023, candidates are covered by
Non-Disclosure Agreement (NDA). As per NDA, candidates cannot disclose any
question or contents of question paper in part or otherwise with any person or
party or website or such other media/publication. Any act in breach of the NDA
shall be liable for penal action as per law. Kindly note that this is a punishable
offense and shall lead to the cancellation of candidature.
Candidates are deemed to have read, agreed, and accepted the contents of
Information Bulletin and the terms and conditions in the information bulletin for
GPAT 2022 on completing the registration/Online Application Form by the
candidates.
Candidates can register for GPAT 2023 only once.
Possession/Use of mobile phones or any such electronic devices is strictly
prohibited in the premises of GPAT 2023 Test Centers. Candidates shall be
liable for penal action for Possession/ Use of Mobile phones/ Electronic devices.
The jurisdiction for court cases/disputes shall be within the exclusive jurisdiction
of competent courts at Delhi/New Delhi only
Centres for GPAT-2023
1. The list of cities where Examination Centers are located is given at Annexure – V.
Candidates shall appear at the centre as shown on their Admit Cards at their own
cost. No TA, DA or any accommodation facility will be admissible for appearing in
GPAT 2023.
2. Candidate has the option of choosing four cities for the examination during the Online
Application.
3. Candidates are advised to familiarize themselves with the location of test centre and
plan travel time accordingly. Candidates have to reach the test centers on or before
the reporting time. Candidates may note that late entry to the examination premises
is not permitted under any circumstances. NTA/AICTE shall not be responsible for
any delayed arrival of the candidate in reaching the centre due to any reason.
4. Biometric information of all the candidates shall be captured.
5. Identity checks will be made upon arrival at the test centre to ensure that no unauthorized candidates are appearing for the test. Candidates are required to
cooperate with the security personnel for security checks.
6. Please note that only registered candidates will be allowed at the Examination
Centre.
7. Friends or relatives accompanying the candidates shall not be allowed entry in the
test centre under any circumstances and will not be allowed to contact the candidate
while the examination process is going on.
The candidates and their parents are advised to keep visiting the NTA website for the latest updates.
For any queries or /clarifications, candidates can call NTA Help Desk at 011 4075 9000 or write to NTA at [email protected].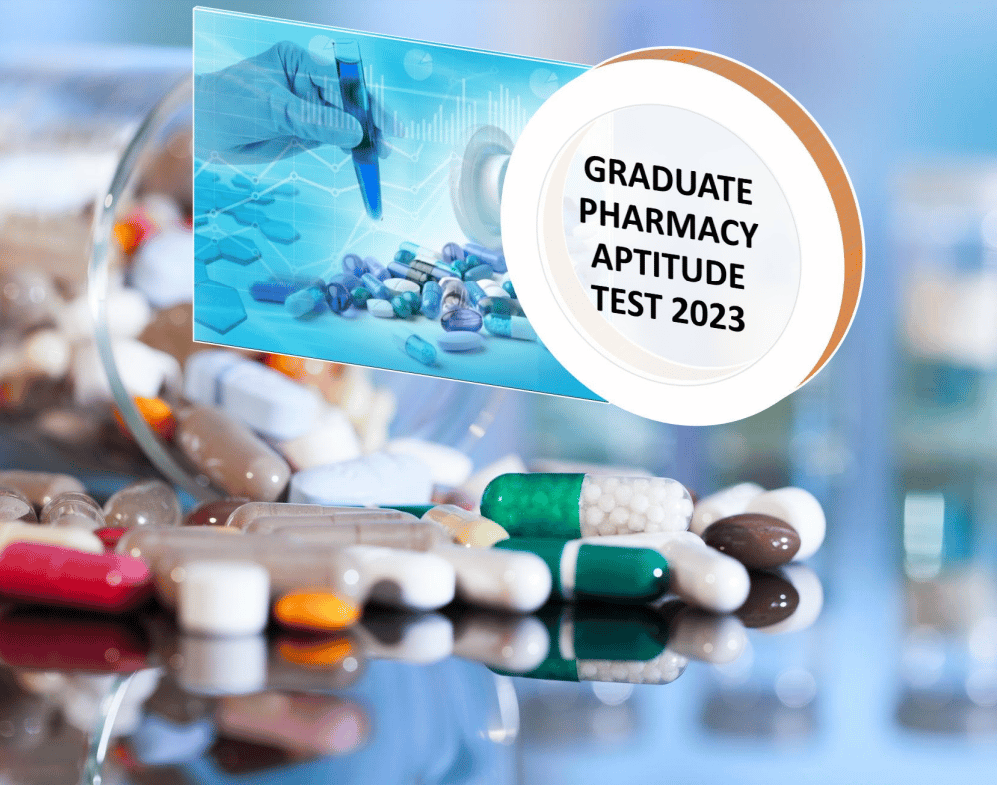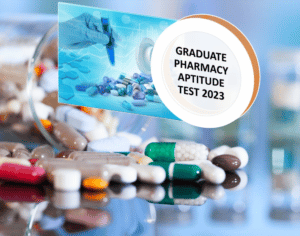 View Main Notification
Editors Note: GPAT 2023 Subscribe to Rasayanika for the latest chemistry and Pharma job openings, follow us on Facebook and Telegram and subscribe to our youtube channel for the latest updates on chemistry and Pharma jobs and much more.