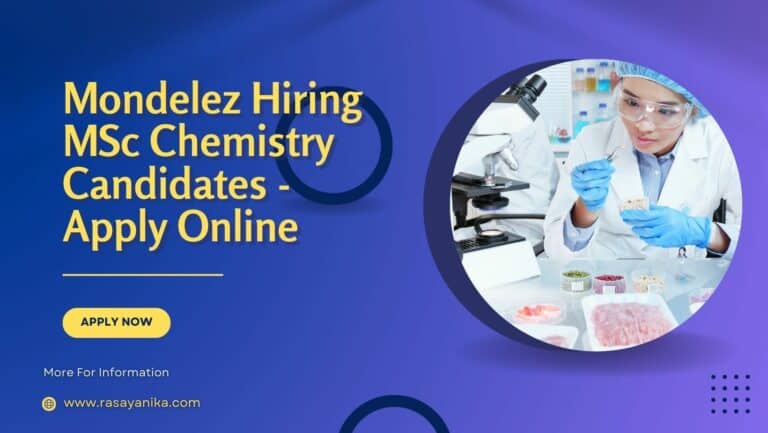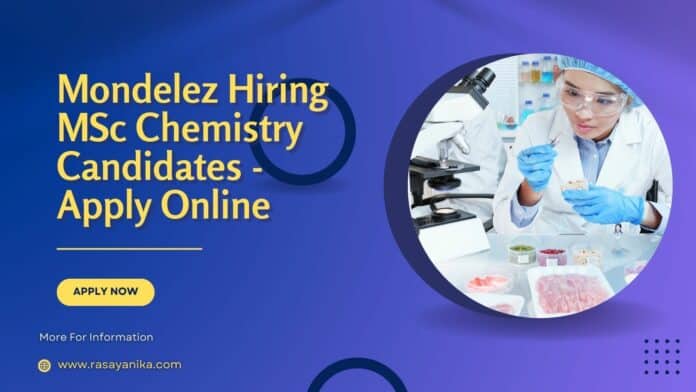 Mondelez Hiring MSc Chemistry Candidates – Apply Online
Mondelez hiring chemistry candidates, Scientist job opening 2022, MSc chemistry job opening 2023, chemistry job opening 2023, Scientist job. Mondelez job opening 2023, MSc Chemistry job opening 2022, PhD job 2023, Mondelez announces job opening for chemistry candidates. Check out all the details
Job Title: Sr Scientist l
Location: Thane, India
Eligbility Criteria: 
Masters or Phd in Chemistry or Analytical Science or Pharma
What you will bring
A desire to drive your future and accelerate your career and the following experience and knowledge:
Laboratory requirements and practices
Analytical technology in your area of expertise and the desire to develop in-depth and broader technical expertise
Scientific understanding and the ability to independently conduct chemical analysis in relevant area
Verbal and written communication skills with the ability to build your network and technical credibility with external clients and internal teams
Problem solving and planning resources to maintain a consistent workflow to deliver projects
Organizational skills, including time management and priority setting
More about this role
We are Business minded Analytical Science team with keen focus on Consumer, Science led and Results driven.
The role at Senior Scientist I is to provide strong technical analytical guidance to projects regarding product development based on consumer desired experience, new process technologies, quality programs, developing methodologies of analysis by using internal available analytical techniques or outsourcing aiming to ensure speed up of projects and competitive advantage of the business.
The position plays a key role in ensuring project partnership, stakeholder management, consultation with global SME's as well as ensure that project is supervised effectively and accurately within agreed timescales and to appropriate quality standards. This role focuses on routine and investigative analyses of products and method development and validations using locally available techniques for physical or chemical characterization such as Particle Size, Viscosity, Texture, Chromatography, NMR, NIR, DSC, Thermal Analysis, Moisture, Fat, Protein, ash, Vitamins among others. The role also requires managing junior members of the team as well as providing training in techniques available as required. Client contact and administrative support for laboratory management.
What you need to know about this position:
In summary, the position independently plans and conducts projects and develops complex, functional expert services and compliance programs and develops project objectives to deliver business needs. Executes against objectives. Significantly impacts direction and quality of work done by other technical people.
At the organizational level, the position interacts with senior members of technical and scientific organizations; regularly interfaces with other departments, acting as the key technical resource.
Technical Approach
Provide high quality customer partnership at all times with coaching by ensuring effective organization of assigned workload, integrity of analytical data generated and timely/accurate provision of results. Provide strong Technical direction within own area of expertise to the team.
Perform a range of analysis using wide type of techniques independently. Perform complex method development and design validation protocols. Perform maintenance and troubleshooting of lab equipment. Perform data checking and provide interpretation of results for routine testing.
Generate certificate of analysis or external interpretive reports. Expert user of available specific softwares and proficient in the use of generic and specific software packages required for the role, as examples: Minitab for data treatment, R&Dsuite, eQCMS, Interspec, Knovel, Goldfire. Apply accordingly Statistical fundamentals to support projects (descriptive, probability, hypothesis test, sampling, correlation and regression, repeatability, reproducibility).
Provide technical training to junior staff in routine activities, methods and data interpretation, including people from other areas (Quality, ISC). Take responsibility for elements of specific projects and/or specific areas of general laboratory/sample administration and assign housekeeping tasks as required.
Propose and develop studies to map manufacturing process to support improvements and problem solving.
Improve and influence/support implementation of programs that impacts the running of the laboratories regionally (e.g. safety and laboratory systems, calibration plan for instrumentation). Demonstrate know how on manufacturing process involved in the daily routine.
Strategic approach
Establish needs for the category/function through planning discussions with cross functional teams. Define priorities, resource management, establish appropriate approach to meet the business needs and find alternative solutions to technical challenges. Deliver against needs identified.
Plan parallel projects support with some coaching. Collaborate regionally and globally with the Analytical Sciences by ensuring knowledge management, establishing technical network within and outside of the Category/Function and sharing projects globally in COPs.
Lead strategic projects to impact the Region with some guidance. Understand internal MDLZ policies, apply them to their daily work and share learnings.
Editors Note: Mondelez Hiring MSc Chemistry Subscribe to Rasayanika for the latest chemistry and Pharma job openings, follow us on Facebook and Telegram and subscribe to our youtube channel for the latest updates on chemistry and Pharma jobs and much more.