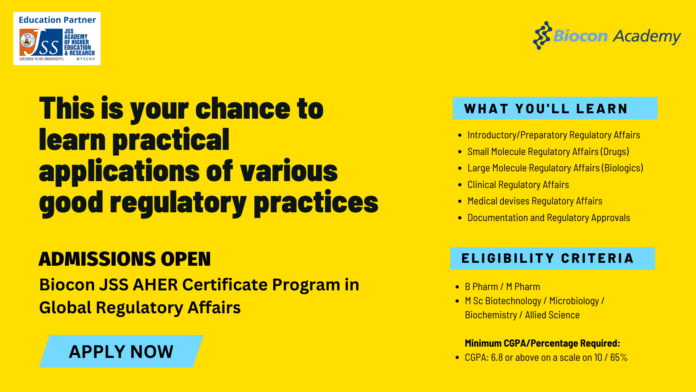 Biocon Academy partners with JSS Academy of Higher Education and Research (formerly JSS University), a leading institute of higher education and a deemed-to-be university recognized by MHRD and accredited by NAAC with A+, to deliver a first of its kind 'Certificate Program in Global Regulatory Affairs'.
Program Highlights
This 16-week program is designed to impart fundamental knowledge on various good regulatory practices, clinical development process, documentation and submission, regulations for drugs, biologics and medical devices and legislation in regulated and emerging markets, through an intensive curriculum delivered by the renowned faculty from JSS AHER, Mysore and Subject Matter Experts from Biocon Group.
Career Opportunities
A regulatory affairs (RA) professional is expected to have a broad understanding of various aspects including drug discovery & clinical research, patent and legal strategies, etc. besides having sound knowledge of global and country specific regulatory requirements. With this new course, students are offered complete practical exposure in various disciplines, much before they are recruited by any pharma and biopharma company.
Customized Curriculum
During the program, students will undergo experiential learning with Biocon Regulatory Science department, Subject Matter Experts will conduct case studies, and hands-on training in making e-CTD, eSUGAM filings and 356h submission. Students will
also get an opportunity to visit JSS Hospital to understand clinical trial proceedings. Lastly, they will be provided training in professional writing and speaking skills to augment their success in regulatory space.
Key Differentiators
Application based curriculum delivered by renowned faculty from JSS AHER, Mysuru
Experienced faculty from Biocon and JSS AHER
Hands-on training including PharmaReady- NJ, Glova- Blr, CDSCO-New Delhi, JSS Hospital-Mysuru
Expert guidance and mentorship from the Regulatory departments of Biocon Group
Job-ready skills with 100% guaranteed interview opportunities
Eligibility Criteria
Education Qualification:
B Pharm / M Pharm
M Sc Biotechnology / Microbiology / Biochemistry / Allied Science
Minimum CGPA/Percentage Required
CGPA: 6.8 or above on a scale on 10
Percentage: 65%
1 year of work experience in pharma industry would be an added advantage.
Adherence to the eligibility criteria is mandatory. Kindly note the same and apply only if you fit the eligibility criteria mentioned above.
Program Fee & Scholarship
The Biocon JSS AHER Certificate Program in Global Regulatory Affairs is being made available to students at a 40% cost of the program.
The Biocon Merit Scholarship of 60% of the program cost offered to all selected students will enable them to pursue this one-of-its-kind program at an affordable cost.
Student Share: INR 75,000 + 18% GST
Click Here To Know More Details & To Apply Online
JSS AHER Cert Program