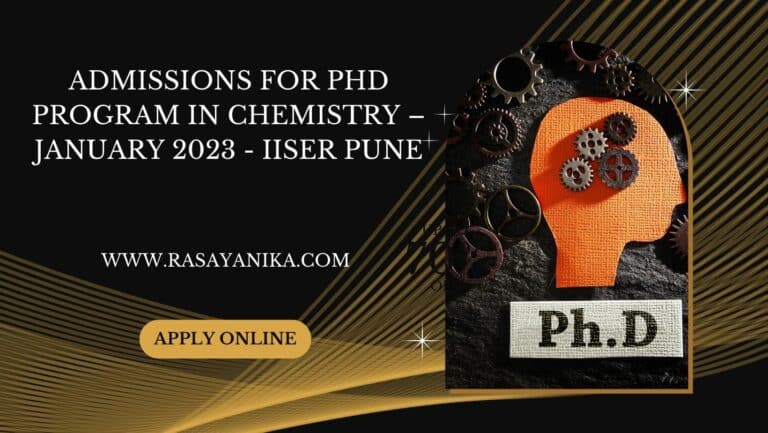 Admissions for PhD program in Chemistry – January 2023
The PhD programme at IISER Pune is a blend of classroom curriculum and mentoring undergraduate students along with a major research component. IISER Pune admits students to doctoral programmes in Chemistry.
Eligibility criteria and application details for the January 2023 batch for the following departments (if applicable) will be updated on the website in due course of time:
Chemistry
Department of Chemistry at IISER Pune encompasses diverse research areas of interest. There are many exciting research fields including inter-disciplinary research areas to explore. There are opportunities to work in experimental fields as well as theoretical, computational fields to solve the research problems. The broad research disciplines and the list of faculty members with different research expertise are given below.
Inorganic Chemistry: Porphyrinoids, Molecular recognition, Organometallic Chemistry, Metal-Organic framework, Inorganic and Material Chemistry, Energy Harvesting, Transition Metal Based Homogeneous Catalysis, Chemistry of Main Group Elements, Thin films of Metal-organic, metallo enzymes and Fe/S proteins etc.
V. G. Anand
R. Boomi Shankar
Sujit Ghosh
Nirmalya Ballav
Vaidyanathan Ramanathan
Shabana Khan
Moumita Majumdar
Debangsu Sil
Organic Chemistry: Organic synthesis and Chemical Biology, Peptides and applications, Carbohydrates and Glycomics, Polymers & Biomaterials, Nucleic Acid Chemistry
and Biophysics, Redox Chemical Biology, Protein Engineering, Asymmetric synthesis, Flow chemistry, Chemical Biology of microbes, Protein Biochemistry etc.
Hosahudya N. Gopi
M. Jayakannan
Srinivas Hotha
S. G. Srivatsan
Harinath Chakrapani
Ramakrishna G. Bhat
Raghavendra Kikkeri
Boopathy Gnanaprakasam
S. Sandanaraj Britto
Amrita Hazra
Siddhesh S. Kamat
Physical Chemistry Experimental and Spectroscopy: Biophysics-Protein folding, Gas Phase Laser Spectroscopy, Spectroscopy of Materials, Photophysics, Optoelectronic properties of perovskite semiconductors, Tera-Hertz Spectroscopy, Electrochemical Energy Storage, Fuel Cells, Batteries, Functional Nano-materials, Understanding Protein-RNA interactions etc.
Jayant Udgaonkar
Aloke Das
Partha Hazra
Nirmalya Ballav
Angshuman Nag
Pankaj Mandal
Pramod Pillai
Muhammed Musthafa
Jeetender Chugh
Theoretical and Computational Physical Chemistry: Computer Simulations of Battery Electrolytes and Polymer Electrolyte Membrane Fuel Cells, Computational Chemistry and Computational Biophysics, Chemical Physics (analytical theory), Polymer physics (simulations, Computational Material Science), Computational Material Science etc.
Arun Venkatnathan
Srabanti Chaudhury
Arnab Mukherjee
Prasenjit Ghosh
Admission Procedure
For admission to the PhD Programme, interested candidates with good academic track record satisfying the below mentioned eligibility criteria can apply.
Eligibility Criteria:
Minimum 60% marks in aggregate (overall percentage; not only in the majoring subject) or an equivalent C.G.P.A on a 10-point scale (55% or an equivalent C.G.P.A in aggregate for SC/ST and Specially abled candidates PD/VH) in Masters' Degree in any branch of Science: Chemistry / Physics/ Mathematics / Biology or equivalent. Candidates with Integrated BS-MS degree / B.E. / B. Tech. / B. Pharm. / ME / M. Tech. / M. Pharm. degree satisfying the above criteria of marks can also apply.
In addition to the above criteria, the candidate MUST have qualified atleast any ONE of the following exams:
a. National Eligibility Test (NET) with VALID CSIR-JRF/UGC-JRF#
b. INSPIRE-PhD fellowship
(Should be in possession of INSPIRE fellowship provisional selection letter at the time of Interview)
c. CSIR/UGC NET-LS# or GATE#†
#Applicants with valid UGC/CSIR-JRF, NET-LS and GATE will be further screened based on the ranks/score for their eligibility set by the Institute/Department committee.
†Please note that the cut-off/ rank for the reserved category candidates is 1.25 times that of the unreserved category candidates.
OR
2. IISER BS-MS (All IISERs) dual degree students with CGPA >= 8.0
Please note that above scores/ranks/fellowships MUST be valid at least till 28 February, 2023.
Selection Procedure:
Based on application forms received and the above listed criteria, applicants will be further shortlisted for the interview based on additional criteria set by the Department. All the candidates selected for the interview will receive a separate email to appear for the online interview. Shortlisted candidates will be selected for admission to the PhD programme through a rigorous evaluation process that includes an interview by a selection committee. The mere application/shortlisting does not guarantee admission into the PhD programme.
Students with a master's degree in Science / Mathematics or a four-year bachelor degree with at least 60% marks (aggregate) are encouraged to apply to our PhD programme. In addition to the qualifying degree, we expect the students to have qualified a national examination such as CSIR-UGC NET/GATE/JEST/NBHM/JGEEBILS, etc., depending on their area of research interest. Students will be selected to the PhD programme based on performance in the interviews.
Candidates who hold non-Indian passports, but are Overseas Citizen of India (OCI) and have obtained their qualifying degree ( 10+2 or equivalent, Bachelors, and Masters) while living (or domiciled) in India can apply through the departmental portals available below.
Please note that the precise eligibility criterion for each year may vary from department to department and will be announced at the time of intake.
Prime Minister's Research Fellowship (PMRF)
IISER Pune is one of the PMRF granting institutes offering PMRF Fellowship to meritorious PhD candidates. To apply for PMRF through direct entry, the candidate needs to get selected in our regular PhD programme, and the Institute will recommend a selected few candidates for PMRF. The final decision will be taken by the National Level Discipline-Specific Selection Committee. Detailed eligibility criteria are mentioned on the PMRF website and the same will be applicable.
Application Process
Only online applications will be accepted.
The candidates must carefully fill out and submit the online application form on or before the specified date.
After the last date, all applications will be screened and candidates selected for interviews will be intimated by email.
Please Note / Important Points / Application Criteria
All communication with candidates will be by email only.
Kindly check this website for periodic updates.
In case of any application-related queries, please contact [email protected] with your application number mentioned in the subject line.
Candidates who are appearing or are about to appear for final examinations of the qualifying degree programme are eligible to apply for the PhD programme. However, upon selection, the admission to the PhD programme would be provisional until the candidate fulfills all the eligibility related criteria.
Selection will be based on interviews of the short-listed candidates.
Relaxation of eligibility criteria for SC, ST and PD applicants will be as per Government of India norms. Candidates belonging to the reserved category will have to submit relevant certificates, if selected.
For all the national eligibility examinations which provide a common rank/score, the cut-off rank/score for shortlisting for the Interviews for the reserved categories shall be lowered to 1.25 times the General category rank/score.
Applying does not automatically guarantee that a candidate will be shortlisted for interview.
The respective departments may use additional criteria (based on academic performance and/or performance in the national level tests) in order to shortlist candidates for interviews depending on the number of applications received.
Selection of students shall be done as per the provisions of The Central Educational Institutions (Reservation in Admission) Act, 2006 and amendments made thereto.
All OCI candidates, irrespective of their domicile status and education history, will be treated as international Candidates (as per the Gazette of Government of India, 4th March 2021).
Application timeline for January 2023 Batch
November 2, 2022 Application opens
November 16, 2022 Last date for application submission
After December 7, 2022 Tentative Date of online Interview
Editors Note: Admissions for PhD program 2022, Admissions for PhD program Admissions for PhD program Subscribe to Rasayanika for the latest chemistry and Pharma job openings, follow us on Facebook and Telegram and subscribe to our youtube channel for the latest updates on chemistry and Pharma jobs and much more.