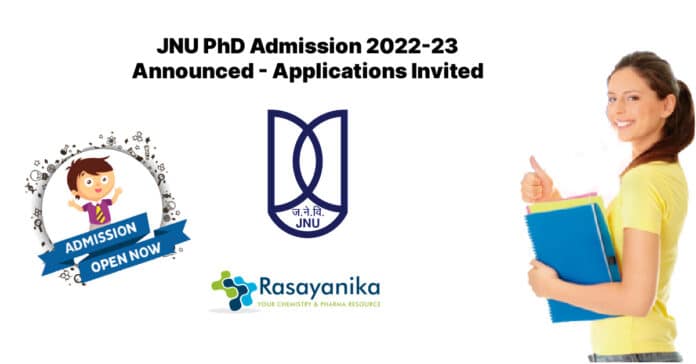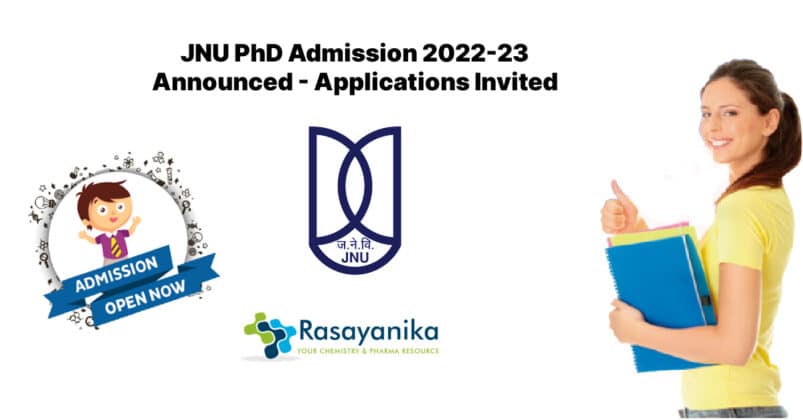 JNU PhD Admission 2022-23 Announced – Applications Invited
JNU invites application for the programmes for academic session 2022-23. PhD chemical science admission 2022-23. Admission 202-23. Chemical science program 2022-23. Chemical science admission at JNU. Intrested and eligible candidates may check out all the details on the same below:
1. Ph. D. through JRF category;
2. Ph. D. through GATE (ADF) in School of Engineering;
3. Diploma of Proficiency in Bhasha Indonesia, Mongolian, and Hebrew.
SCHOOL OF PHYSICAL SCIENCES
PROGRAMMES OF STUDY
Ph.D. programmes in Chemical Sciences Candidates admitted to a Ph.D. program would be required to successfully go through prescribed coursework.
ADMISSION TO PROGRAMMES OF STUDY
For admissions, SPS is offering degree Programmes mentioned above. Admission to all these programmes is through Entrance Examination. In addition, students who have UGC/CSIR/NBHM Junior Research Fellowship (JRF) may be invited directly for the
viva/interview for admission to Ph.D. Programmes in the relevant subjects.
Subject Code: Chemical Sciences – CHEH (899)
Eligbility Criteria: 
Candidates shall be considered for admission to the Ph.D. programme on the following
basis:
Candidates who have obtained M.Sc. degree (two years programme or five years
Integrated programme) from a recognized University/Institution in Mathematics/Physics/
Chemistry (for the corresponding subject) with at least 55% marks or equivalent Grade 'B' in UGC 7-point scale (or an equivalent Grade in a point scale wherever the Grading system is followed). OR
Obtained two years M.Phil. Degree for the corresponding subject with at least 55% marks of a recognized University/Institution (with dissertation/seminar/viva) or one-year M.Phil. with 55% marks with the corresponding subject with an additional one-year research experience of a recognized University/Institution and one publication and 55% marks or equivalent in M.Sc.
Relaxation to SC/ST/OBC (Non-creamy layer)/PWD as per the latest UGC Regulation.
Chemical Sciences Stereochemistry: IUPAC nomenclature, Configuration, Chirality, Isomerism. Conformational analysis and its effect on reactivity. Organic Reaction mechanisms, Free radicals, mechanism of nucleophilic substitution (SN1 and SN2) and elimination (E1 and E2). Addition to carbon-carbon multiple bonds, addition to alkenes and alkynes, transition metal organometallics. Addition to carbon-hetero multiple bonds. Oxidation and Reduction. Spectroscopy: Structure elucidation using UV-Vis, IR, 1H and 13C NMR. Photochemistry and pericyclic reactions: Features, classification. Natural Products and drugs of natural origin. Solutions: Ideal and non-ideal methods of expressing concentrations of solutions, activity and activity coefficient, Raoult's law, relative lowering of vapour pressure, molecular weight determination, Osmotic pressure, Elevation of boiling point, and depression of freezing point.
Theory of Gases: Kinetic theory of gases, Maxwell-Boltzmann distribution law. Chemical
Thermodynamics: Reversible and irreversible processes, First, second and third laws of
thermodynamics, Ideal and non-ideal gases, Gibbs and Helmholtz energy, Free energy
change and spontaneity. Chemical and Phase Equilibria: Law of mass action, Effect of
temperature on K, Ionic equilibria in solutions, pH and buffer solutions, Hydrolysis, Solubility product; Phase equilibria–Phase rule. Electrochemistry: Conductance, Transport number, Galvanic cells, EMF and Free energy. Chemical Kinetics: Reactions of various order,
Arrhenius equation, Collision theory, Theory of absolute reaction rate, Chain reactions, Enzyme kinetics, Catalysis.
Periodic Table: Periodic classification of elements and periodicity in properties. Chemical
bonding and shapes of compounds: Types of bonding; VSEPR theory and shapes of
molecules, hybridization, dipole moment, lattice energy. Main group elements (s and p
blocks): Group relationship and gradation in properties. Transition metals and inner
transition metals (d and f block): Characteristics of 3d elements, oxide, hydroxide and
salts of first row metals, coordination complexes, metal complexes.
Analytical Chemistry: Principles of qualitative and quantitative analysis, acid-base,
oxidation-reduction and precipitation reactions, use of indicators and organic reagents in
inorganic analysis, radioactivity, nuclear reactions, and applications of isotopes.
Selection Procedure for Admission:
The candidates seeking admission into Ph.D. programmes have to appear in the CBT (Computer Based Test). The qualifying marks for General & EWS shall be 50% of total marks and 45% marks for SC/ST/OBC (Noncreamy layer)/PWD categories. It is to be noted that mere qualifying in CBT does not entitle the candidates to be shortlisted for viva voce Examination. Shortlisting of the candidates to be called for viva voce shall be done as per the following criteria:-
(1) For General Category Intake x 5 times
(2) For SC/ST/OBC/EWS Categories Intake x 8 times
(3) For PWD Category 8 times – wherever available
Regarding (1) above, it is further clarified that in case of reserved category scoring equal or more marks than General, such reserved category candidates shall be called for viva-voce as per seat matrix given for (1) above.
Admission of JRF holders to Ph.D. programme
Only those candidates who fulfill the minimum eligibility requirements as prescribed for admission of candidates to Ph.D. programs as mentioned in the respective schools/centers and have qualified for Junior Research Fellowship through CSIR, UGC National Eligibility Test (NET), ICMR, AYUSH, DBT examination are eligible to apply separately in the prescribed form under this category in the respective school/centre/Special Centre wherever separate intake through JRF category is available (the link for this category will be available on the JNU website). Such candidates shall be exempted from appearing in Computer Based Test (CBT). However, candidates shall have to appear for an interview and their selection will depend on their performance in the interview. Candidates appearing in these examinations but awaiting results may also apply under this category. However, such candidates will be interviewed upon submission of valid proof of having qualified for or awarded the JRF certificate at the time of interview. Please note that candidates who have been awarded "Lectureship" (without JRF) in the CSIR/UGC examination and any other fellowship on the basis of Lectureship (without JRF) (Assistant Professorship) are not eligible and will not be interviewed. In case of candidates applying under JRF category, selection will be done on the basis of 100% viva score.
Admission of GATE holders to Ph.D. programme in the School of Engineering
Only those candidates who fulfill the minimum eligibility requirements as prescribed for admission of candidates to the Ph.D. programme as mentioned for the School of Engineering and qualified for the GATE fellowship are eligible to apply separately in the prescribed form under this category (the link for this category will be available on the JNU website). The intake will be as per the availability of the number of fellowships and the requirement of seats in the School. In the case of candidates applying under the GATE category, selection will be done on the basis of 100% viva score.
Admission of Foreign Nationals to Ph.D. programmes
The admission of foreign students for Ph.D. programmes may be considered in compliance with UGC 2016 Regulations regarding a number of research scholars faculty (i.e., Professor/Associate Professor/Assistant Professor) can supervise. Foreign students shall be
offered seats only if seats are left vacant in any discipline after being offered to Indian Candidates who have appeared in JNUEE – 2022-23.
Candidates can apply Online on payment of the prescribed fee by logging on
the JNU website https://www.jnu.ac.in or https://jnuee.jnu.ac.in
Candidates need to go through JNU website it before filling up the form.
Online application portal will remain open as per the following schedule:
Start of Online Application process: 24.08.2022
Closing of online Application process: 23.09.2022 (11:50 PM)
Visit JNU website: https://www.jnu.ac.in for detailed information.
Editors Note: JNU PhD Admission 2022-23, JNU PhD Admission 2022, JNU PhD Admission 2022 announced, JNU PhD Admission 2022 Subscribe to Rasayanika for the latest chemistry and Pharma job openings, follow us on Facebook and Telegram and subscribe to our youtube channel for the latest updates on chemistry and Pharma jobs and much more.