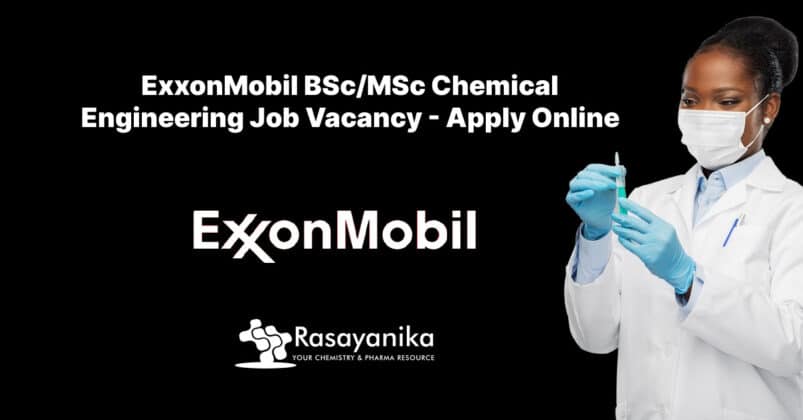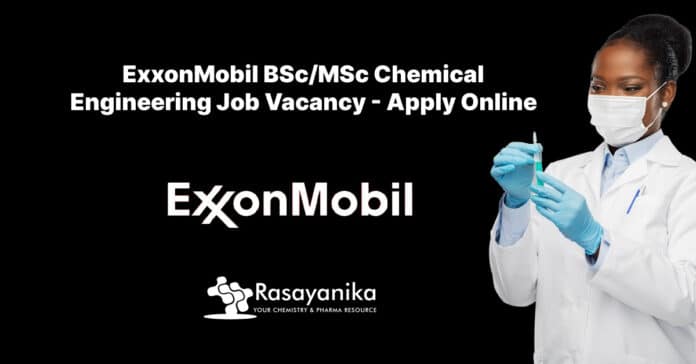 ExxonMobil BSc/MSc Chemical Engineering Job Vacancy – Apply Online
ExxonMobil chemistry and chemical engineering job opening 2022. Chemical engineering lead vacancy. Process Engineer job vacancy. BSc & MSc chemical engineering job opening 2022, Chemical engineering job opening 2022. Check out all the details
Job Title: Process Engineer -Process Engineer / Facilities Engineer- Upstream Assets
Location: Bengaluru, KA, IN
Eligbility Criteria:
Bachelor's degree or higher in Chemical Engineering, with GPA 7.0 or above
Minimum of 2 years of process engineering experience in the oil and gas industry
Technical
Background in oil and gas production facilities or Refining and Chemical facilities, including operating, technical support, or design experience with demonstrated experience in one or more of the following process areas:
Conventional Onshore and Offshore Oil and Gas
LNG (Regasification and Liquefaction)
Sour Oil and Gas Treatment
NGL recovery
Produced Water Treatment
Associated Utilities and Safety Systems
Refining Processes
Chemical Processes
Hydrogen generation
Carbon sequestration
Owner / site / manufacturing plant experience preferred
Knowledge/ judgment in the selection and application of process and utilities systems in the process areas listed above
Broad understanding of safety aspects in design (API 14C/J recommended practices, relief and blowdown, passive and active fire protection, etc.)
Demonstrated ability to design new process equipment and rate existing process equipment to determine if it is suitable for modified operating parameters.
Experience in brownfield modifications/upgrades to existing facilities preferred
Working capabilities in some of the following programs and data flows between them:
AspenTech Engineering Suite including HYSYS, Aspen Basic Engineering, Aspen Capital
Cost Estimator
Siemens COMOS
AVEVA Engineering Suite (Front End Engineering through 3D Modeling)
Intergraph / Hexagon Engineering Suite
PRO-II
Promax
Other similar types of commercially available engineering suites
Non-Technical
Demonstrated experience mentoring junior process engineers
A highly motivated team player with excellent oral and written communication skills
Ability to build successful working relationships in a virtual environment
Displays cultural sensitivity within the context of a multicultural and globally distributed team
Proficient in Microsoft Office suite of software programs
Ability to effectively self-prioritise activities and demonstrate personal flexibility within the team environment to achieve the business objective
Strong organizational, planning/coordination, interface, and technical judgment skills.
Ability to interface with non-Engineering disciplines to achieve common objectives
Ability to work both independently and collaboratively
Willing and able to travel internationally as required
Job Function
The Bengaluru Technology Center Process Engineering Group is building a world class team of Process Engineers, with demonstrated design/operations experience and technical/business judgment capabilities, to support all phases of the Facility Lifecycle:
• Conceptual Engineering (Concept Selection, Preliminary Front End Engineering Design [Pre-FEED])
• Project Execution (FEED and Detailed Design/EPC, Start-up)
• Operations Engineering Support/Technical Services (Troubleshooting, Debottlenecking, Optimization, Management of Change)
Successful candidates will develop their skills and abilities within role in the following areas to lead/be part of a team supporting a wide variety of projects and/or operating facilities, ranging from: small brownfield projects to major capital projects, greenfield to brownfield, onshore to offshore, sweet to sour designs, conventional/unconventional oil and gas production to LNG and downstream Refining and Chemicals.
Job Role Responsibilities
Process Engineers will be responsible for the following:
Conceptual Engineering:
Executing Facility Concept Selection and Pre-FEED
Capable of leading capital project development or design efforts through the company Capital Project System
Leading or as part of an integrated team, develop scope definition for various facility concepts and analyzing/recommending results to maximize business value. Ensure full alignment of recommended scope with Business Teams, Manufacturing Site/Operations, Process Technology Specialists and Engineering Specialists providing design input to cost estimating models.
Develop required deliverables: Process Simulation models, Equipment Lists, Flow
Diagrams (Block, Process, Utility), Piping and Instrumentation Diagrams (P&IDs), Equipment Data Sheets, Layouts, Design Philosophies, Heat & Material Balances, Design Basis documentation, Optimization/Cost Reduction studies, Benchmarking facility design against previous projects / operating facilities
Provide mentoring, oversight and perform technical reviews of the work of less experienced engineers, ensuring delivery of quality and capital efficiency while meeting schedule requirements
Engineering Execution:
Providing Engineering Surveillance of Facilities/Process Engineering deliverables required for FEED and Detailed Design/EPC execution.
Ensuring compliance with job specification, design methods and safety factors are correctly applied in the design.
Providing operability reviews for start-up, normal, turndown, and shutdown modes.
Establishing design basis for abnormal operating conditions
Development and review of Process Flow Diagrams (PFDs), heat and material balances (H&MBs), Piping and Instrumentation Diagrams (P&IDs) for process safety and operability considerations. Selection and specification of process and process control components
Participate/lead design reviews, Risk Assessments, HAZOPs, vendor bid evaluations, and project readiness reviews
Development of the schedule, recommended deliverables, and labor hour estimate for process engineering. Measurement and reporting of physical progress.
Participate in planning and work allocation process for the process design discipline
Develop planning documentation for internal company reviews for funding recommendation
Operations Support:
Provide onsite and remote technical support to operating facilities
Troubleshoot equipment/processes including heat exchangers, separators, pump/compression units, fractionation units, acid gas treatment units, water treatment units, refrigeration and gas liquefaction units, process safety systems, and process control systems
Analyze plant operating data (PI / XHQ / Uniformance / SEEQ) to support production optimization
Evaluate existing equipment to identify debottlenecking opportunities to increase production
Develop scope for facilities modifications
Steward Management of Change including coordinating with other disciplines and operations, conducting risk reviews when appropriate, and updating documentation
Create and modify process simulation.
Editors Note: ExxonMobil BSc/MSc job, ExxonMobil BSc/MSc, ExxonMobil BSc/MSc Subscribe to Rasayanika for the latest chemistry and Pharma job openings, follow us on Facebook and Telegram and subscribe to our youtube channel for the latest updates on chemistry and Pharma jobs and much more.